Published
August 30, 2017
Subscribe to Email Updates
10 Influencers Weigh In on the Future of Learning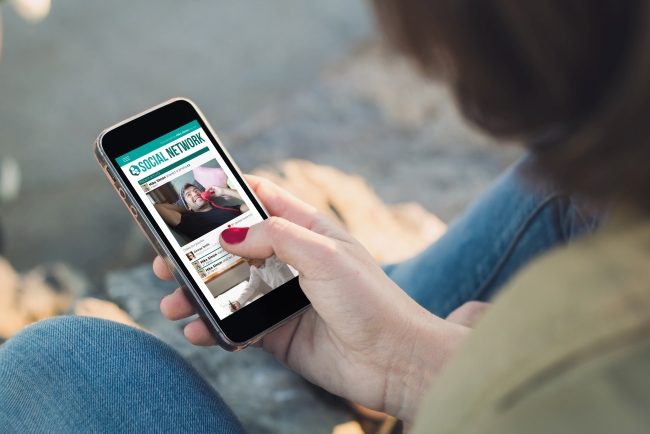 Where do learning and development pros go when they need inspiration to address upcoming trends, or to gain a fresh perspective on existing business challenges? We've compiled a list of ten influential leaders and outlets to help you stay on top of your game as you build learning strategies beyond the day to day and into the future.
CLO Magazine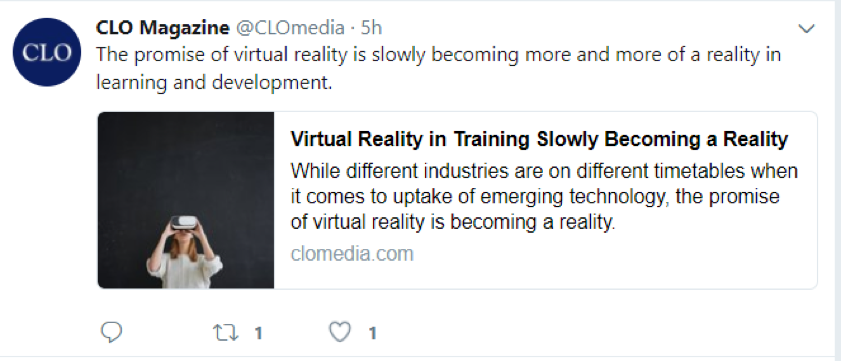 Chief Learning Officer magazine focuses on solutions for enterprise productivity in the enterprise learning market.
In a recent tweet for the article, Virtual Reality in Training Slowly Becoming a Reality, Ave Rio, Associate Editor at Human Captial Media, cited an experiment at Google which showed promising results for VR as a training tool in a few industries.
The magazine features top experts who lead the way in workforce learning and development and focuses on top issues being faced by global organizations including Leadership Development, Learning Delivery, Measurement, Performance Management, Strategy, Talent Management and Technology.
Connect with CLO Magazine here.
2. Training Magazine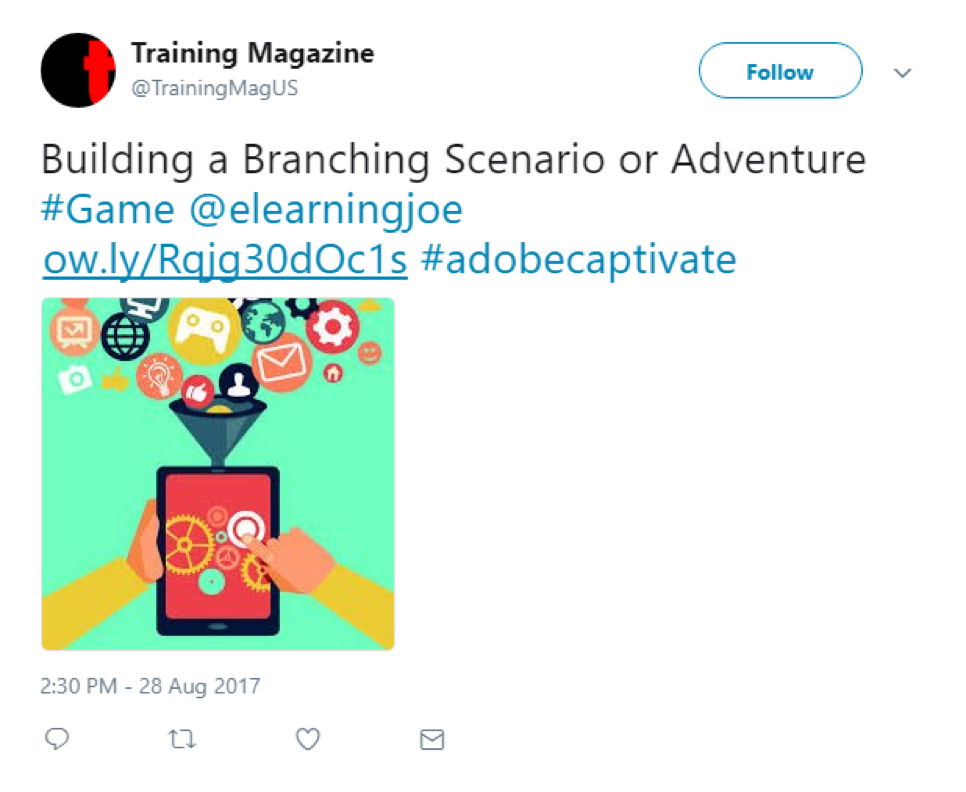 Training magazine is a 50-year-old professional development magazine that advocates training and workforce development as a business tool.
Their twitter feed is an excellent resource for up-to-the-minute content and has over 20,000 followers. The magazine covers trends and challenges in learning and development, HR, and training and is widely read by business management professionals in all industries.
Training Magazine tweeted out a notice for an upcoming webinar, "Building a Branching Scenario or Adventure Game in the Authoring Tool of Your Choice!" which will give attendees tips and advice for creating different eLearning tools and platforms.  Joe Ganci, President of eLearning Joe, LLC, will cover the basics of how to get started, testing, and maintaining the course for future use.
Connect with Training magazine here.
3. Jane Hart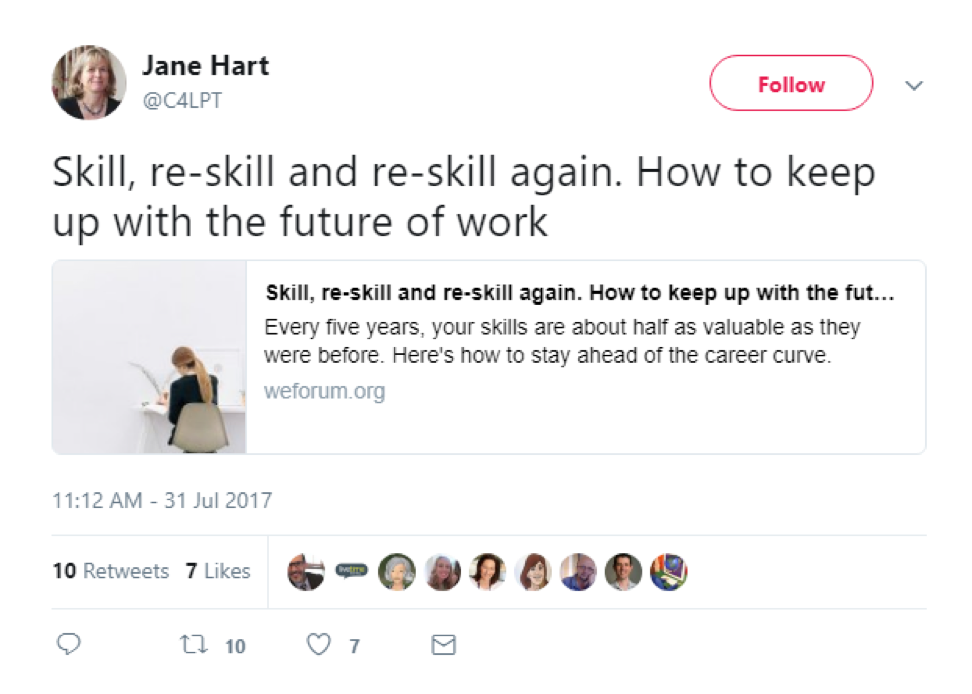 Jane Hart is a well-regarded international speaker and writer on modern approaches to workplace learning.
She recently tweeted out an article written by Stephane Kasriel, the CEO of Upwork, "Skill, re-skill and re-skill again. How to keep up with the future of work," which appears on the World Economic Forum website. The article reviews a larger report on fast paced changes in the workplace commissioned by the WEF. The study indicates that "opportunities that are available today are 21st-century jobs. But the way most people perform these jobs is still stuck in the previous century."
Jane has been advising companies for over 30 years and is the Founder of the Centre for Learning & Performance Technologies (C4LPT), one of the world's most visited learning sites on the Web.
 Connect with Jane Hart here.
4. Kevin Finke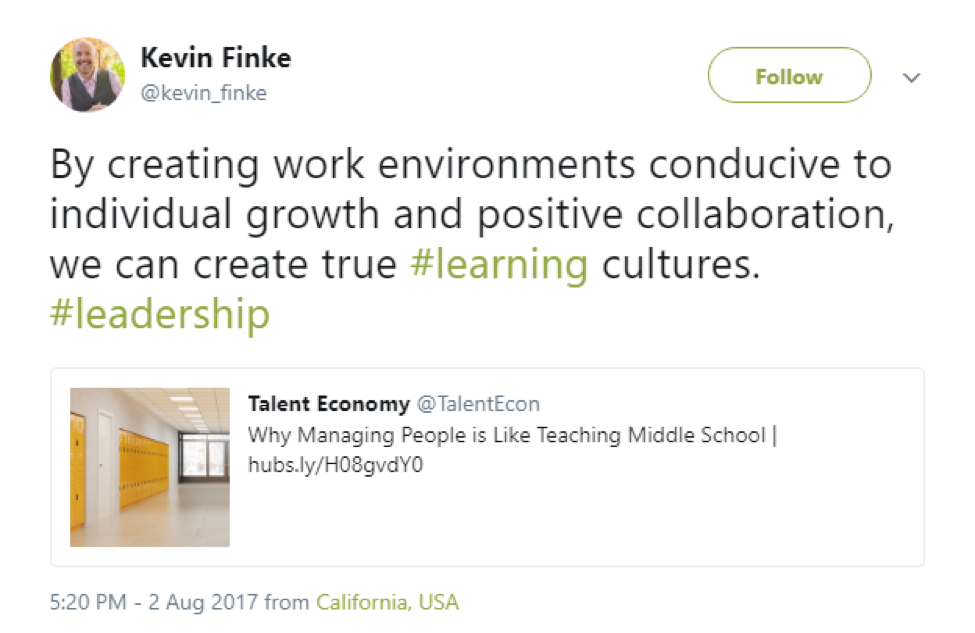 For real-life advice on everyday strategy, Kevin Finke can share how he applies his proprietary ideas and frameworks (i.e. Today's Consumer-WorkersTM and Five- Star Experience ModelTM) to transform NCR's culture by consciously designing and engineering the experience employees have working at NCR.
He recently shared this article, written by Jeff Miller for the Talent Economy, Why Managing People is Like Teaching Middle School. Jeff Miller was an educator before becoming a Director of Learning, and he shares insights into how that helped prepare him for the job. The main takeaway is: "By creating an environment not only conducive to individual growth but positive collaboration, you're creating a true learning culture."
Kevin is known for being a transformational leader whose mission is to help propel a culture and workforce revolution. As a senior member of the HR and Talent Innovation team, he helps lead a new enterprise-wide culture and talent strategy that's changing how NCR recruits, on-boards, develops and retains its global workforce.
Connect with Kevin Finke here.
5. Jenny Dearborn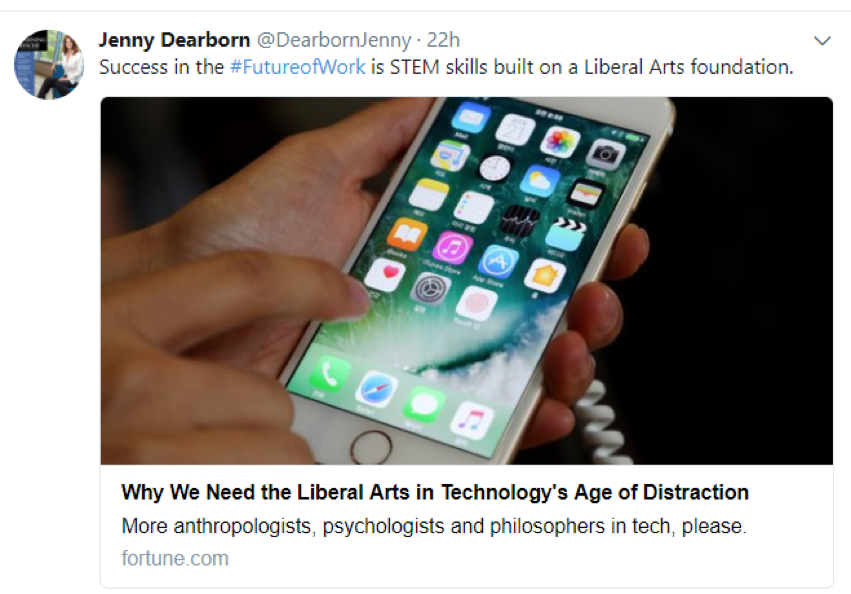 Jenny Dearborn is the Chief Learning Officer and SVP at SAP where she leads an internationally-acclaimed and award-winning team recognized as the #1 performing corporate learning department in the world by eLearning Magazine. In 2015 she published Data Driven: How Performance Analytics Delivers Extraordinary Sales Results. 
In August, Dearborn shared this article, Why We Need the Liberal Arts in Technology's Age of Distraction, which was written by Tim Bajarin for Time.com.  Bajarin cites a recent article in the Harvard Business Review, together with his own insights and examples, to form a case for why "all tech companies serious about ethical grounding need to be hiring folks with backgrounds in areas like anthropology, psychology and philosophy."
Connect with Jenny Dearborn here.
6. Steve Boese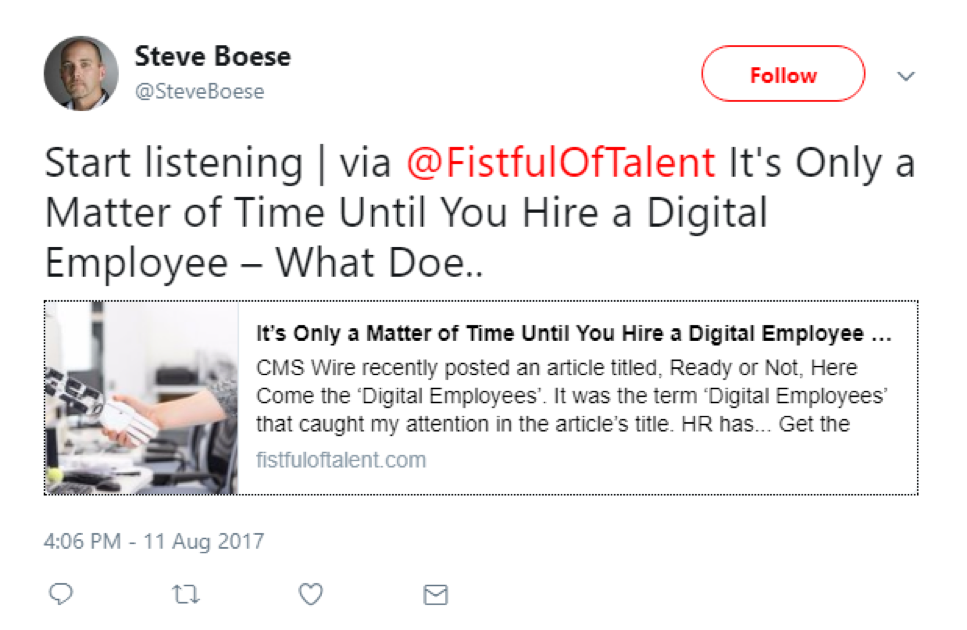 Steve Boese is an expert on how technology is revolutionizing the workplace, with over 15 years of experience implementing technology solutions for HR and learning in a variety of industries.
Boese shared an article that touches on a trending topic in HR today – digital employees. The article, It's Only a Matter of Time Until You Hire a Digital Employee – What Does that Mean for Your "Analog" Employees?, was written by Kate Weimer for Fistfuloftalent.com. Weimer defines "digital employees" and offers suggestions on how to introduce them to your company. Weimer recommends an onboarding process and gives tips on managing the interaction between "analog" employees and the digital ones.
Boese is also the Co-Chair of the HR Technology Conference, a writer/editor for Human Resource Executive magazine, and a co-hosts the HR Happy Hour show he created. Previously Boese was on the Product Strategy team at Oracle.
Connect with Steve Boese here.
7. Mark Stelzner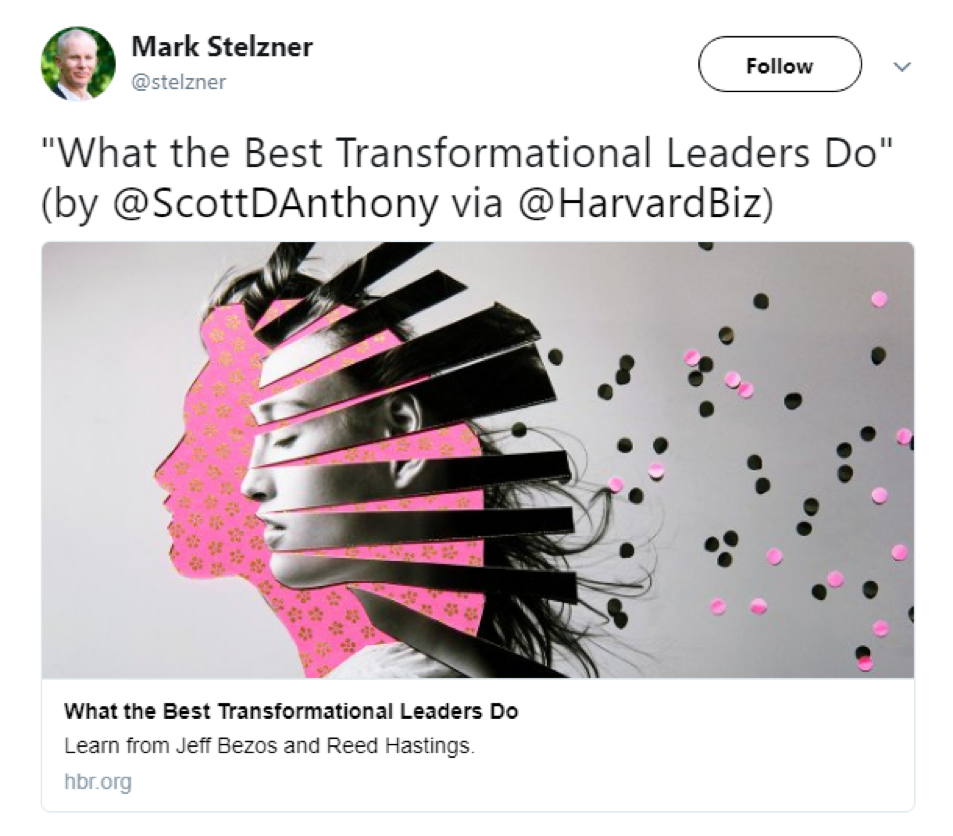 Mark Stelzner is a well-known expert on internal and external HR transformational initiatives, with over twenty years of experience working with public and private sector clientele worldwide. His expertise and insight is regularly sought out for features in the Wall Street Journal, the New York Times, Forbes, CNN and NPR.
In a Twitter post from August, Stelzner shared the article, What the Best Transformational Leaders Do, which appeared in the Harvard Business Review. The article reviews the common strategies used by the top 10 companies from the S&P 500 and Global 500 that are leading successful transformations by creating new business models and fostering a culture of innovation necessary for survival today.
Stelzner is currently the Founder and Managing Principal of IA, with over twenty years of experience in implementing internal and external HR transformational initiatives worldwide.
Connect with Mark Stelzner here.
8. HR Bartender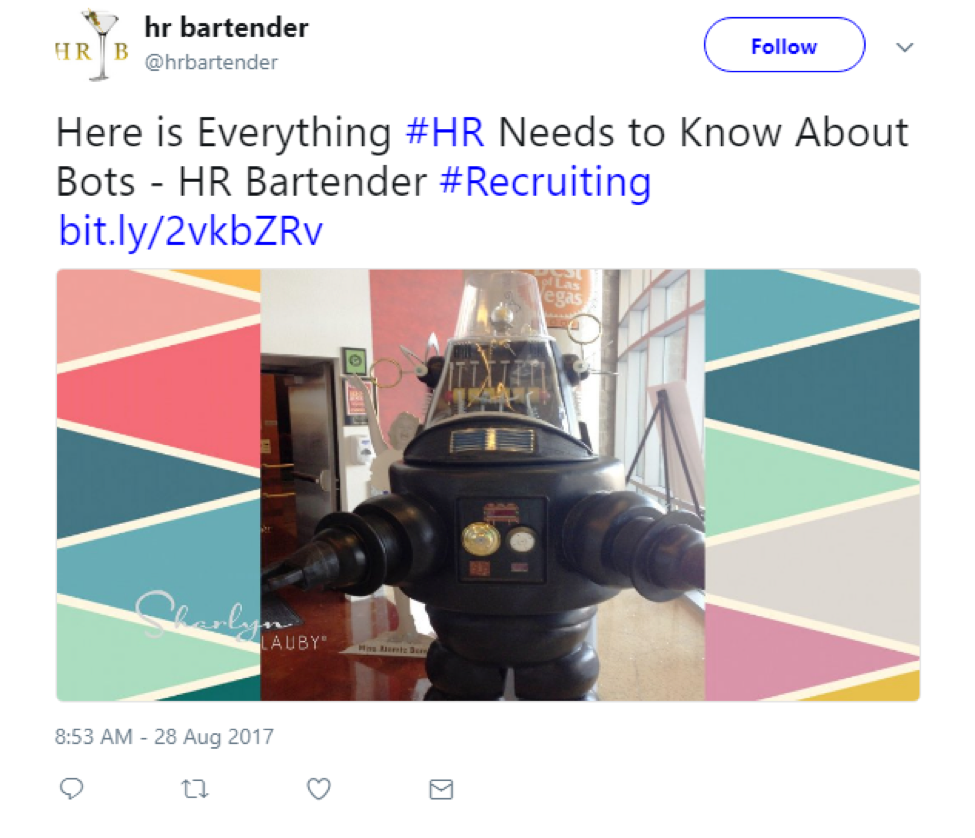 Sharlyn Lauby focuses on HR trends and best practices for her blog, HR Bartender, which is one of the Top 5 Blogs Read by HR professionals according to the Society for Human Resource Management (SHRM).
In a recent tweet, Lauby shared the article Everything #HR Needs to Know About Bots which is part of the HR technology series that she has been writing on the blog. Lauby defines what bots are, and she interviews Deepak Bharadwaj, the VP and general manager for ServiceNow's HR Service Delivery, to share his insights on how they are helping HR departments.
Lauby is the president of ITM Group, Inc., which specializes in training solutions to help retain and engage talent. Lauby is also the author of Essential Meeting Blueprints for Managers and Manager Onboarding: 5 Steps for Setting New Leaders Up for Success.
Connect with HR Bartender here.
9. Lori Niles Hoffman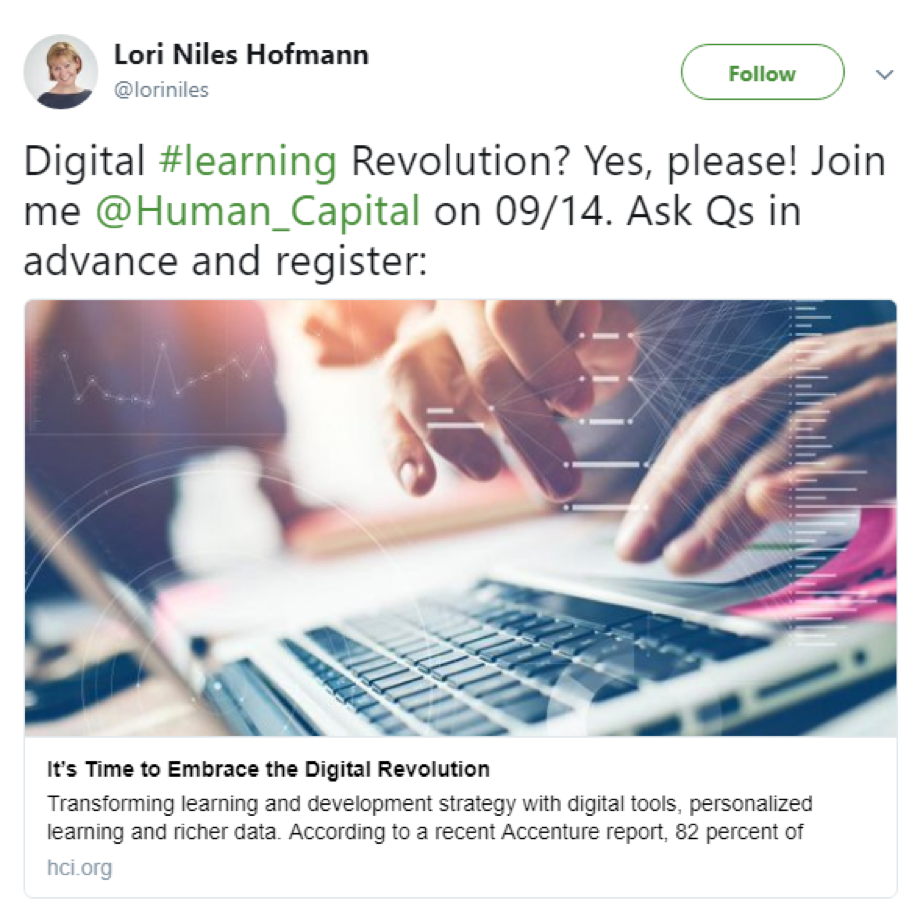 Lori Niles-Hofmann is a senior learning adviser with 15 years of global experience in industries ranging from finance, consulting, and marketing. She has led through the L&D alphabet starting with the old CD-ROMs up to the LMS and onward to AR and VR. She blogs regularly at www.lori.ca and is the author of the eBook Data-Driven Learning.
Niles-Hofmann sent out a notice to her Twitter followers about an upcoming webinar on September 14th where she is a featured presenter with Doug Stephen, the SVP for the Learning Division at CGS., Inc. The discussion will focus on transforming learning and development strategy with digital tools, personalized learning and richer data, and you can register for the webinar here: It's Time to Embrace the Digital Revolution.
Connect with Lori Niles-Hofmann here.
10. Jon Ingham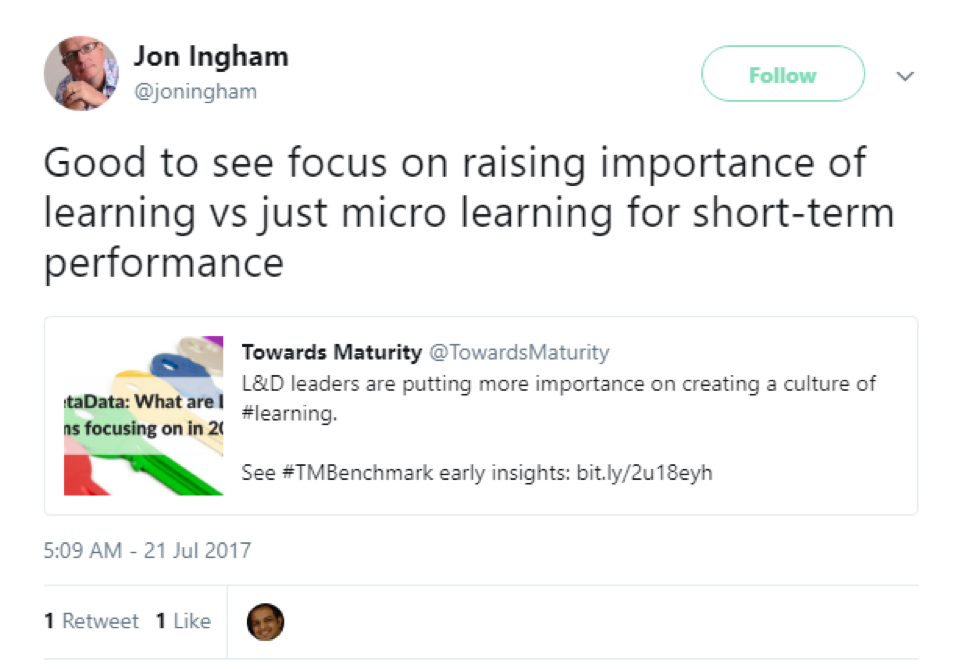 For expertise in talent management, over 15,000 people connect with and follow posts from Jon Ingham, a well-known HR blogger and a top global influencer. Ingham is a consultant, researcher, writer and speaker on strategic people management with a particular focus on social capital. He consults HR departments to increase their organizational impact, and helps business leaders and HR teams develop their own strategic capabilities.
Ingham shared a nice insight from an article written by Levi Phillips that reviews early analysis from their "2017 Towards Maturity Benchmark Study." In the study, over 660 learning professionals participated by sharing what their L&D teams are currently working on. Ingham was pleased to the findings that "an influence on culture is becoming increasingly important, with 90% now wanting to play a role in changing mindsets."
Connect with John Ingham here.
We hope you enjoyed our round-up of recent insights and tips from influencers in the learning and development field. For more insights and advice on how to address current and upcoming challenges, sign up to the CGS blog here.