10 Insights from Customer Care Experts & Influencers
Did you miss some of these great insights recently tweeted by customer care influencers and experts? We rounded up 10 great tips and insights from some of the best experts in the industry to help you stay on top of important topics and trends.
1. You must EARN your customer's trust.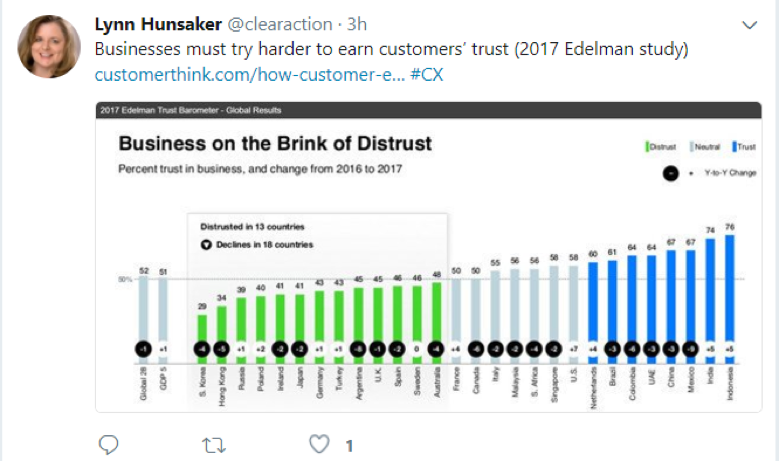 Lynn Hunsaker recently wrote about gaining customers' trust in the article How Customer Experience Policies Empower Growth. Lynn advises "if you want your customers to trust and love your brand, show them you trust them and your employees as well."
Hunsaker is the CEO of ClearAction, a customer experience consultancy helps businesses grow by focusing on how they treat their customers and how they communicate with them. Lynn's career spans 16 years and includes being the chair of a 12-country, six-division taskforce designing customer satisfaction methodology at Sonoco Products. Hunsaker is an expert in customer experience, published author and a recognized thought leader in the field.
Connect with Lynn Hunsaker here.
2. Stop WASTING your customer's time with your brand.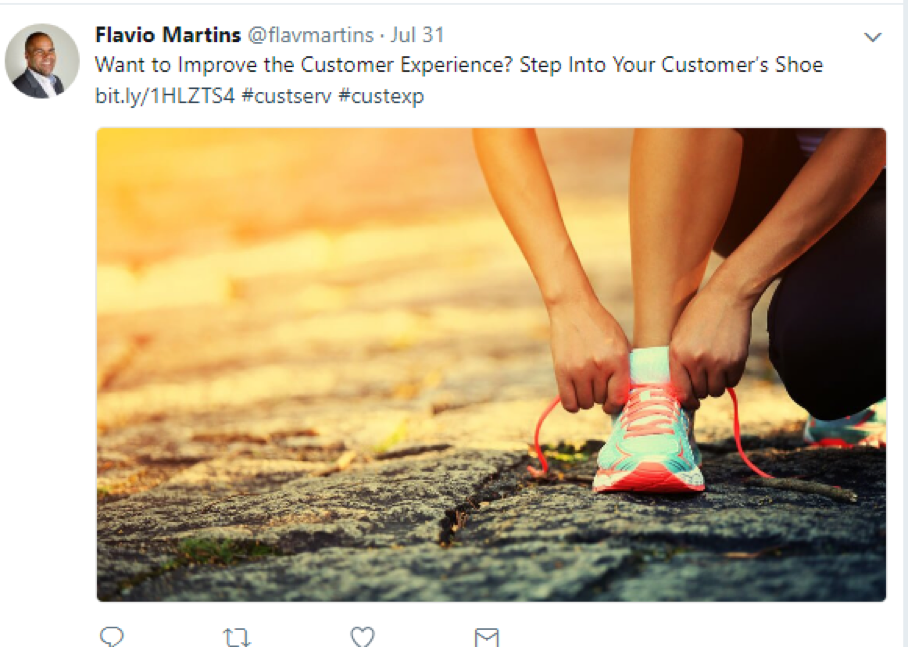 Flavio Martins has a site called WIN THE CUSTOMER where he recently posted the article "Up the Ante with Your On-Hold System to Win Over Customers" in which he explains how you can elevate customer experience by making your customer's time a top priority.  He has four small steps you can take that make a big difference: 
Don't place them on hold for long periods of time
Make sure they know their expected wait time
Give callers the choice to be called back
Consider adding chat
Martins is the VP of Operations and Customer Support at DigiCert, Inc., a leading provider of enterprise SSL Certificate Management and PKI technology for security in the Internet of Things. His focus is on helping teams leverage technology with the special human factor to create exceptional and memorable customer experiences.
Connect with Flavio Martins here.
3. Investing in customer service will increase your bottom line.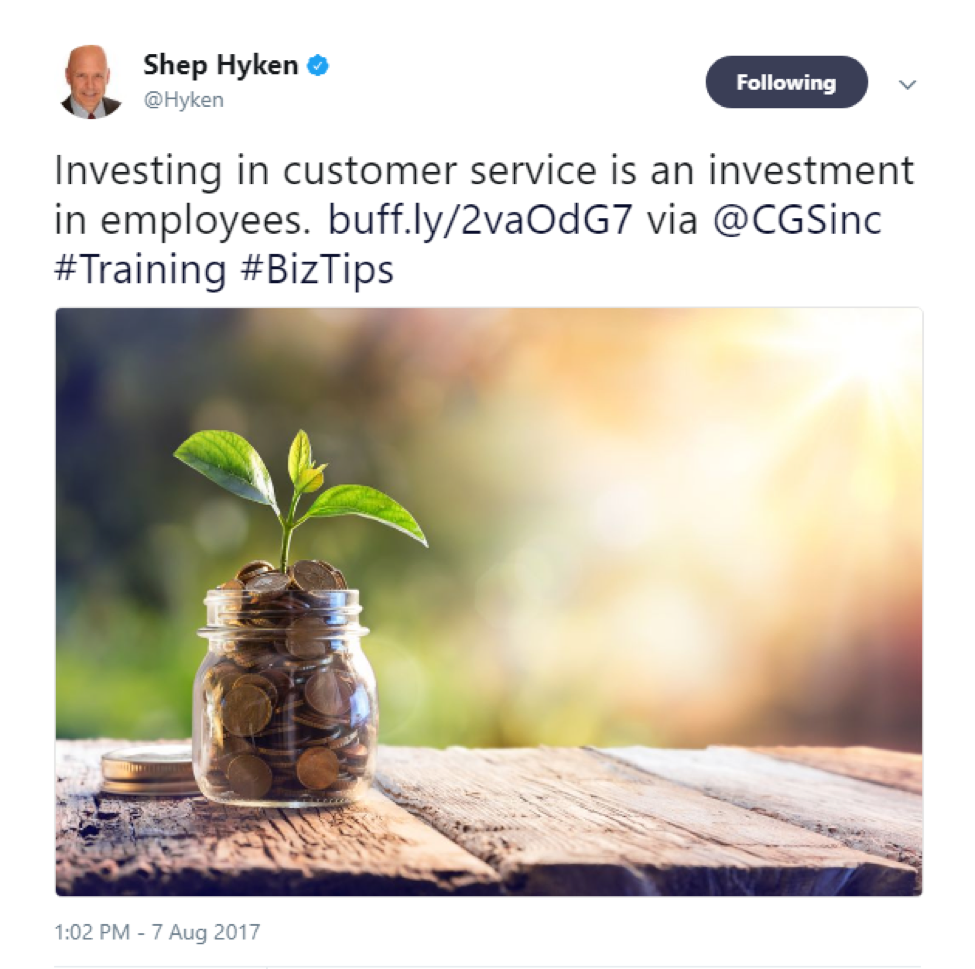 Shep recently wrote an article for CGS "Customer Service Training Is an Investment That Pays Off" in which he discusses how companies that spend resources on customer service increase their bottom line and generate growth.
Shep Hyken, CSP, CPAE is the CAO (Chief Amazement Officer) of Shepard Presentations. As a customer service expert and keynote speaker, Shep works with companies who want to build loyal relationships with their customers and employees. He is a hall of fame speaker (National Speakers Association) and a New York Times and Wall Street Journal best-selling author.
Connect with Shep Hyken here.
4. Companies who treat customers well, attract better employees.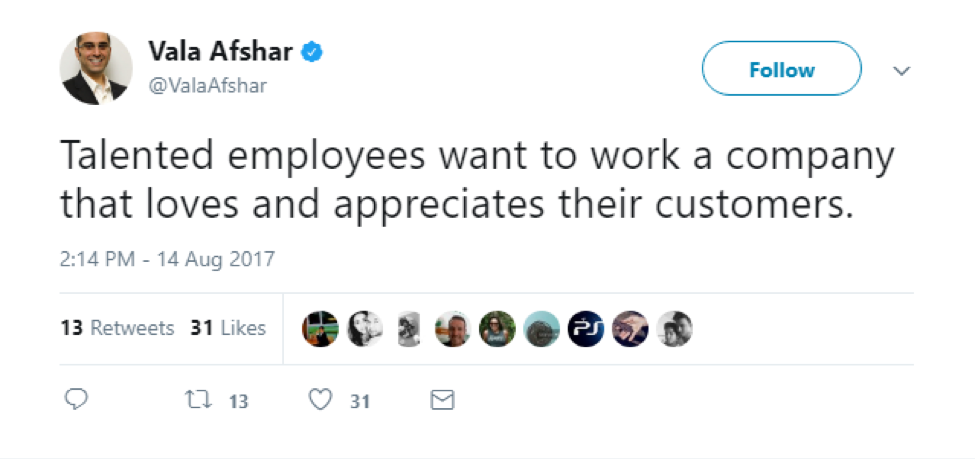 Vala Afshar writes and speaks often on the impact customer service has on attracting great talent. Afshar states that your culture is your brand, and your customer service is a big part of how your culture is experienced by others. If your service is top notch, your brand perception will be much higher, and will increase your ability to attract the best talent.  Listen to Afshar's podcast on the topic here: "New Data: The Connected Customer's Wants and Needs in 2017."
Vala Afshar is the Chief Digital Evangelist at Salesforce.com. His prior roles include Chief Marketing Officer, Extreme Networks and CMO and Chief Customer Officer of Enterasys Networks. Afshar also contributes regularly to the Huffpost, INC Magazine and other publications covering topics related to digital business transformation, business excellence and trends.
Connect with Vala Afshar here.
5.  Speaking your customer's language is an important part of great customer experience.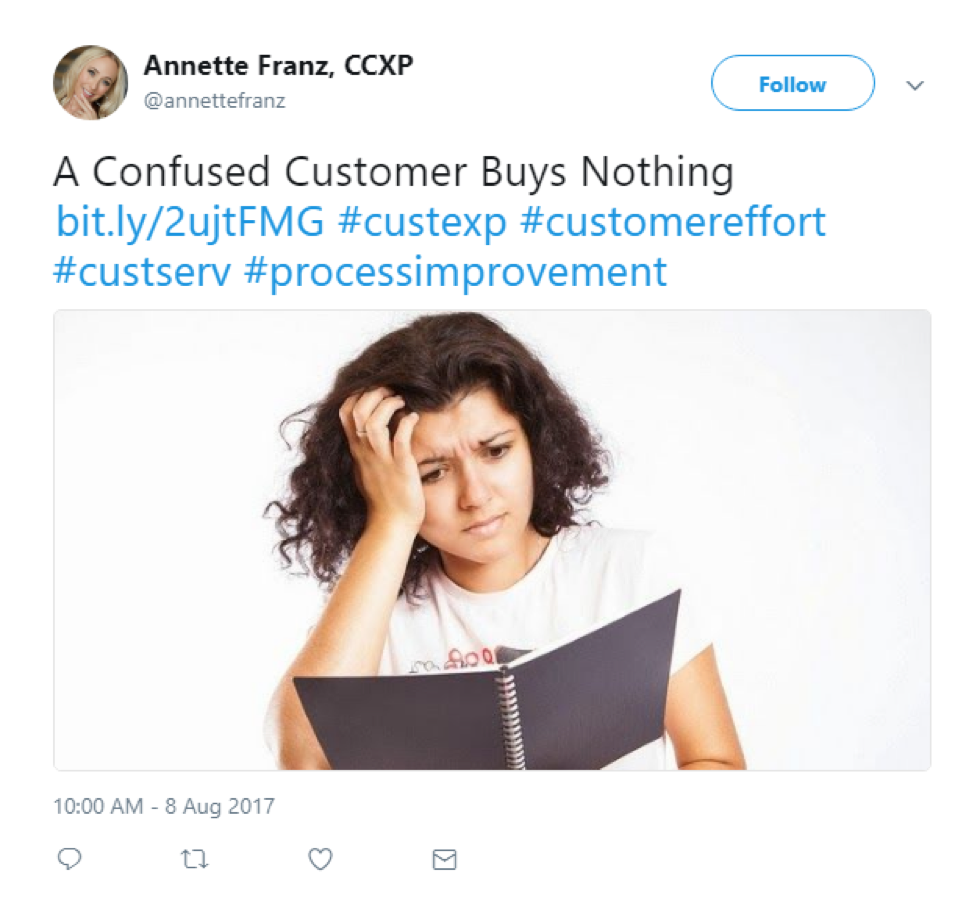 Annette Franz recently posted an article that asks "Do You and Your Customers Speak the Same Language?" She writes that by using different phrases or vocabulary from our customers we can easily confuse them. This greatly lowers their satisfaction when interacting with your company, and also reduces the probability that they will buy from you, or become a repeat customer. She gives these 5 tips for making sure you and your customers are on the same page:
·  Don't use acronyms, internal product names, industry jargon, or other company speak
·  Listen to cues from customers.
·  Get feedback from your customers about your messaging and communications, Learn and adapt to your customers' language.
·  Understand your customers, their needs, and the jobs they are trying to do
Franz blogs at CX Journey, where she shares her passion for helping companies understand the importance of the employee experience and its role in delivering an exceptional customer experience, as well as how to transform their cultures to ensure the customer is at the center of every conversation. She was recently recognized as one of "The 100 Most Influential Tech Women on Twitter" by Business Insider and has been recognized by several organizations as a top influencer in Customer Experience.
Connect with Annette Franz here.
6. Companies must protect their customers' data or lose trust.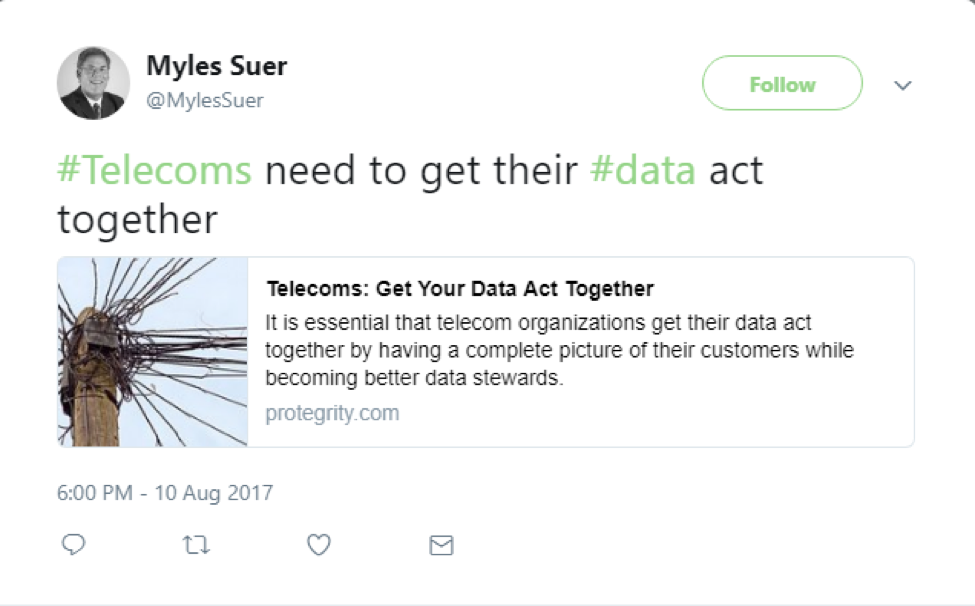 Myles Suer writes frequently about digital disruption, leadership and creating data driven enterprises. In a recent post, "Winning Retailers Treat Customer Data Like a Diamond in the Rough," he wrote, "It is essential that retailers get their data act together. This means that they put together a complete picture of consumers but at the same time become better data stewards. Without the latter, all the intimacy sought can be lost in an instant."
Myles Suer is a Business Strategist focused on solutions to help organizations transform with data. He is the facilitator of #CIOChat, which holds discussions with executives from around the world in a variety of industries including banking, insurance, education and government. Suer is the Director of Solution and Industry Marketing at Protegrity.
Connect with Myles Suer here.
7. Understanding customer expectation is the key to success.

Brad Cleveland recently posted an article giving companies advice on how to "Make the Most of Changing Customer Expectations," in which he posted a list of 10 Key Customer Expectations pulled from the Call Center Management on Fast Forward:
Be accessible
Treat me courteously
Be responsive to what I need and want
Do what I ask promptly
Provide well-trained and informed employees
Tell me what to expect
Meet your commitments and keep your promises
Do it right the first time
Follow up
Be socially responsible and ethical
Cleveland is known globally as one of today's foremost experts in customer strategy and management and omnichannel services. A sought-after consultant and speaker, he has worked in 45 states and over 60 countries, and his clients have included many of today's service leaders. He writes articles and records podcasts regularly on customer strategy, quality service and customer expectations.
Connect with Brad Cleveland here.
8. You must understand a customer's context to deliver a great self-service experience.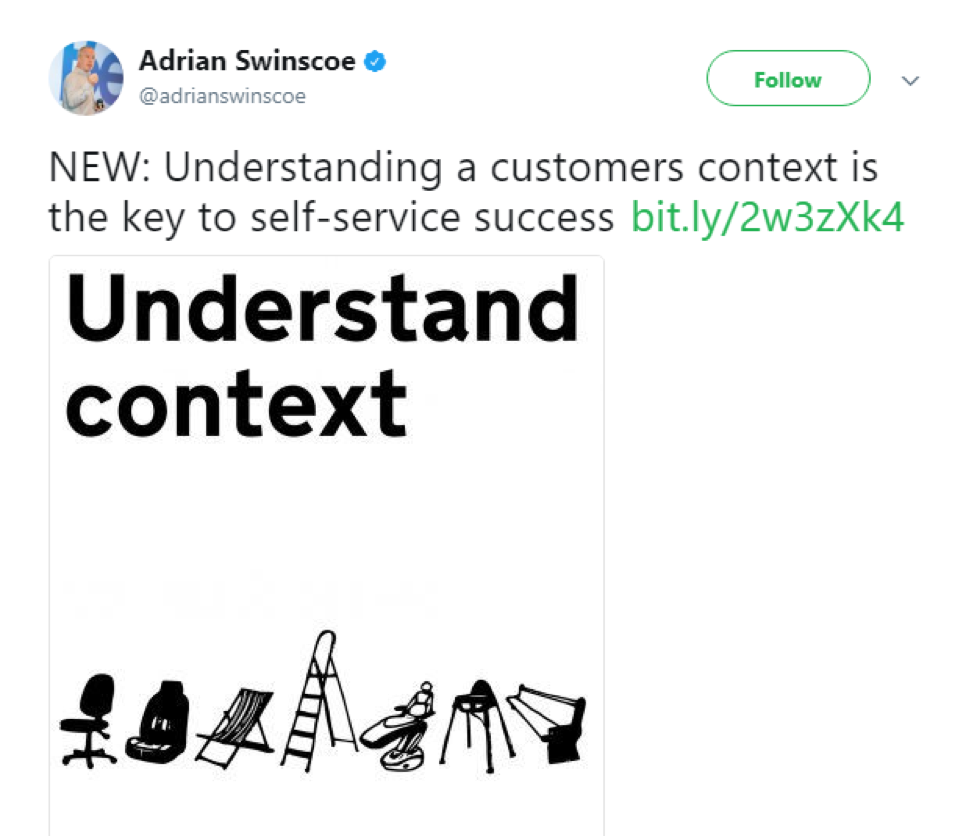 Adrian Swinscoe interviewed William Colleran, the President and CEO of AnswerDash, a predictive and artificial intelligence (AI) powered Q&A Saas platform for companies in a variety of industries. The discussion focused on self-service, context, why static FAQs are not enough and what firms should be doing to improve their customer service using self-service tools. Listen to the podcast here.
Swinscoe is a customer experience consultant and advisor, and has been growing and developing customer-focused large and small businesses for 20 years. He focuses mainly on how companies can engage with their customers, build their customer retention and improve service. In 2016 Adrian published a book How to Wow: 68 Effortless Ways to Make Every Customer Experience Amazing that contains 68 strategies on how to stand apart from your competitors with world-class customer experience. 
Connect with Adrian Swinscoe here.
9. AI is critical to user experience.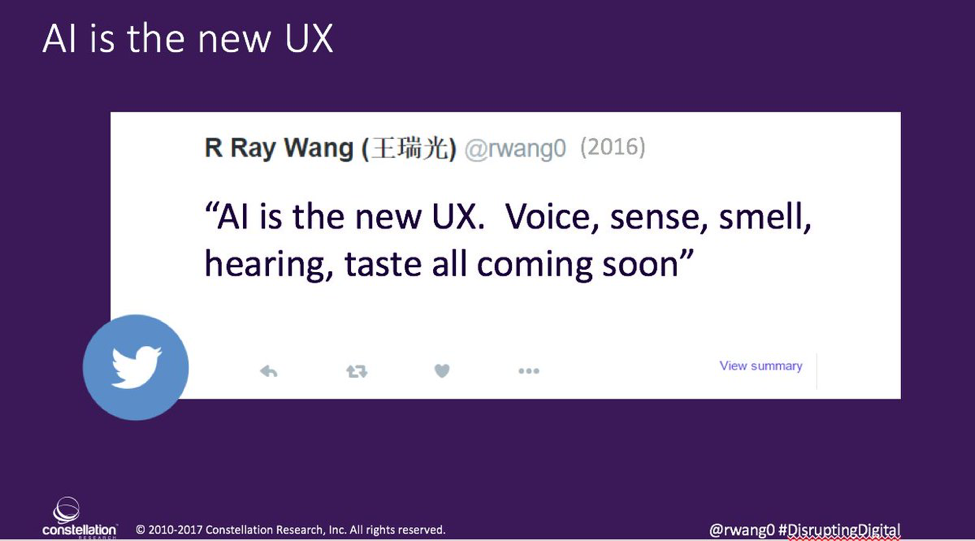 Ray Wang write a lot about AI, and in 2016 he published a list of Seven Success Factors AI Requires.
1.     Large corpus of data.
2.     Massive computer power.
3.     Time.
4.     Awesome math talent.
5.     Industry specific expertise.
6.     Natural user interface and user experiences.
7.     Recommendation engines.
Read more on Wang's explanation of these factors and his thoughts on AI here: The Rush To Artificial Intelligence Will Enable Augmented Humanity
R "Ray" Wang is the Principal Analyst, Founder, and Chairman of Silicon Valley based Constellation Research, Inc.  He's the author of the popular business strategy and technology blog "A Software Insider's Point of View." Wang has held executive roles in product, marketing, strategy, and consulting at companies such as Forrester Research, Oracle, PeopleSoft, Deloitte, Ernst & Young, and Johns Hopkins Hospital.
Connect with Ray Wang here.
10. Your brand drives your culture.
Jim Bass published a really insightful video blog, "Six Secrets To Winning Employee Buy-In For Customer Experience Initiatives (or any other improvement program or project)," to help CX leaders answer these questions:
"How do I get my employees to share their insights?"
"How do I get Voice of the Employee?"
"How do I use VOE to impact sustainable change?" 
Afterward, Bass shares the 6 easy-to-remember steps or actions to help CX leaders that include:
Using VOE collection activities as a way to gain buy-in on improvement projects and programs
Improving leadership skills and leadership brand
Building trust, collaboration and respect among the team
Transforming organizational culture
Jim Bass is the current director of Client Advocacy for ADP, and is a Customer Engagement Strategist with over 10 years of experience managing people and enterprise customers, helping them to drive satisfaction from products and services.  He has uses Voice of the Customer and Voice of the Employee data to deploy successful programs design to increase and improve engagement. He is experience and certified in the Net Promoter Score tool, and has qualifications such as PMP and Six Sigma Yellow Belt.
Connect with Jim Bass here.
Hope you enjoyed the tip from these influencers and experts on customer care! Stay tuned for more insights into emerging trends, and to read more insightful advice on call center and customer care topics, check out our blog here.