Published
August 24, 2017
Subscribe to Email Updates
10 Trends Fashion, Apparel & Retail Industry Influencers are Tweeting About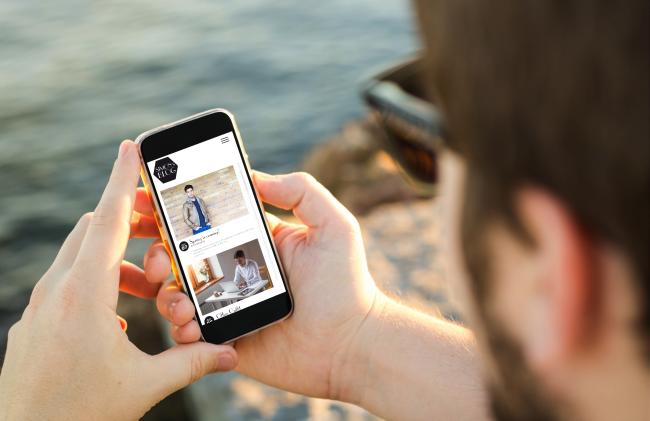 It can be challenging to stay on top of all the great tips and insights fashion, apparel and retail thought leaders tweet on a daily basis. We rounded up 10 recent insights from influencers you don't want to miss.
 1. The Retail Doctor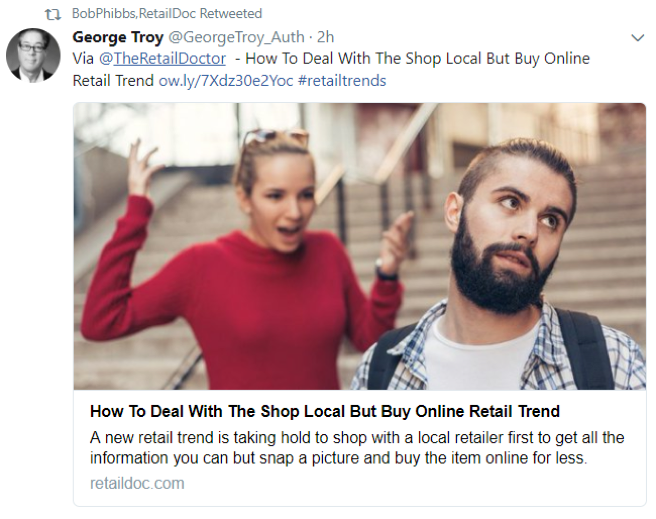 It may seem counterintuitive but today's shoppers are in love with supporting local small businesses and placing more importance on ethical and sustainable products. But they want to buy online. The Retail Doctor has some advice on how to deal with this trend. We agree that a great customer experience and making a personal connection is one place to start.
The Retail Doctor is a retail consulting firm created by expert retail consultant and leading business mentor, Bob Phibbs. Phibbs is an internationally recognized business strategist, customer service expert, sales coach, marketing mentor, author of three books, and motivational business speaker. Connect with the Retail Doctor here.
2. Retail Minded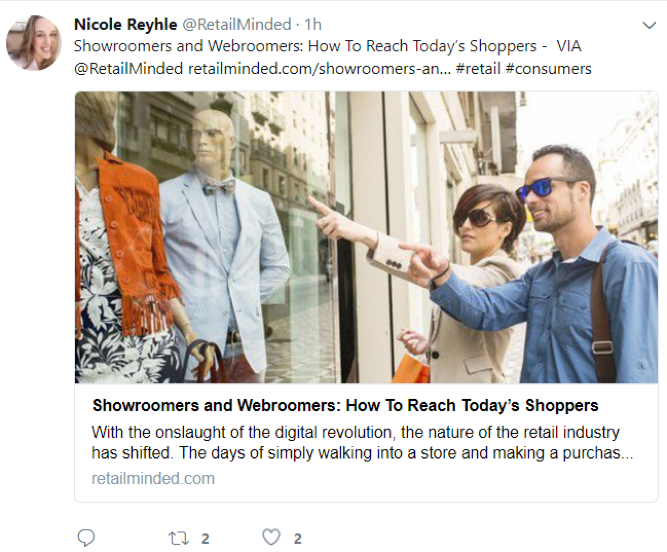 Shoppers today aren't divided between those who primarily shop online and those who primarily shop in stores. Instead, consumer behavior is a mix between the two, with differences between how they research products and how they purchase. To reach customers today, retailers need strategies to reach two main groups Retail Minded calls  showroomers and webroomers. Shoppers may use one or both of these strategies, and retailers need to understand them to increase purchases. Read more here: Showroomers and Webroomers: How To Reach Today's Shoppers.
Retail Minded is a publication run by Nicole Leinback Rayhle, who covers pressing issues and challenges facing independent retailers both online and off. Rayhle is an experienced retail and wholesale professional with a passion for small businesses and she began Retail Minded in 2007 as a consultancy. Connect with Retail Minded here.
3. Retail Geek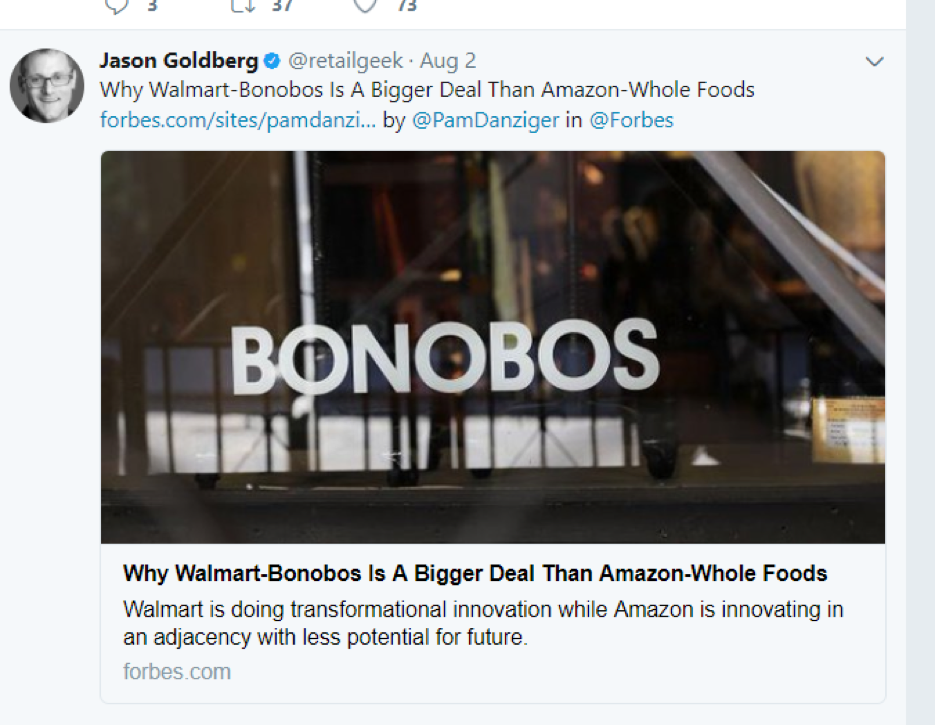 Retail Geek shared an article from Forbes, about why we should be paying more attention to the Walmart-Bonobos merger than Amazon's takeover of Whole Foods, even if it was a much smaller deal. Bonobos is the just the latest in a string of acquisitions by Wal-Mart in recent years that have indicated just how serious the company is about competing against Amazon and growing their eCommerce arm.  Read more here: Why Walmart-Bonobos Is A Bigger Deal Than Amazon-Whole Foods .
Retail Geek is a blog that covers how people shop today, online and in stores. Jason Goldberg created the site to help retailers understand how they can better serve customers, including new technologies and gadgets on the market to enhance customer satisfaction and experience. Goldberg is a 4th generation retailer and a Sr. Vice President of Commerce and Content at Razorfish. Connect with Retail Geek here.
4. Kizer & Bender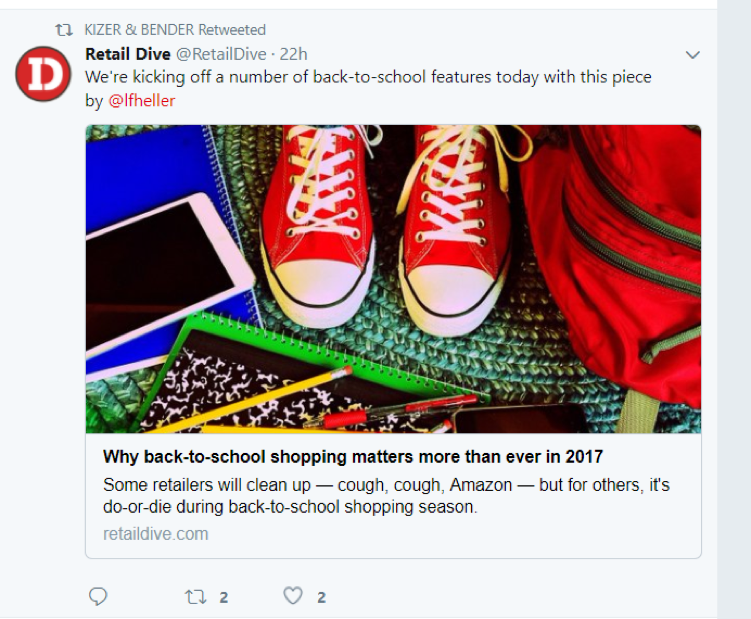 Retail Dive gives an insightful write up on the importance of back-to-school shopping, which is expected to grow more than 10% in 2017 compared to 2016, making it the second biggest sales for the season since 2012. It is the second biggest shopping season of the year as well, and Retail Dive gives further insight into how Amazon will dominate, and strategies other retailers are using to compete. Read more here: Why back-to-school shopping matters more than ever in 2017.
Retail Dive hosts a number of authors for their blog which current events and trends in the retail the industry. Their mission is to keep industry professionals up to date "with a bird's-eye-view of the retails industry in 60 seconds. Connect with Kizer & Bendder here.
5. Chris Petersen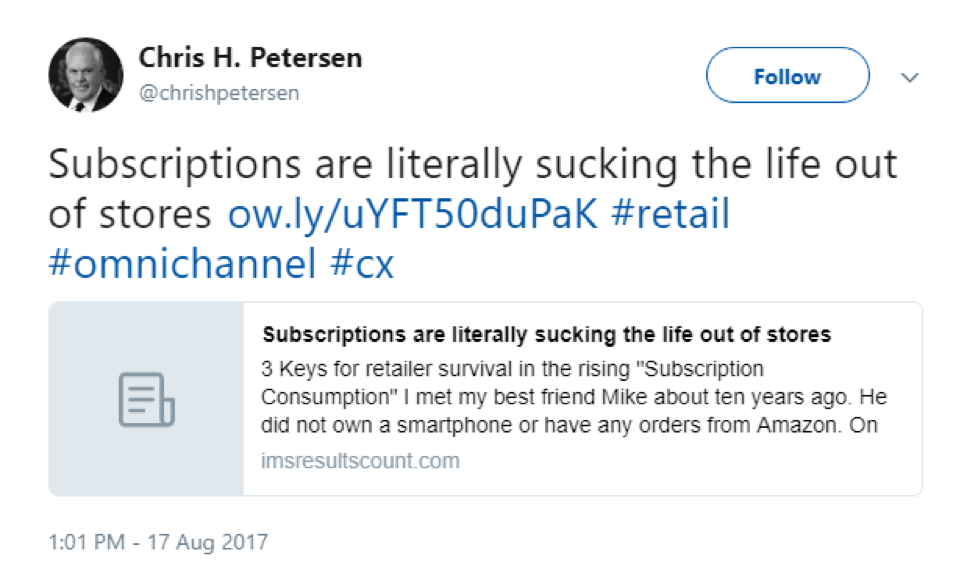 Chris Petersen writes about the devastating impact subscription services are having on traditional retail. He writes about the history of subscription services, and how retailers can innovate and keep up with this disruptive and fast growing trend. In the article Petersen elaborates on these 3 ways retailers must adapt:
Understand that the "store" is NOT bricks and mortar.
Customer relationships are the foundation of future success.
Customer wants personalization and choice.
Read more here: Subscriptions are literally sucking the life out of stores, 3 Keys for retailer survival in the rising "Subscription Consumption"
Chris Petersen founded IMS (Integrated Marketing Solutions), a consulting firm focused on retail, in 1982. Petersen also founded IMS' Retail University, where individuals can take a series of workshops on how to compete profitably in our increasingly complex retail marketplace. Connect with Chris Peterson here.
6. Retail Shelley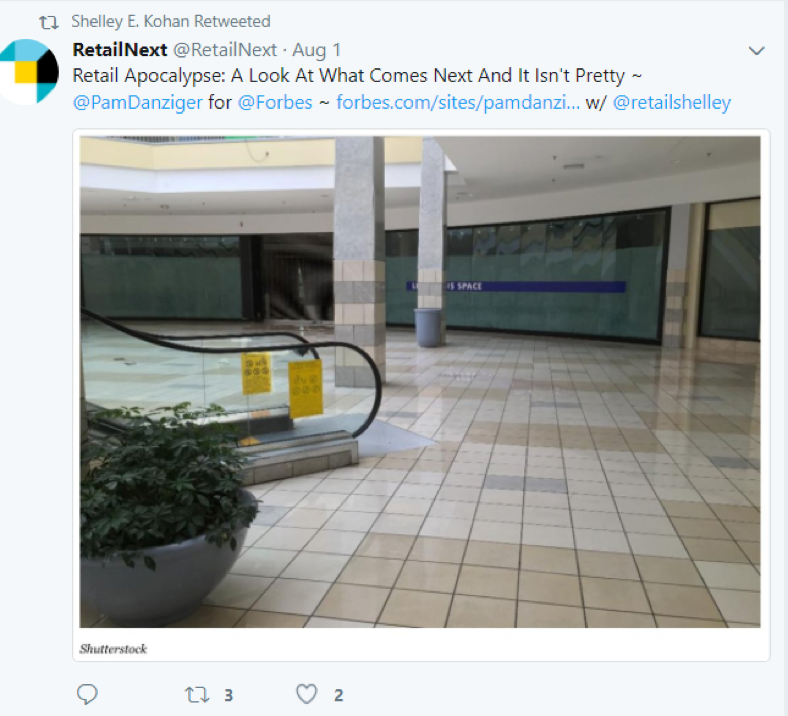 Shelley Kohan retweeted an important article from Forbes about the recent report on the economy from the Commerce Department. The report had mixed results. The economy grew at a faster pace in the second quarter of 2017, however one area remains weak: Consumer Retail. This makes up 60-70% of the U.S. economy, and in the first half of 2017, retailers were failing in record numbers. Read more analysis here: Retail Apocalypse: A Look At What Comes Next And It Isn't Pretty.
Shelley Kohan has more than 25 years experience in retail store operations, and is the VP of Retail Next and Retail Consulting. Retail Next is a vertical IoT integrated platform that brings digital style analytics to brick-and-mortar retailers. Their mission and blog is focused on helping companies optimize the shopping experience. Connect with Shelley Kohan here.
7. Andrea Wasserman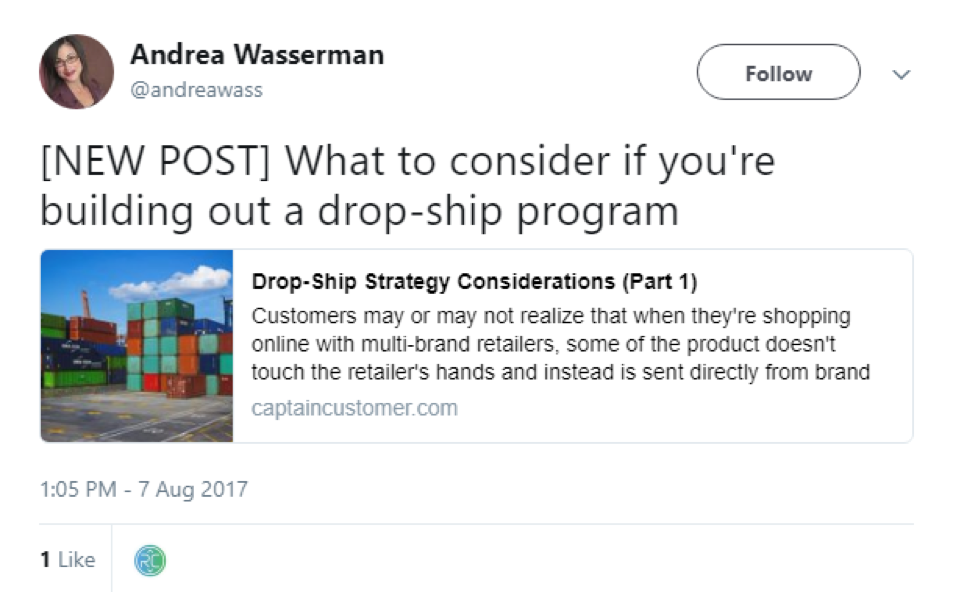 Andrea Wasserman recently tweeted about an article she posted in her blog, Captain Customer, about things retailers should consider if they're building a drop ship program. We recently spoke to one of our customers at CGS about drop ship as well, and it's definitely an important eCommerce sales tactic to learn more about! She goes over the benefits and some factors to consider here: Drop-Ship Strategy Considerations (Part 1).
Wasserman is a is a leader in the consumer sector with experience in both online and offline strategies. In her blog she writes about important topics on where physical and digital strategies meet and cross, as well as important issues for retailers related to branding and customer experience. Connect with Andrea Wasserman here.
8. Barbara Thau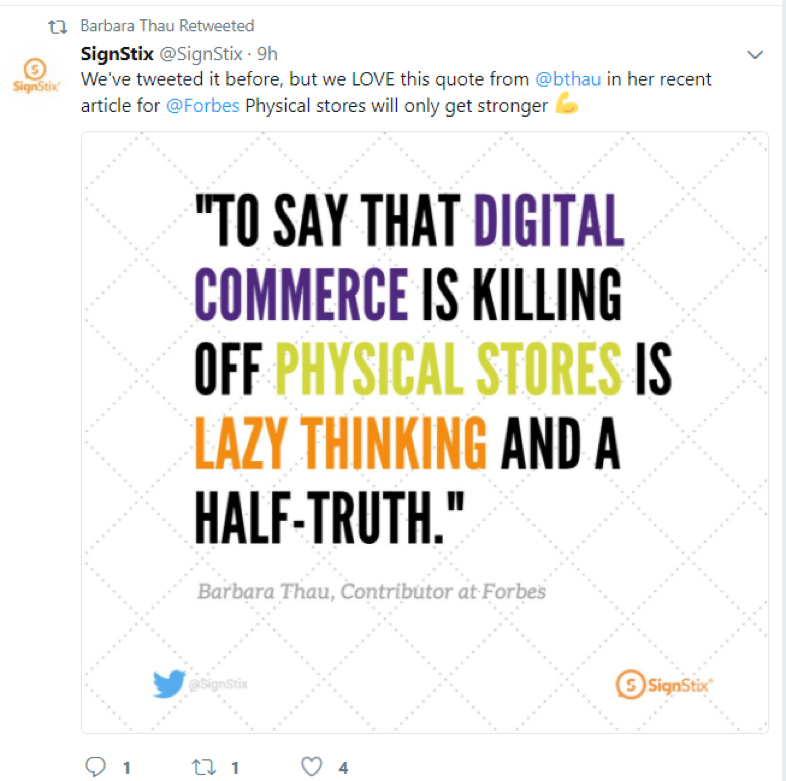 Barbara Thau wrote a great article in June that challenges and contradicts the popular belief that eCommerce is killing off physical stores in the retail industry. She makes the argument that "pure-play online shopping is the imperiled model, evidenced by the lack of e-commerce-only retailers – save for Amazon and eBay – that have gained any meaningful heft and influence." Read the article and more insights here:  Five Signs That Stores (Not E-Commerce) Are The Future Of Retail
Barbara Thau is a business journalist and regular contributor for Forbes. She's covered the retail industry for more than 10 years with articles on news and trends, as well as industry analysis. Connect with Barbara Thau here.
9. Steve Dennis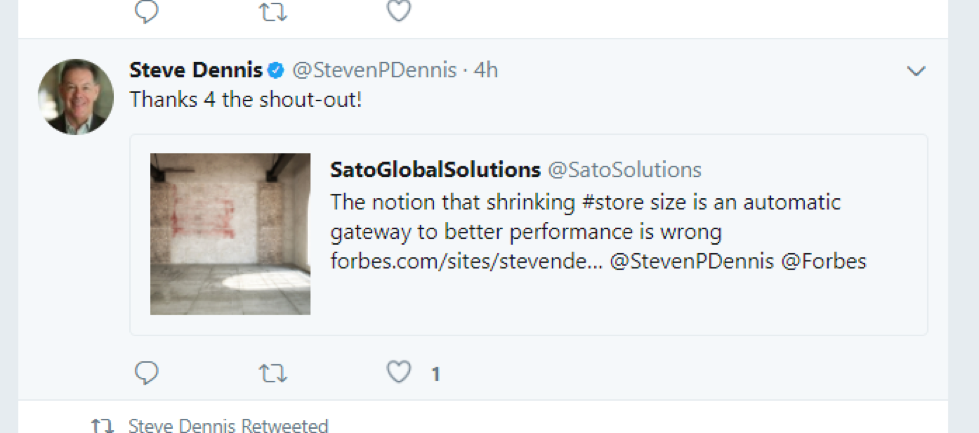 Steve Dennis published an article in Forbes in August 2017 that makes the argument that smaller stores are not necessarily better. He agrees with Barbara Thau that the "retail apocalypse" is not real, even if we are witnessing major trends that transforming the retail industry. He also makes a good case for why certain stores should not downsize their brick-and-mortar locations as part of their strategy to survive the shifting focus to eCommerce. Read the full article here: Honey, I Shrunk The Store.
Steve Dennis is a regular contributor to Forbes, a strategic advisor, writer and keynote speaker who focuses on retail growth and innovation. He focuses primarily on omni-channel, customer insight and digital disruption which are areas of expertise he has developed in his 25+ year career in the retail industry, which includes founding his own consulting firm.
Connect with Steve Dennis here.
10. The National Retail Foundation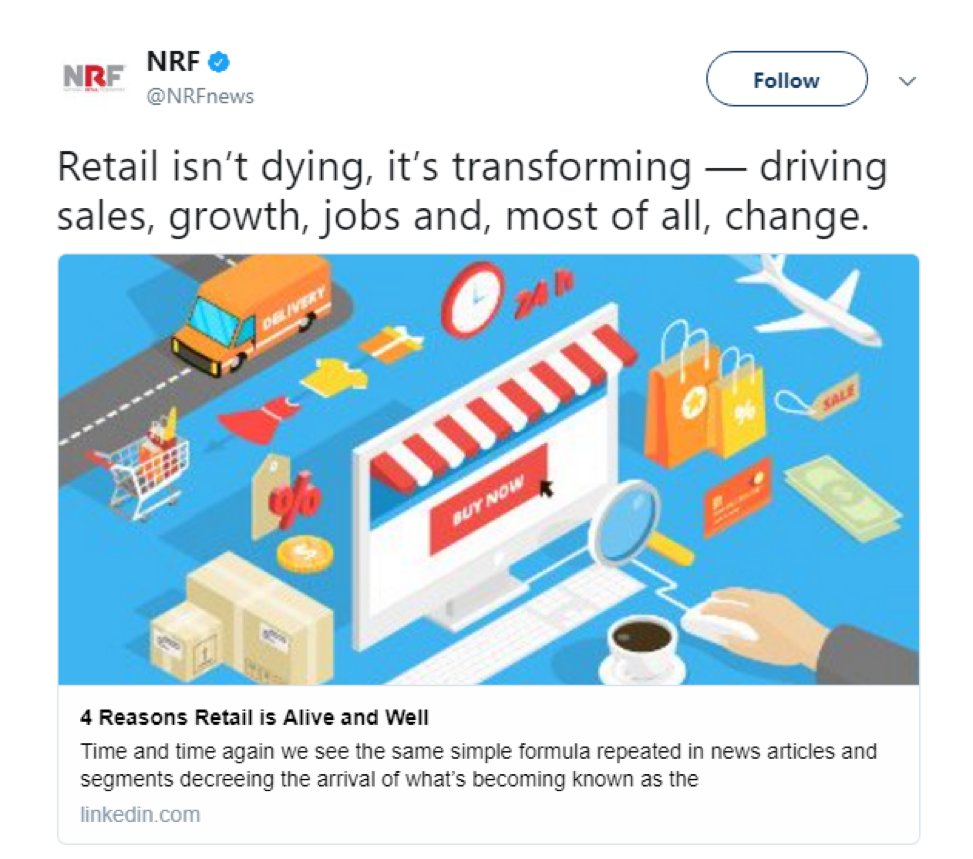 Matthew Shay, president and CEO of the National Retail Federation, touches on a similar theme of our last influencers, and presents his arguments for why the retail industry isn't dying.  He states that the current evolution will actually create millions of better-paying positions in the industry, and he gives 4 areas that stand out as proof of this. Read the full article here: 4 Reasons Retail is Alive and Well.
The National Retail Federation is the world's largest retail trade association, representing all retail formats for America's largest private sector employer. Connect withth e NRF here.
We hope you enjoyed our round-up of recent insights and tips from influencers in the retail, apparel and fashion industries. For deeper insights into topics and advice on how to meet these challenges for your company, sign up to the CGS blog here.