20 Quotes on Digital Transformation for C-Suite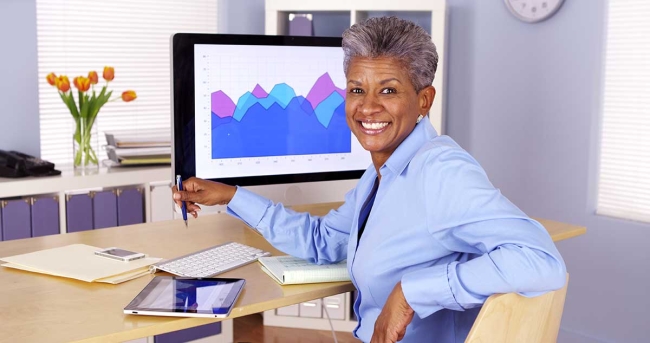 Updated in May 2021
Warren Buffett, Chairman and CEO of Berkshire Hathaway, has said that digital transformation is a fundamental reality for businesses today.
Organizations realize that to postpone their digital transformation puts them at further risk of obsolescence. This is especially true in times of disruption. In a Twilio study, 97 percent of companies report that COVID-19 sped up their digital transformation, and 68 percent say the pandemic sped up their digital transformation "a great deal."
It's up to a company's leadership team to commandeer this revolution while ensuring business continuity. Looking for some inspiration? Below we have curated quotes from some of the world's leading thinkers, innovators and industry leaders that address the different dimensions of digital transformation.
ABOUT CREATING BUSINESS VALUE AND INNOVATION
1. "Clearly, the thing that's transforming is not the technology — the technology is transforming you."
Jeanne W. Ross, MIT Sloan's Center for Information Systems Research
2.  "I've been on more sales calls with more CEOs in the last two months than at any time in my career, and there's universal agreement among them: Digital transformation, while this isn't a one app [solution], it's a must-have. Organizations and governments around the world have a digital transformation imperative like never before, and many of them are accelerating their plans for a digital-first work-from-anywhere environment."
Marc Benioff, founder, chair and CEO of Salesforce
3. "Every successful organization has to make the transition from a world defined primarily by repetition to one primarily defined by change. This is the biggest transformation in the structure of how humans work together since the Agricultural Revolution."
Bill Drayton, Social entrepreneur
4. "We've moved from digital products and infrastructure to digital distribution and Web strategy to now into more holistic transformations that clearly are based on mobile, social media, digitization and the power of analytics and we think it's really a new era requiring new strategies."
Saul Berman, Chief Strategist, VP & Global Digital Business Strategy Practice Leader for IBM Global Business Services.
5. "Every industry and every organization will have to transform itself in the next few years. What is coming at us is bigger than the original internet and you need to understand it, get on board with it and figure out how to transform your business."
Tim O'Reilly, Founder and CEO, O'Reilly Media
ABOUT SECURITY, PRIVACY AND RISK MANAGEMENT
6. "All predictions point to a cyberwar in the next few years, and very few businesses know how to address it, defend against it or insulate their businesses from it. That spells economic ruin."
Kristina Libby, Chief Science Officer, Hypergiant
7.   "Accountability for cyber risk will move up the org chart, with forward thinking businesses appointing board members with experience in risk management and information security."
8. "To effectively reduce the number of cyber intrusions, a radical mindset shift is needed. Leaders must redefine the concept of a strong cyber posture and relegate event-based security to its rightful place—as an inferior approach to managing cyber risks and threats. A more effective approach to prevent data breaches and intrusion would be an intelligence-driven approach where a proactive hunt for threats would take center stage."
Kumar Ritesh, Founder and CEO, CYFIRMA
9. "You can't hold firewalls and intrusion detection systems accountable. You can only hold people accountable."
Daryl White, CIO, Department of the Interior of the United States
10. "My message for companies that think they haven't been attacked is: You're not looking hard enough."
James Snook, Deputy Director of Business, Crime and Skills in the Office for Cyber Security, UK
ABOUT EVOLVING CULTURE AND BEING ADAPTABLE
11. "Think of digital transformation less as a technology project to be finished than as a state of perpetual agility, always ready to evolve for whatever customers want next, and you'll be pointed down the right path."
Amit Zavery, VP and Head of Platform, Google Cloud
12. "Don't be fooled by some of the digital transformation buzz out there, digital transformation is a business discipline or company philosophy, not a project."
Katherine Kostereva is the CEO and managing partner of bpm'online
13. "Become a change-ready organization. This goes beyond being able to deploy a new tool or process — it means building a culture and communication structure that is ready, willing and able to adapt to any change. After all, the rate of change and evolution in business and technology is only going to continue and even pick up speed."
Keith Kitani, CEO, GuideSpark 
14. "IT teams have had to pivot dozens of times since the pandemic hit. There's little room for those who are stuck in old ways."
Lev Gonick, CIO, Arizona State University
15. "In today's era of volatility, there is no other way but to re-invent. The only sustainable advantage you can have over others is agility, that's it. Because nothing else is sustainable, everything else you create, somebody else will replicate."
Jeff Bezos, CEO and President, Amazon
ABOUT LEADERSHIP AND TECHNOLOGY IN THE FACE OF DISRUPTION
16. "The reality is, many digital transformations fail because companies aren't integrating their business and technology strategies from the start. It's imperative that CIOs know how to quantify their progress with AI and digitization technologies and understand how to effectively communicate this value to key stakeholders."
Chris Bedi, CIO, ServiceNow
17. ". . . Don't forget that without customers, you don't have a business. Make sure that customer experience efforts are fully funded and resourced to provide the best experience possible in a competitive marketplace."
Dan Gingiss, Keynote speaker and author of "Winning at Social Customer Care: How Top Brands Create Engaging Experiences on Social Media"
18. "CIOs and CISOs have such a unique opportunity right now in driving the enterprise forward. Be that through shaping corporate culture or guiding the company through their digital journey, technology leaders have a strong upper hand . . . it's a great time for the enterprise but it's also a great time for technology leaders to position themselves for space in the boardroom. This is a career-defining moment."
Hunter Muller,  President and CEO, HMG Strategy
19. "Technology requires constant hands-on management to ensure that the business is adapting to the change in its DNA — and to ensure that future shifts, both internal and external, are accompanied by the appropriate flex of its tech stack."
Maria Martinez, Chief Operating Officer, Cisco
20. "The most important thing is to make the technology inclusive - make the world change. Next, pay attention to those people who are 30 years old, because those are the internet generation. They will change the world; they are the builders of the world."
Jack Ma, Founder and Executive Chairman, Alibaba Group
Digital transformation is a team initiative. MIT's George Westerman sums it up well: "Digital transformation requires changes to processes and thinking—changes that span your internal organizational silos." Organizations that have successfully undergone digital transformation find that partnering with technology outsourcers and customers increases success. Digital transformation also results in more agile processes, technology ecosystems and organizational philosophies. Technology and business process outsourcers can bridge internal culture, skill, technology and data gaps that become stumbling blocks to digital adoption.
---
Sources:
https://enterprisersproject.com/article/2020/1/8-digital-transformation-trends-2020?page=1
https://www.crn.com/slide-shows/channel-programs/the-best-ceo-quotes-of-2020-so-far-/2?itc=refresh
https://www.rsa.com/content/dam/en/e-book/20-predictions-for-2020.pdf
https://www.forbes.com/sites/forbestechcouncil/2019/06/04/is-your-business-ready-to-adopt-voice-and-whatever-comes-next/#3e67d4c51049
https://www.mckinsey.com/business-functions/risk/our-insights/the-future-of-risk-management-in-the-digital-era
https://www.cnbc.com/2019/10/30/heres-why-ge-fords-digital-transformation-programs-failed-last-year.html
https://www.inspiringalley.com/digital-transformation-quotes/
https://jimcarroll.com/innovation-inspiration/the-drivers-of-disruption/
https://www.project-syndicate.org/commentary/fourth-industrial-revolutio...
https://www.wired.com/2015/10/geeks-guide-david-wong/
https://www.pcworld.com/article/2941052/scott-mcnealy-on-privacy-you-sti...
http://blog.pagefreezer.com/15-inspirational-quotes-from-leaders-in-tech
https://philosiblog.com/2011/08/26/if-money-is-your-hope-for-independenc...
http://svprojectmanagement.com/a-common-sense-approach-to-managing-risk
https://cleantechnica.com/2014/03/25/google-ceo-larry-page-leave-billion...
https://www.foxbusiness.com/features/from-intern-to-president-charting-a...
https://www.uktech.news/news/qa-james-snook-talks-the-uk-governments-cyb...
https://qz.com/172668/heres-where-microsofts-next-ceo-satya-nadella-sees...
https://www.telegraph.co.uk/technology/0/bill-gates-quotes-words-wisdom-...
https://www.thehindu.com/opinion/interview/lsquoWe-want-youngsters-to-ta...
https://www.weforum.org/agenda/2017/01/jack-ma-three-trends-define-future/
https://criteriaforsuccess.com/technology-quotes/
http://fortune.com/2012/01/19/larry-page-google-should-be-like-a-family/
https://abcnews.go.com/GMA/story?id=125134&page=1
https://www.nytimes.com/2014/02/21/business/satya-nadella-chief-of-micro...
https://cybersecurityventures.com/cybersecurity-in-a-post-pandemic-world/
https://twitter.com/CIOonline/status/1309418852149858304?ref_src=twsrc%5Etfw%7Ctwcamp%5Etweetembed%7Ctwterm%5E1309418852149858304%7Ctwgr%5E%7Ctwcon%5Es1_&ref_url=https%3A%2F%2Fblog.walkme.com%2Fcio-quotes%2F