3 New and Expanded Use Cases for Mixed Reality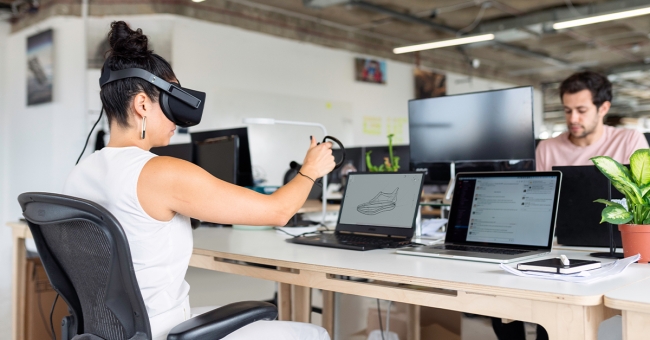 When we wrote last year about emerging use cases for enterprise Augmented Reality (AR) and Mixed Reality (MR), we highlighted the trend of companies leveraging 3D spatial tech and advanced visualization to connect geographically remote professionals and to drive new efficiencies. These applications included remote expert assistance, "see-what-I-see" sales demos, learning and development (L&D) and digital overlays for complex manufacturing.
Now that the results of our Operational Leaders 2022 Annual Tech Trends Survey are in, summarized in the Accelerating Digital Transformation for the Next Normal report, we're fascinated to see the novel ways that innovative companies are already using AR for enhanced collaboration, decision-making, marketing and more.
We're excited to share them with you to inspire the next generation of extended reality (XR) applications in the enterprise.
 
#1 AR Data Visualization
When analysts present data to executives, they create charts, graphs and other visualization tools to help them quickly grasp trends and key performance indicators (KPIs), so they can, in turn, make smart, informed decisions. AR is the next step in the evolution of this practice, and that's the reason why 24 percent of surveyed operational leaders cite data visualization as a top AR/MR use case.
For example, NASA is already using AR data visualization to illustrate "flow data, such as convection flows or ocean flows as well as revisiting 'real-world' field sites captured using LiDAR." An acronym of "light detection and ranging," LiDAR is a special combination of 3-D scanning and laser scanning that can create high-resolution maps. In business application, leaders can use this tech to visualize complex metrics across multiple axes.
Another method is visualization via a "digital twin." This involves creating a completely virtual 3D model of a device, piece of equipment or even a building. Manufacturing executives can then, for instance, gain a bird's eye view into operations in their factories to better understand what's happening on the ground to find opportunities for improved safety and optimization and technicians can train on real equipment in safe environments.
By visualizing data in 3D, users can uncover patterns and trends that aren't always visible with 2D models. In this manner, AR takes business intelligence to the next level.
 
#2 Product Design
When the world went remote in early 2020, product designers were left in a tough position. They needed to continue to collaborate with their teams to build awesome products, but it was difficult not to have everyone in the same room, looking at the same thing. Videoconferencing only went so far. In our new survey, Operations team leaders and executives state that 50 percent of their ops staff will remain remote and/or deskless workers, so finding a solution is even more critical.
We're seeing businesses directly respond to this need by investing in AR for product design. Our survey revealed that 24 percent of executives believe product design and development is one of the top three ways they plan to apply AR/MR tech to their companies' processes or services this year.
AR enables designers to visualize virtual objects from anywhere in the world, walk around or step inside their models, examine details from all angles and in multiple and even imperfect conditions (low light, corrosion), compare variations, provide feedback and make adjustments in real time. It's estimated that prototyping may contribute to up to 80 percent of the total research, design and development cost. The advantages of mixed reality can shorten development cycles, reduce costs, minimize risk and improve collaboration.
A prime example is Ford's use of AR product design. By combining Microsoft HoloLens headsets with custom software, their designers are able to impose new design features onto their clay models and see for themselves how a change would look—all without having to create a new physical prototype each time.
 
#3 Virtual Plant Tours
Our third new use case is, again, a direct result of innovative companies adapting to the pandemic. Many popular brands used to offer factory tours for global management teams, customers, new employees and visitors, but those were quickly cut out as soon as it became clear that they were no longer safe.
In a time of supply chain upheaval, companies do not want to miss out on the critical role that plant tours provide in showcasing capabilities to meet current and future needs and/or to quickly identify and reposition challenges. Therefore, AR- and VR-powered factory tours provide an inside look at site performance, operational health and opportunities to accelerate learning.
Some 26 percent of surveyed operational leaders say that plant tours are now a top use case for AR/MR technology, and we expect this trend to grow as more organizations realize how effective this strategy can be at a relatively minor cost. Consumers can already take virtual tours from major companies, such as Toyota, Hitachi and Agrosuper.
Some organizations are even expanding this use case even further by using virtual plant tours as a way for consumers to hold companies accountable to higher standards. Nitex, for instance, has created 360-degree virtual tours for more than 250 product lines within the sustainable clothing industry.
It's interesting to see a shift from enterprise-focused tours to those tailored to consumers, and we won't be surprised to see an uptick in this application as consumers become increasingly conscious of supporting sustainable and ethical business practices.
 
What's Next for Enterprise AR?
When we see so many innovative new uses for enterprise AR/MR, we can't help but get excited for what's next on the horizon. AR has enormous untapped potential, and we're just starting to get a glimpse of how companies can use this technology for B2B, B2C and internal applications.
One thing's for sure: leading enterprises are investing in AR and reaping the benefits. About 77 percent of our surveyed leaders say that they're planning on increasing their XR budgets, including 13 percent who plan on much more investment in 2022. They cite adapt-and-response strategies and safety/health of their workers as top drivers for these operational initiatives, and we're certainly seeing this convergence play out in the use cases that we presented in this article.
The real question is what new applications we're going to be discussing this time next year. Stay tuned to find out! And in the meantime, download your own copy of our Operational Leaders 2022 Annual Tech Trends report.