3 Ways Mixed Reality is Revolutionizing Field Services, Learning and CX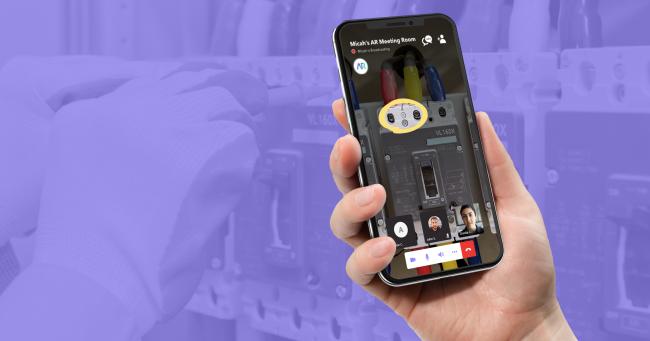 With many predicting that 2022 will be the year that mixed reality (MR) truly comes to life, the Metaverse, the reemergence of Google Glass, Oculus and other emerging solutions point to MR officially entered the zeitgeist. As with many technologies, business use can help it proliferate into our everyday lives.
Picture the ability to connect employees, companies and consumers in minutes. Imagine a superpowered chat app where people can see what one another sees, walk through information or showcase physical objects, load videos, point out errors or areas of interest and walk others through complex processes step by step—that's recently enhanced TeamworkAR™ platform.
Until now AR solutions have not exactly been ready for scale. Content creation, long set up timelines, high cost, identifying the right use cases and building up an in-house team have all been prerequisites that slow down or even become barriers to the process.
TeamworkAR provides rich augmented and extended reality experiences out of the box, OS-agnostic with any device or browser and is easily customizable/scalable to any size and enterprise need in minutes. The as-a-service platform is ready for step-by-step guides, real-time coaching, experiential learning, custom onboarding, training and more on day one, empowering everyone to solve problems quicker, collaborate and share expertise more efficiently and effectively.
Let's look at 3 examples of how powerful AR can be in field service, L&D and customer support.
 
GENIUS IN THE FIELD
Diverse use cases are allowing field service leaders to enhance training, elevate remote support and facilitate engagement across a range of industries and uses. Imagine a technician is on-site installing new high-speed internet services at a business. She encounters an unfamiliar issue in the building's junction box. Prior to mixed reality scaling up for enterprise use, another more senior technician would have to be called in, and the customer would wait—sometimes hours or days—for a resolution.
But with AR, help is only an app away. The technician can connect with a senior expert using her mobile device and camera. Using chat, annotations and digital overlays, the advisor can walk her through the solution. Bing, bang, boom. The service is up on its feet far faster than traditional service times—no extra travel, no truck roll, no downtime.
Using an AR solution, field service reps can see what's happening at a customer location in real time and get on-demand backup to solve a problem with a colleague anywhere around the world, and oftentimes, they can troubleshoot before sending out a technician.
You can see how the solution works in just about any industry. Electrical systems, ATM machines, heavy machinery, plant operations, plumbing, home appliances, remote offshore operations—any type of field service and repair can benefit from this technology.
"If you've worked in field services, you've probably experienced ineffective training that doesn't prepare you for the real-world job," said Steven Petruk, president, Global Outsourcing division, CGS. "That can be frustrating and potentially unsafe for technicians or reps and produces a low-quality customer experience."
"On the other hand, research shows teams using augmented reality have a 60 percent increase in learning effectiveness and 150 percent better performance than teams using paper-based training materials," he added. "The potential impact of implementing augmented reality for field service organizations—from upskilling and retaining employees to cultivating award-winning customer experience programs—is astronomical."
 
LEARNING TOGETHER, EVEN APART
Remote and hybrid working had picked up steam for years but were greatly accelerated by the pandemic. And as we approach two years since initial lockdowns, alternate workplaces are becoming the norm for how businesses, well, do business. One key issue with remote working is how best to onboard, train, connect and retain staff across geographies, technologies and experience levels. AR can help.
Just as field technicians can reach out for help, AR connects employees and L&D professionals, providing face-to-face learning and support when needed. It brings the human element back into the equation, with live chat, experiential learning and on-the-job assistance.
Connecting via AR, high performers from anywhere can help train new staff to work on equipment remotely, while providing hands-on help. So, a SME in another state can open the app and train cashiers or fast casual restaurant workers, securely and safely. An instructor in another country can connect to a virtual 'classroom' of staff to walk them through onboarding with interactive elements, videos, quick polls and other content to help connect with new users. Employees can work in large teams or choose to work one-on-one with one another to share stories and knowledge.
Another hallmark of a powerful AR platform is digital twinning, which involves creating customized digital assets to train staff using an organization's real equipment in virtual environments before moving to the real thing. In the fast casual example, imagine new workers are able to see, feel and touch a digital representation of a deep-frying station. Through a digital twin, they can examine, touch, turn, listen to, sense the vibrations of and learn the ins-and-outs of it, safely, before they actually approach a real one.
By summer 2022, TeamworkAR will allow clients to create and scale their own real-world scenarios enhanced with computer-generated objects and perceptual information with full control, in minutes. This power will be in a business's hands.
In addition to powering operational efficiency, a scalable AR solution can disrupt traditional methods of training. The results? Employees solve real problems in remote settings. Errors are reduced. Staff time-to-proficiency is shortened. Employees feel more empowered and engaged. And customer experience improves through better services and support.
 
NEXT-LEVEL CX
Think back to the field service example. AR provides this type of at-your-fingertips support to customers, as well, which can improve customer experience and alleviate situations like no fault found (NFF) returns.
Accenture reports that 68 percent of all consumer electronics returns fall under NFF situations. And according to a TechSee survey, 41 percent of consumers returned a non-defective item in a 12-month period, contributing to more than $17 billion in lost revenue for retailers. Some 65 percent of respondents decide to return non-defective electronics early on, citing frustration and/or confusion during product unboxing/unpackaging, installation and first use.
Customer support seems to be a critical component of these incidents. Fifty-four percent of consumers in the survey agreed that they would return a product if it was difficult to install, while nearly 70 percent said they would also return it if it was difficult to operate.
And most respondents with a propensity to return a product also stated they had never seen or interacted with the product—physically or virtually via AR or video—prior to buying. Only 16 percent were able to "try before you buy."
Here again we see the power of AR. Using digital twins, consumers have the ability to see and interact with your products before buying. Brands also can create more detailed and interactive instructions for unpacking, setting up and using products. Lastly, when there are issues, an agent can connect with a customer and talk them through steps using "see-what-I-see" technology for ease and instruction. Using AR across the board can create better brand reputation, awareness and loyalty, improve customer satisfaction and lower NFF returns and costs.
As the use cases and ultimate impact of augmented reality on business operations continue to evolve, studies show this technology is already being leveraged at the world's most elite companies.
 
THE FUTURE IS IN YOUR HANDS
Our survey on tech strategies among enterprise organizations in a post-COVID world indicates this new tech is no longer the exception. In 2021, 61 percent of companies invested in these technologies. Augmented and mixed realities are and will continue to be the mainstream.
"Industry leaders that adopt AR technology will be ready to meet the pace of change in the coming years and set themselves up for operational excellence," said Doug Stephen, president, Enterprise Learning division, CGS. "When leaders empower their workforces with a collaborative tool like TeamworkAR, which effectively makes everyone a genius, it opens up endless possibilities and game-changing growth potential."
For more information or to request a demo and your own pilot of how AR technology can supercharge your products and services, please visit TeamworkAR.