3 Ways SFC Technology Addresses ESG Goals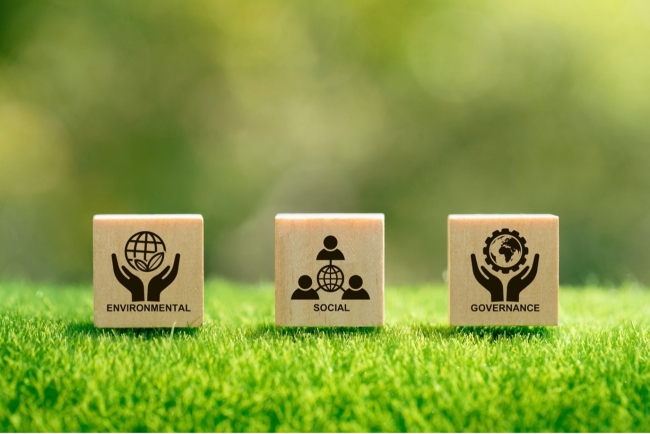 After years of being a lofty goal largely ignored by mainstream companies, sustainability in apparel manufacturing is no longer limited to "green" brands. Fashion retailers across the world are feeling pressure from environmental disasters, the pandemic, and global conflict to work toward environmental, social, and governance (ESG) targets.
The recent CGS report, "How to Build Better Supplier Relationships While Boosting Efficiency," points out that the focus on ESG is becoming engrained in business practices.
"[E]ven the most margin-conscious businesses are putting cost-per-unit concerns on more level footing with factors, such as reliability, resilience, flexibility, speed and environmental, social and governance (ESG) goals," the authors write.
Nevertheless, these issues can feel overwhelming, though new Shop Floor Control (SFC) technology helps simplify this admirable work, thereby making it more attainable.
Traceability is the key, according to Kara Huang, an analyst at Calvert Research & Management.
"Granular supply chain data is known to be difficult to access, especially in the garment industry, with a lot stored in physical documents and unorganized spreadsheets," Huang told Morgan Stanley. "This technology could also enable brands to trace their supply chains from raw material to finished goods and monitor suppliers for compliance."
Three overarching ESG goals embraced by many apparel companies are: reducing waste; improving labor standards across their suppliers; and ensuring that their leadership is invested. Each aspect of ESG – environmental, social, and governance – can be enabled by SFC technology.
THE ENVIRONMENT: WASTE REDUCTION
Waste is not just created by inefficient manufacturing processes, but also occurs when materials or products can't be used or sold, either because of over-ordering or mistakes. When products are wasted, they may end up in landfills, or in some scenarios, the incinerator. Not to mention, it hurts the bottom line.
SFC technology can be instrumental in addressing these concerns, because, as the CGS report points out, "you can't manage what you can't measure."
SFC can make inventory planning more flexible, efficient and accurate. As a result, companies have a better sense of supplier capacity, while suppliers can manage production and inventory according to buyers' needs.
These systems provide essential visibility to the shop floor, as Paul Magel, president of business applications and technology outsourcing at CGS, points out in a Sourcing Journal article. Instead of overbuying, suppliers and buyers can make purchases with a clear view and data in hand.
"It's about monitoring your symptoms before you get the prescription," Magel said. "Do you have enough supplies? Where are the cargo containers?"
Furthermore, transformational SFC technology helps streamline operations by preventing mistakes made in the factory. CGS provides shop floor workers with the tools to get it right the first time, improving quality and reducing waste.
"We have full integration between the shop floor and PLM, as well as ERP," said Magel in the WhichPLM/ Interline PLM Report 2022. "Shop floor workers can look up specs of an item on the floor directly from PLM to get detailed production information."
In the hands of brands, suppliers, and shop floor workers, SFC technology can improve efficiencies and reduce their impact on the environment.
THE SOCIAL: LABOR
Increasingly, brands are global, so the workers they are responsible for are scattered worldwide. SFC tools provide the visibility companies need to ensure that labor standards are being met in their factories, and in their suppliers' factories, no matter how far away. For example, the CGS report suggests, brands can request SFC data from prospective suppliers to make sure workers are paid fairly and to get digital "eyes" on the shop floor, even from across oceans.
A recent study by the University of Leeds and the Goa Institute of Management, analyzing pre-and post-Covid management of modern-slavery risks in India, found that cancelations of orders often resulted in job losses and pay cuts, and other unpredictable ordering practices also led to unauthorized subcontracting.
SFC software provides an antidote to these unethical practices. Brands are able to communicate more easily and build relationships with their suppliers, ensuring that there is oversight of labor practices.
Additionally, with SFC software's insight into a supplier's capacity, brands can avoid over-ordering and straining their partners.
These improvements are good for all parties, according to Alex Balch, director of research at the Modern Slavery and Human Rights Policy and Evidence Centre, which funded the research at the University of Leeds.
"The pandemic showed us that more transparent and resilient supply chains are better for business and better for workers," Balch said.
SFC technology is an important tool for brands that want to adopt the transparency Balch references, and who want to ensure good labor practices along the supply chain.
THE GOVERNANCE: CORPORATE RESPONSIBILITY
The final pillar of ESG is governance. As ESG shifts from a "nice-to-have" to an imperative for brands, companies need leadership who will invest in the necessary tools to meet their environmental and social responsibility goals.
Customers and investors are paying closer attention to ESG, Barclays pointed out in a recent insight article.
"To date, the driver has very much been focused on environmental considerations but more recently it has begun to increasingly encompass the social and governance aspects," the company wrote.
Pressure is rising, and companies must find ways to answer the ESG concerns permeating consumer and stakeholder demands. Innovative technology, like SFC, enables leadership to make their systems more efficient, improve conditions for workers, and be more transparent about their progress.
Do you want to learn more about how SFC can support your ESG goals? Download the whitepaper "How to Build Better Supplier Relationships While Boosting Efficiency".