5 Eye-Opening Customer Service Stats for Call Centers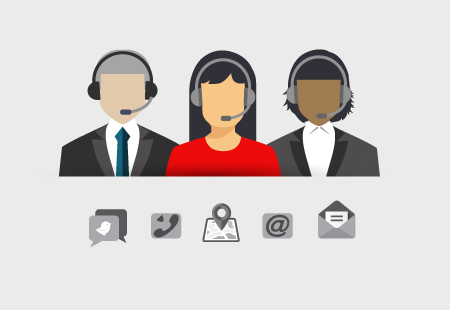 The call center, contact center and customer service industries are constantly evolving and, while the rate of change can sometimes be dizzying, it seems clear that the future will be focused on delivering a consistent, cross-channel customer experience. Increasingly, decision makers are outsourcing the challenge of keeping up with trends and changes by trusting call center partners for consistent, cost-efficient customer care. But regardless of whether your call center is in-house or outsourced, the customer experience must be a priority for your business.
Here are 5 important statistics that are defining current trends and the state of customer service in the call center industry (plus 2 bonus stats!):
60% of customers change their customer service contact channel depending on where they are and what they're doing. [1] Customers are connected and constantly moving, switching from channel to channel seemingly on a whim. They expect a seamless, consistent experience across all channels of contact, during every interaction, which poses a challenge of complexity that requires a clear, well-thought-out strategy.
69% of Americans would recommend a company to others following a positive customer experience. [1] This number is heartening for those who strive to deliver an exceptional experience, and it is especially important given the fact that 92% of consumers believe recommendations from friends or family over all forms of advertising, according to Nielsen. [2]  Developing a strategy to help call center agents master word of mouth referrals could be a game changer.
58% said that after a negative customer experience, they would never use that company again. [1] Compare that to a Parature study, which found that 65% of consumers surveyed said that they have cut ties with a company over just one poor customer experience. [3] Take a moment to think about that. The stakes are incredibly high when you deal in customer service and you stand to lose a lot of business and revenue if you deliver a bad experience.
A 10% improvement in a company's customer experience score can translate into more than $1 billion in revenue, according to Forrester. [3]  There is no question about the impact of a positive customer experience on the bottom line, but it is interesting to see just how significant an impact it can be.
Gartner Research shows that customers will handle 85% of their relationships with a company without ever interacting with another human by the year 2020. [3] It began with social media but it has expanded beyond that now. Call centers that understand the importance of multi-channel customer service and are diligently laying the groundwork to deliver a seamless experience across all channels are the ones that will succeed in the future.
Call centers and contact centers need to stay on top of industry trends and get ahead of the ever-evolving customer service landscape. As the momentum shifts towards the customer experience approach, organizations need to be prepared to meet customer expectations across all channels. To find out more, read the "7 Customer Experience Do's and Don'ts That Your Company Can't Afford to Ignore".
References