5 Ways to Get the Most Out of Technology for Remote Work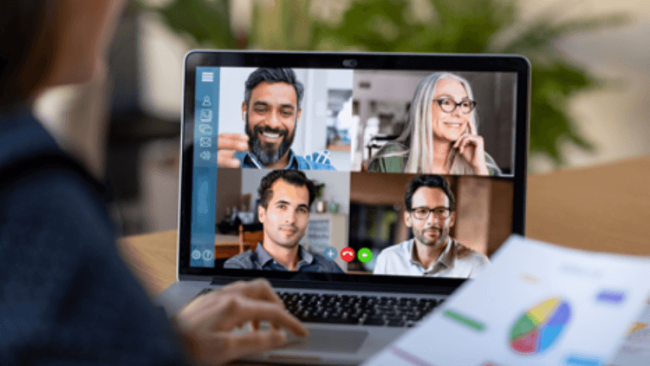 The global COVID-19 pandemic is changing how we conduct business. Now entire companies are forced to work from home for the unforeseeable future. Can the well-worn tech tools that have served us on a short-term basis step up to fill the entire void?
Familiar remote collaboration tools are seeing widespread increases in global adoption, but that is only part of the story. Every tool, even the highest of high-tech tools, can have its setbacks.
We've all been on a conference call where attendees un-mute and we hear that they're in distractingly noisy spaces. We've all experienced the nagging feeling, "isn't there a better way to communicate this information?" When employees work remotely, if the right strategies are not deployed, the number of "something better" questions grows, and you risk losing your audience.
The statistics are staggering. In one survey, 59% of employees said that their companies' training content is not exciting or engaging. Other studies show that bored employees are typically less productive, which leads to 21% less profitability.
It turns out, collaboration is the best way to combat boredom and boost productivity when employees work remotely. Humans are collaborative by design. It's in our DNA. So, how can you encourage collaboration among employees who are working remotely? Tech alone isn't the answer. It's how you use it that counts. With that in mind, here are 5 ways to get the most out of your technology for remote work.
1. Blur lines. When working from home, our professional and personal lives engage in a precarious dance. Sometimes they step on each other's feet. Fighting this is futile, so don't. Embrace it. Giving employees the freedom to blur the lines between their two worlds can open up the types of creative possibilities that lead to innovation. While employees are used to using augmented reality for fun filters in social media. AR-based technology in a work setting can be used for training, but why not use it for collaboration too? Global teams can solve complex problems or prototype from the safety of their respective living rooms. Another blurred-line strategy is to use common social tools to set up internal chatrooms or threads that allow for targeted communication, collaboration and rapid-response. The point is not to rely on specific technology to solve a business challenge, but to think about adapting common activities and finding the right technology to create new solutions.
2. Get physical. During face-to-face meetings, people use their hands to talk, signal an interruption, take notes, etc. Online, this aspect of non-verbal communication can get lost. Give preference to video meetings and live webinars over calls and pre-recorded content to allow attendees to fully express themselves when speaking or trying to interject. When possible, give participants the ability to virtually "raise their hand" or comment via chat features. Designate a chat moderator to drive even more participation. Paradoxically, allowing for such "diversions" can enhance focus, ensure that messaging remains clear despite the digital format and keep participants from spending their energy elsewhere.
3. Gamify. According to one study, 80% of employees who receive gamified training feel motivated versus 40% who receive non-gamified training.  And, depending on your employee base, it may be preferred. In our survey of deskless workers, 36% of Gen Z employees chose simulations and games as their first preference for learning content. AR and VR simulations can provide simple ways to turn even the most mundane content into a game. Offer completion badges for each segment of training or distribute prizes (gift cards, food delivery) for metrics such as speed, participation or accuracy. Sometimes a little recognition is all it takes to engage your workforce. Share post-meeting statistics about which employee was the earliest or most involved (list and measure the behaviors you want to encourage). Polls and quizzes are another great tool to drive engagement before, during and after a session. 
4. Make it mobile. Phones dominate our lives. Making sure that all of your content is mobile-friendly is an excellent first step, but if you want to drive collaboration, think mobile-first. Retailer Vera Bradley saw an increase in both sales performance and employee engagement by implementing team messaging and digital collaboration. Salesforce was able to collect instant survey responses from 19,000 attendees by using texts and notifications. Mobile tactics work to drive engagement because they are literally in the palm of peoples' hands. And in the midst of a pandemic, mobile health check-ins and alerts––such as those from ServiceNow––can deliver critical employee communications to save lives.
5. One more time, with feeling. Emotion is a powerful antidote to boredom. When designing any employee communication, frame it around the concept of emotion (excitement, joy, intrigue, etc.). Thoughtfully designed Augmented Reality training sessions can pack an emotional wow-factor. But even 2-D presentations can inspire. As we usher in the Experience Economy, businesses need to keep in mind that their employee experiences are just as important as those of their customers. Engage your employees' emotions … the resulting cultural shift will drive greater retention and loyalty, which will in turn lead to a better customer experience.
Being innovative means thinking outside the box. When it comes to engaging your remote workforce, think beyond technology and outside of established communication channels. Encourage teams to reach out to experts in other departments, businesses or even fields of study. Technology is a helpful tool, but not the answer all by itself. This is a time of unprecedented upheaval and change. We can use that uncertainty to stay within the possibilities of familiar workflows or we can use it to stretch and grow. Innovation requires the latter. Remember to use your technology across platforms to foster collaboration, engagement, learning retention and, ultimately, profitability.
 
RESOURCES
https://www.geekwire.com/2020/zoom-ceo-coronavirus-outbreak-will-change-landscape-work-communication/
https://www.cityandguildsgroup.com/whats-happening/news/learning-and-development-not-meeting-needs-of-global-workforce
https://www.gallup.com/workplace/285674/improve-employee-engagement-workplace.aspx#ite-285704
https://gbr.pepperdine.edu/2010/08/empowered-employees/
https://www.nature.com/articles/s41562-018-0389-1
https://www.forbes.com/sites/forbescommunicationscouncil/2020/03/30/beyond-unified-communications-unifying-collaboration-will-take-off-in-2020/#19fddabf359a
https://www.businessinsider.com/how-managers-have-to-adapt-to-work-from-home-force-2020-3#5-fostering-psychological-safety-5
https://www2.deloitte.com/content/dam/Deloitte/se/Documents/technology-media-telecommunications/deloitte-digital-collaboration.pdf
https://www.cgsinc.com/blog/why-collaboration-vital-corporate-learning-development-strategy
https://www.efrontlearning.com/blog/2019/09/ways-motivate-employees-train.html
https://www.inkling.com/resources-2-old/verabradley-case-study/
https://customers.twilio.com/723/salesforce/
https://www.crn.com/news/channel-programs/servicenow-gives-free-apps-to-help-manage-workers-during-crisis
https://www.cgsinc.com/en/augmented-reality-learning-and-development
https://www.cgsinc.com/blog/new-trends-learning-and-development-s-role-ushering-in-experience-economy