6 Ways the End of the Cookie Will Transform Channel Sales and Marketing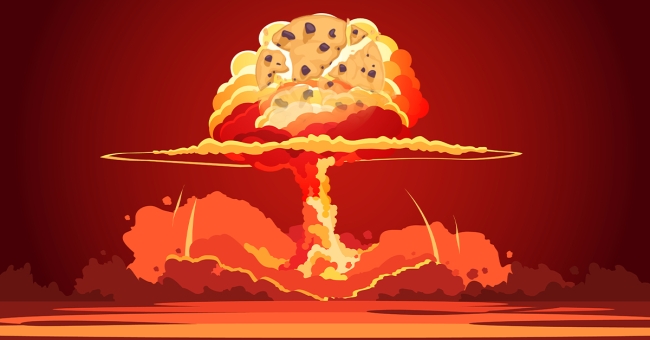 They have many different names: browser cookies, HTTP cookies, internet cookies, magic cookies, tracking cookies, web cookies or simply: cookies. Although cookies have become public enemy number one to online privacy watchdogs in recent years, cookies were originally presented to users to improve the website user experience (UX).
In addition to being a founding engineer of Netscape Communications and developer of networking code for the first versions of the Netscape web browser, Lou Montulli conceived using the "magic cookie" in web communications in 1994. The idea behind the magic cookie, which derives its name from a fortune cookie with an embedded message inside, was for it to be a data packet used to receive and send back unchanged data.
Over time, the cookie became a godsend to digital marketers obsessed with improving return on investment. At the same time, cookies became vilified as a widely abused technology used to trample on the privacy rights of anyone and everyone using the internet's most popular email and web browsing software.
During a webinar on "Ecosystem Orchestration – The Key to Unlocking Growth in Your Mid-Market Strategy," Doug Stephen from CGS and guest speaker Jay McBain, Principal Analyst – Channels, Partnerships & Alliances at Forrester Research, explained how cookies are rapidly becoming extinct, and that this would massively transform the channel sales and marketing playbook that's only incrementally evolved since its 1980s origins.
"One of the biggest stories of the decade of the ecosystem just happened . . . The two companies that control 99 percent of mobile market share and 86 percent of desktop/laptop browsing market share—Google and Apple—came to the point of privacy religion," explained Principal Analyst Jay McBain of Independent Research Firm, Forrester. "One of those companies (Google) built half of their business on harvesting your personal data and selling it to others. The other company, Apple, is more of a hardware company and wasn't reliant on sponsorship or advertising personal data. When those two companies announced the end of the cookie, the end of tracing and targeting and pixels inside emails . . . this is a monumental change."
What does this monumental change mean to channel sales and marketing professionals?
 
1 – Email Open Rate Technology
If your channel marketing and channel sales teams depend on tracking email open rates to optimize email marketing campaigns, segmentation, automation and follow-up prioritization, you're already feeling the sting. For example, in fall 2021, email service providers (ESPs) and marketing automation platforms, such as HubSpot, began notifying customers that Apple iOS15 Mail Privacy Protection and Hide My Email would "block all email service providers that send emails to Apple Mail users."
 
2 – Pixel-Based Retargeting
Among the most popular ways to retarget anonymous website visitors with digital ads, pixel-based retargeting through popular search engines and social advertising platforms will become far less effective.
 
3 – Conversion Tracking
For nearly two decades, digital advertising consultants have zealously monitored and optimized cost per acquisition (CPA) metrics. With the end of third-party cookies on the horizon, channel marketers will find it much more challenging to know which paid search, paid social and other digital marketing campaigns generate a positive return on investment.
 
4 – Attribution Reporting
As imperfect as attribution reporting often is, especially given the multitude of multi-touch attribution models, most attribution reporting depends on third-party cookies. This means channel sales and marketing professionals should anticipate a swift return to the days of asking, "How did you hear about us?"
 
5 – Intent-Centric Data Lakes Drying Up
Today's channel sales and marketing teams depend heavily on many of the 8,000 MarTech and AdTech platforms that Principal Analyst Jay McBain of Independent Research Firm, Forrester, points out, "harvest these huge data lakes . . . to come up with these very important insights and analytics around us intent. Well, guess what? When there is no data lake, when that lake ends up empty . . . the people that spent so much money on MarTech have to walk over to the channel chief (and ask) how many of those 28 moments do we recognize? How many (non-transacting channel partners) do we know, have we recruited, are part of our program and trained enough to be dangerous?"
 
6 – The Rise of Human Orchestration
The disappearance of third-party cookies reduces the effectiveness of popular MarTech and AdTech platforms. Thus, buyer preferences toward a digital buyer's journey make it more critical than ever for channel sales and marketing teams to have a presence in the early and middle stages of the 28 moments from early research to purchase.
These changes dramatically accelerate the importance of non-traditional, non-transacting channel partners. Yet, most channel sales teams are ill-equipped to coordinate a complex sales process between end clients, non-transacting ecosystem channel partners and more traditional transacting integrators, managed service providers (MSPs) and value-added resellers (VARs). Principal Analyst Jay McBain of Independent Research Firm, Forrester details, the stakes have never been higher "In terms of sharing data, instead of viewing it through a MarTech or AdTech lens, (we) are now viewing it through a channel tech lens . . . the earlier they get into that customer journey and the more prevalent they are through those 28 moments is exactly correlated to their success rate at the vendor selection point. We're in the first inning of a long baseball game here . . . (for the) human orchestration part of this . . . (you need to) start to build these muscles."
 
Learn More
Are you interested in learning more about how the end of third-party cookies will transform channel sales and marketing? Watch the webinar recording, "Ecosystem Orchestration – The Key to Unlocking Growth in Your Mid-Market Strategy."