7 Best Practices to Rock Your Omnichannel Customer Experience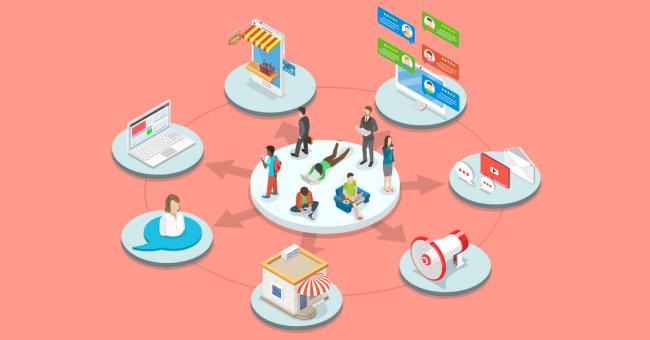 Ninety-eight percent of consumers switch between multiple devices and channels throughout their day, all the while expecting consistent experiences across all the channels. This is forcing organizations to rethink how to deliver a more connected and holistic customer experience.  
Omnichannel is the best approach to delivering consistent customer experiences across the multiple channels. Aberdeen Group has found that companies who excel at omnichannel engagement see a 9.5 percent year-over-year increase in annual revenue and a 7.5 percent year-over-year decrease in cost per contact. That is a significant return on investment compared to those organizations who have not adopted or mastered omnichannel, 3.4 percent and 0.2%, respectively. Bear in mind, reaping these rewards requires more than just technology.
Seven best practices can help rock your organization's omnichannel initiatives:
 
1. Understand Customer Journeys
While each customer behaves differently, their journeys form patterns that brands can act on at a persona or market level. Journeys identify the channels each customer group uses at each step and, more importantly, why. Knowing the who, what, where, when and why enables brands to ground experiences in customer needs.
McKinsey recommends three journey-based omnichannel strategies: Commerce, personalization and ecosystem. Commerce focuses on superior cross-channel shopping experiences. Next, personalization focuses on delivering tailored, targeted and relevant cross-channel engagement at scale. Ecosystem puts experience at the center of the brand to deliver contextually relevant content based on deep knowledge of the shopper's, lifestyle, emotions and current aspirations. It also helps IT define an investment strategy that creates value and meets customer service objectives.
 
2. Prioritize Channels
Aberdeen Group states that "companies that provide a consistent service quality across multiple channels retain 89 percent of their customers" compared to 33 percent from companies that do not.
Many brands unknowingly make a mistake by believing they need to have a presence in every channel—voice, SMS, email, social media, video, mobile and intelligent virtual assistants. The reality is some channels are more important than others.
The best practice is to focus on those channels that specific customer groups/personas use in their journeys. The more specific you can be in defining the channel, journey step and expected experience, the easier to deliver consistent service. Prioritizing the channels along the customer journey enables internal organizational functions to focus on the key touchpoints and experiences that drive customer satisfaction.
 
3. The Rise of SMS and Voice Search
Customers want easy, reliable ways to get information they need. What brands want are cost-effective technologies to engage (and delight) customers faster, at scale. Text messaging and voice search addresses both needs.
Seventy-eight percent of customers want to engage brand representative with SMS because it is 'almost like' having a live conversation. Gartner predicts that most customer service organizations will replace their native mobile apps with messaging by 2025. The asynchronous nature of messaging enables ongoing customer-agent conversations and is well suited for handling complex customer issues, such as billing and logistics.   
Another growing channel is voice search. Whether it is Alexa in the home or voice search on mobile devices, smarter search is quickly rising in importance. Coveo believes that voice search is the new 'must-have' to help shoppers find the products they need, confirm availability and purchase faster.
 
4. Augmented Reality
Augmented Reality (AR) has gone from being an interesting technology to mainstream, in part fueled by the pandemic. It is the ability to overlay computer-generated images and content onto the real world. Think of looking at a factory floor or a room in a house through a smartphone and seeing a piece of vendor's equipment overlaid on that image as if it had been installed. In some cases, that overlay image can be clickable to access additional information.
Measurable ROI includes reduced travel time (49 percent), increased productivity, accelerated training (48 percent) and reduced errors. In the contact center, AR can be a game-changer in training agents on how to handle video chat, enable customers to show agents defective or damaged products, reduce cost of service and improve self-service. More than 80 percent of executives believe that AR can help their organization meet evolving customer expectations, specifically increase first time fix rates and reduce errors.
 
5. Make Live Access Easy
When customers have a serious issue, they want to talk to a live customer service representative. Regardless of age, gender or demographics, customers prefer the phone. In fact, 61 percent of customers prefer to handle issues over the phone.
A best practice is to make it easy for customers to move from any channel to human customer service. More than 40 percent of customers in U.S. and U.K. wished brands were more transparent on how to "get help from a human".
For many organizations, partnering with a BPO or outsourcing firm specializing in customer service is the right way to go. The ability to tap into a managed resource of highly trained contact center agents in phone and video chat is more cost-effective than building an internal capability. In addition, BPO partners can more easily scale up/down resources based on call volume while still meeting expectations of short wait times. The benefits include improved customer retention rates, up-/cross- sell of additional products and services, and the capacity to contact customers proactively.
 
6. The New Front Door of Business
Seventy-three percent of retail consumers use multiple channels to shop and, by the end of 2021, almost 23 million will use voice commands to buy products.
Helping customers realize the most value from a brand's products and services has changed the role of the contact center. Companies now see agents as a key contact point in recommending additional products and services to help customers achieve their desired outcomes. New technologies, including artificial intelligence, natural language processing and sentiment analysis, can help agents respond faster and establish deeper emotional connections.  
A best practice is to evolve the contact center from customer service to becoming the new digital front door. By enabling agents to excel in their new role and cross/up-selling through regular training, coaching, and mentoring, customer satisfaction and brand loyalty will increase, in addition to revenue.
 
7. EX = CX
Organizations had an epiphany: Happier employees (especially agents) deliver better customer service, which results in higher CSAT scores. Creating positive experiences is like gold; customers are more likely to repurchase and become brand ambassadors.
According to Forrester, 60 percent of organizations invest in employee experience (EX) to improve remote work productivity and performance.  
One way in which brands create emotional connections between agents and customers is by emphasizing the alignment between brand values, employees and customers. The emotional connection created enables agents to 'be their best,' which results in delivering customer experiences that delight and surprise.
With contact center agents increasingly being the only human connection customers will have with a brand, excelling at omnichannel customer experience is a table stake for success.
Contact our Business Process Outsourcing specialists to learn how CGS's AI-enriched chatbot, RPA and AR technologies complement the customer support services provided by thousands of multilingual call center agents. CGS's innovative, scalable and flexible business process outsourcing (BPO) solutions include technical and customer support, telesales, channel enablement and back-office support.