7 Customer Experience Do's and Don'ts That Your Company Can't Afford to Ignore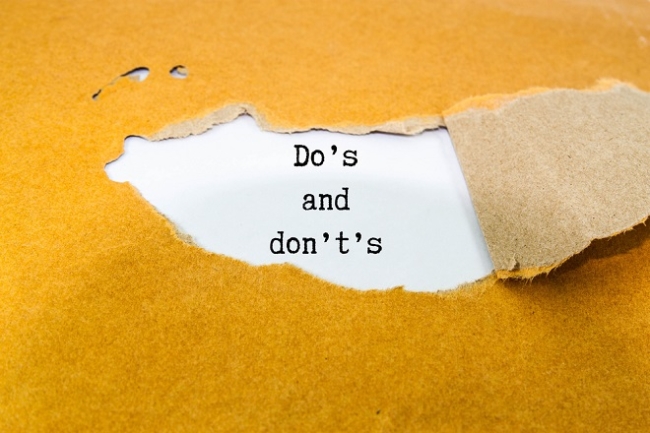 Customer Experience no longer lives in a Customer Service silo. Companies that want to remain relevant are increasingly spreading consumer insights across the entire organization. Experience has become a key differentiator and that trend is expected to continue into the future as digital-savvy, connected consumers continue to expect immediate, personalized service.
According to Gartner, delivering the experience is becoming as important as the product or the service itself when it comes to engaging and retaining customers [1]. The Guardian reported that "customers who had the best experiences can spend 140% more than those with poor experiences – and can remain customers for nearly six times as long." [2] Customer Experience is the new battleground and businesses that are not already laying the ground work will be left behind. Indeed, Gartner predicts that by 2017, Customer Experience will capture 50% of all consumer product investments. [3]
The businesses that will succeed in the future recognize the shifts towards Customer Experience and are already investing in empowering their entire organization to consistently deliver an exceptional experience across all channels and touchpoints.
1. Immediate and Personal Customer Service
We live in an age when 140 characters or a 20 second video can cause irreparable damage to a brand, sometimes instantly. In 2007, a YouTube video of rats running around a Taco Bell restaurant in New York City went viral and caused YUM! Brands Inc. stock prices and sales to drop [4]. In a digital age where customers are empowered to make their voices heard via social media, interactive, real-time customer care is expected and the blowback from ignoring or not meeting that expectation can be devastating.
2. Omnichannel Engagement Across All Touchpoints
A consistent experience across all touch points, from mobile to social media to video, is paramount to a good customer experience along the entire customer journey. It is not productive to focus on any one single area – the complete journey is the bigger picture that you have to understand. The Harvard Business Review may have said it best when they stated, simply, "More Touchpoints, More Complexity", but they also note companies that are able to successfully manage the entire journey enjoy greater customer satisfaction, less churn, increased revenue, and higher levels of employee satisfaction [5]. There is also an enormous potential to gain valuable insights specific to each channel every time there is a customer interaction.
3. Transparency
Social media ushered in an age of authenticity and transparency, and those rules apply more than ever. Customers expect fast service and an authentic explanation communicated in a genuine, personable tone. Companies that ignore this now widely-accepted principle risk damage to their reputation or negative word of mouth spreading like wildfire, which can mean losing out on a lot of business.
4. Proactive Customer Service
Salesforce reported that consumers that don't use social media will share a bad customer experience with 17 people, while consumers who do use social media will share that experience with 53 people [6]. But social media is much more than an onslaught of complaints and sharing bad experiences. Monitor relevant keywords and listen to conversations that your customers and competitors are having to get ahead of bad experiences before they happen. You can use a social media management tool to be efficient. Predictive customer service will be able to create incredibly positive experiences in the future.
5. The Rise of the Internet of Things
As the Internet of Things becomes more reality and less buzz word-y, interconnectivity becomes the norm. In fact, every human being is estimated to own 20 or more connected devices by the year 2020 [7]. Customers can make their voices heard from even more devices and companies will have to strive for an even more comprehensive and exceptional digital experience.
6. Employee Engagement
Engaged employees who are privy to the company customer experience goals and strategy will deliver the best customer experience. Employees who buy into the mission and shape outcomes are empowered to solve customer problems. Visibility into goals and the results that they are generating are great motivators.
7. The Customer is Always Right (Even if They Aren't Really Right)
The old adage has some merit when it comes to the Customer Experience. That doesn't mean customers should be humored or pandered to. In fact, avoid that at all costs since consumers have a knack for sniffing out a lack of authenticity. What it does mean, however, is that customers have to be heard when they go out of their way to project their voices across multiple channels, platforms and devices. So utilize modern technology to deliver an experience that will delight your customers and inspire them to talk about it if you want to grow and retain your customer base.
The customer is ultimately the most important part of your business, so why not strive to make their experience better? Your competitors already are.
References
| | |
| --- | --- |
| [1] | "Customer Experience," Gartner, [Online]. Available: https://www.gartner.com/marketing/digital/research/customer-experience/. |
| [2] | P. Kriss, "People power: turning customer experience into a marketing tool," The Guardian, [Online]. Available: http://www.theguardian.com/media-network/2014/nov/06/people-power-custom.... |
| [3] | J. Sorofman, "Gartner Surveys Confirm Customer Experience Is the New Battlefield," Gartner, [Online]. Available: http://blogs.gartner.com/jake-sorofman/gartner-surveys-confirm-customer-.... |
| [4] | C. Waxer, "Help for social media mayhem," CNN Money, [Online]. Available: http://money.cnn.com/2011/08/24/smallbusiness/social_media_business/. |
| [5] | A. Rawson, "The Truth About Customer Experience," Harvard Business Review, [Online]. Available: https://hbr.org/2013/09/the-truth-about-customer-experience/ar/1. |
| [6] | S. Leung, "The Customer is Always Right (And Boy, Do They Have a Lot to Say)," Salesforce, [Online]. Available: https://www.salesforce.com/blog/2015/02/customer-always-right-boy-do-the.... |
| [7] | J. Groopman, "New Research: Customer Experience in the Internet of Things," Altimeter Group, [Online]. Available: http://www.altimetergroup.com/2015/03/new-research-customer-experience-i.... |