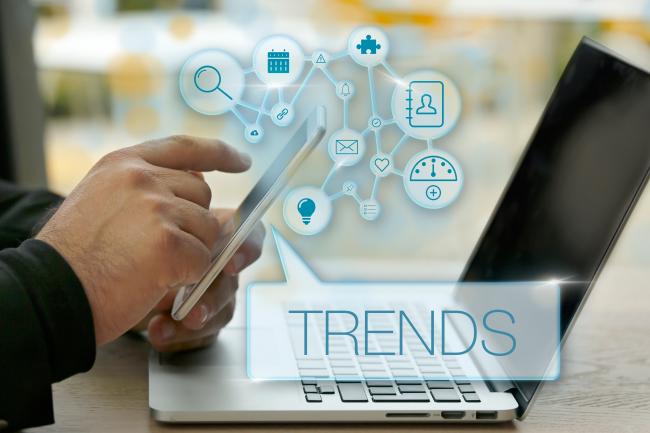 We surveyed IT administrators in small to medium businesses to see how well they are keeping pace with technology trends and to gain insight into what companies are planning for the next 6 – 24 months. The companies ranged in size from 26 to 1,000+ employees and included more than a dozen industries from real estate and manufacturing to logistics, technology, and telecommunications. 
We asked about emerging trends, their IT infrastructure health & security, cloud, and disaster recovery plans.
See how you stack up! The results were quite surprising.
1.    WARNING! SECURITY BREACH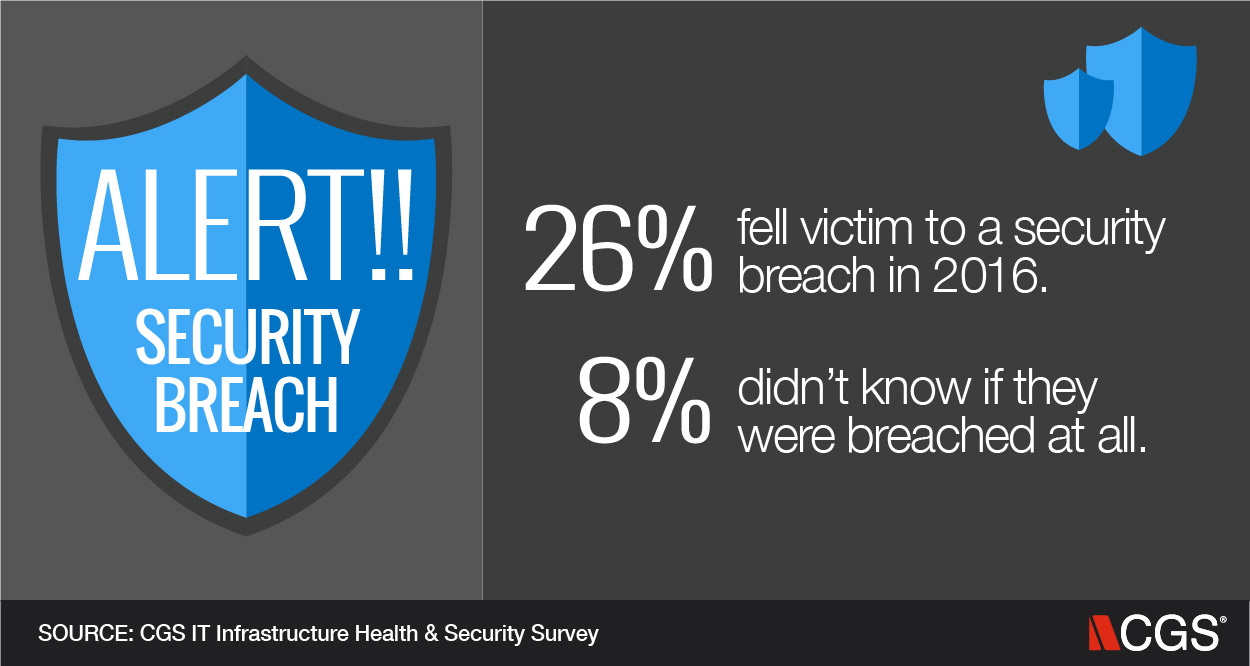 A whopping 26% of respondents reported they were victims of a security breach in 2016, and another 8% did not know if there was a breach at all.
What it means: Both circumstances are very bad and highlight the struggle companies face in responding to the unprecedented increase in sophisticated hacks and malware of all types. 
TIP: Do you know the mechanics of a good security process? A basic network consists of an Internet connection (router), a firewall, and switches that route traffic to endpoints. A good security process monitors the traffic on your network and also provides reporting on all related software and hardware patches and updates as they become available from the manufacturers. The ability to understand what traffic is doing on your network is the key to preventing nefarious actors from gaining access. Detection, followed by timely corrective action, is necessary for an effective security process.
2.    FIREWALLS KEEP the Modern BARBARIANS (hackers) AT BAY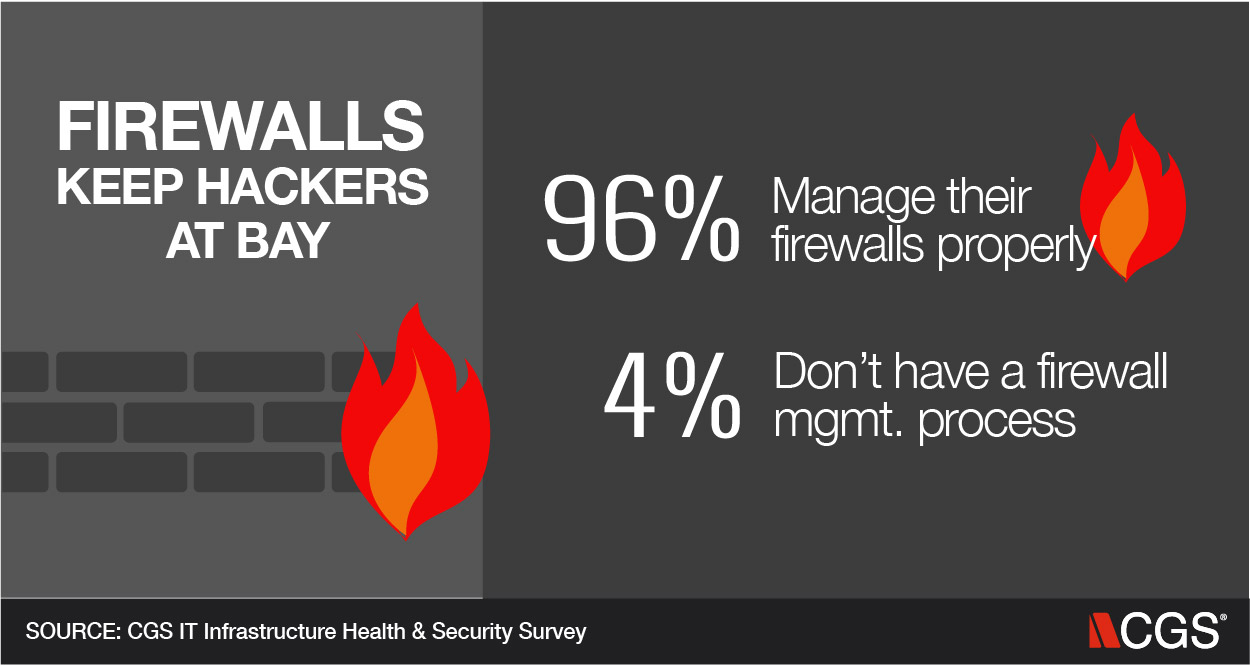 Nearly all respondents, 96%, manage their firewalls properly, but 4% did not have a process in place. Additionally, 13% didn't know if it was being correctly handled, which was a surprise for the most basic security precaution. 
What it means: Imagine that your firewall has an expiration date, and it's time for another update. If you go beyond the date without taking action, you do not have a fully functioning firewall between you and the horde of barbarians at the gates of the city that is your network. 
TIP: The world of hacking is evolving at an accelerated pace, and firewalls are only effective if maintained properly. Firewall monitoring and maintenance are two tasks that can be easily outsourced to professionals and will pay dividends.
3.    DATA BACKUPS & BUSINESS CONTINUITY
 ​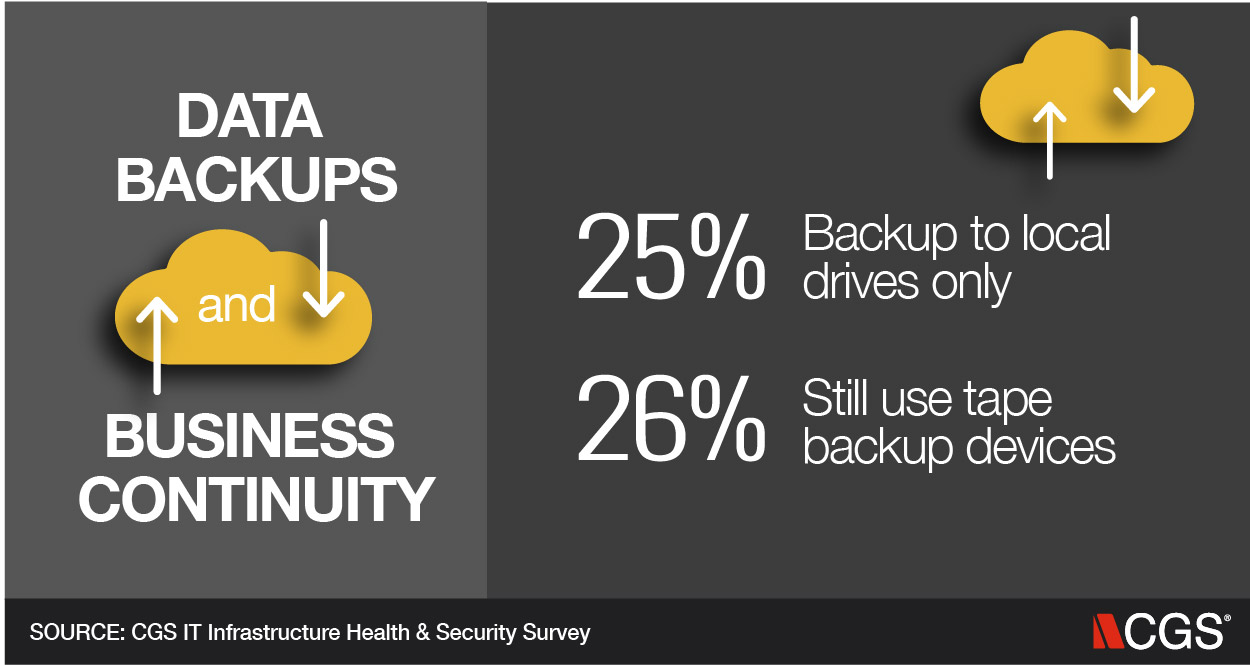 An incredible 25% of respondents are only backing up their data to local drives. Another 26% of respondents are still utilizing tape backups.
What it means: This is perhaps the most startling result of the entire survey. The inherent business risks of having all your data in one place cannot be overemphasized. Calamities such as fires and floods do occur, not to mention disasters that can prevent physical access to a location. Remember the California wildfires? Entire highways closed for days and weeks at a time, preventing people from getting to their workplaces. This catastrophe is just one example, like so many others, that was completely unexpected. For many businesses, it was a disaster. If your organization suddenly lost access to all its data, could it stay in business? Another thing to consider, is that tape backups are nearing the same technology folklore status of Betamax, Blackberries, and fax machines.
TIP: Consider moving to Cloud backups. They have surpassed tape and local drive backups in ease of management, cost effectiveness, and restore times.
4.    DISASTER RECOVERY PLANNING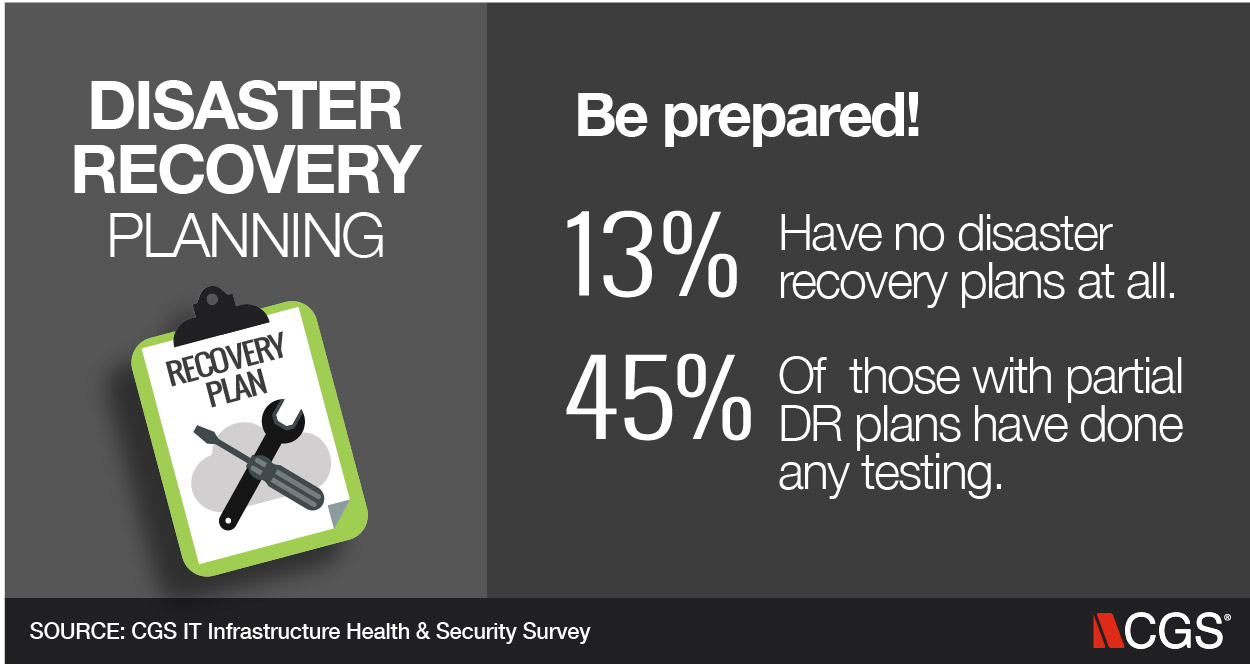 13% have no disaster recovery plan at all. 
What it means: Disaster recovery plans vary widely in sophistication. But companies without disaster recovery plans tend to go out of business when they experience a large disaster, simply because they do not have built-in resiliency. 
TIP: DR plans are easy to create and update, but take time and planning. The first step in effective DR planning is to map out the different levels of disasters your company may face. To learn more about the basics of DR planning click here.
Of those who took the extra steps toward preserving their business during an emergency, only 45% surveyed have tested their DR plan. 
TIP: Nearly all plans look good on paper, but to be prepared it's vital to test your plan in real time to verify that it's adequate for your risk tolerance level. The absolute worst time to test a plan is during an emergency.
5.    NEW INNOVATIVE OPERATING SYSTEMS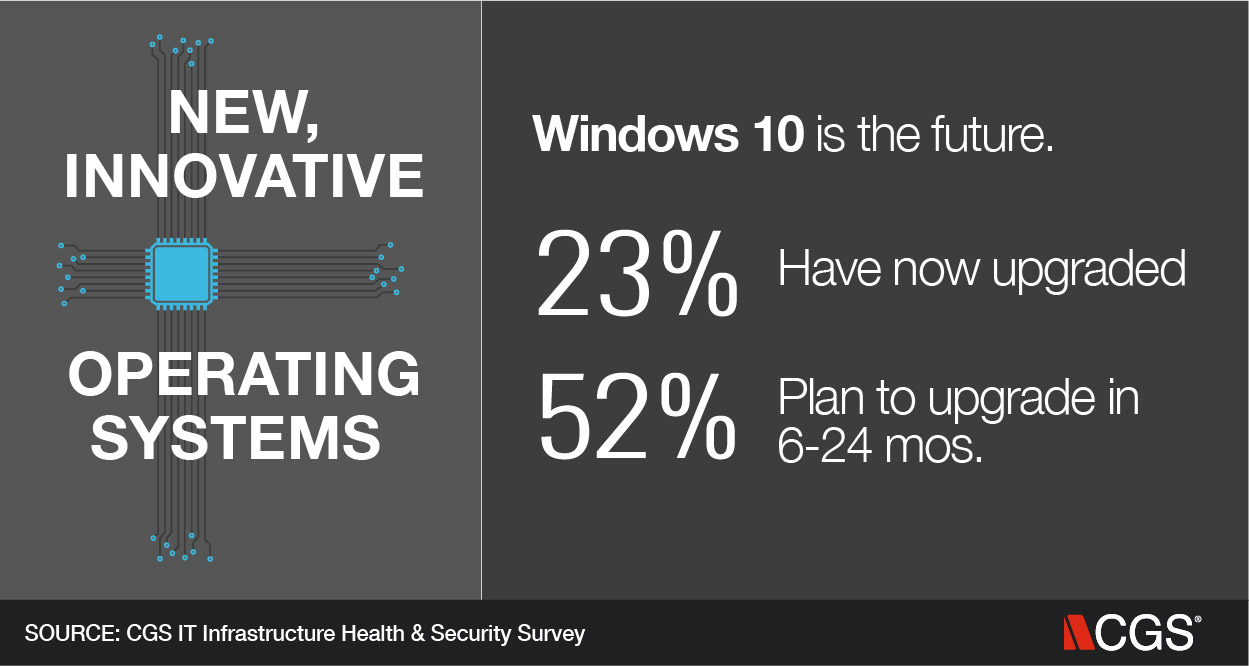 Windows 10 is the future, and a surprising 23% of those surveyed have already made the leap, while 52% have plans to move in the next 6-24 months. 
What it means: Your operating system is like the foundation of a house. Everything is built on top of it. All your applications are built on it. If your operating system is obsolete, you'll miss out on new features and functionality and will be at greater risk of attacks from hackers.
TIP: Before you upgrade, create an inventory of any specialized applications you use to ensure they are fully compatible with Windows 10. In some cases, you may need to upgrade your software package to avoid issues.
6.    UPGRADING CRITICAL APPS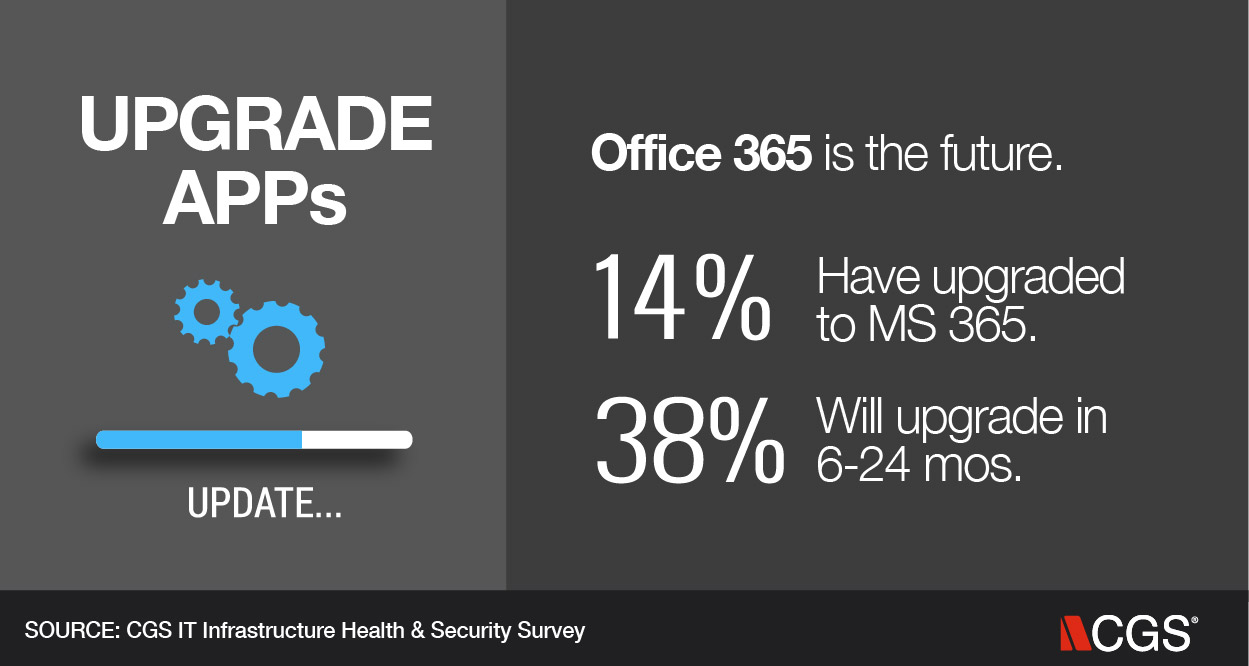 14% of respondents already made the leap to Microsoft Office 365® (MS 365), and another 38% are planning to move over in the next 6-24 months.  
What it means: Microsoft is moving nearly all its products into a cloud model such as MS 365. The company is doing away with Exchange server licensing costs and the cost of hosting email. They are instead combining it with Microsoft Office and several other Microsoft offerings such as Sharepoint®. 
Tip: MS 365 is very cost effective. To learn more about the benefits look at our recent blog: Microsoft 365: Changing How Business Software is Sold. Microsoft seems to be preparing to phase out their premise-based ownership model and companies who wait until the last minute to migrate are likely to end up paying more. 
7.    MOVING TO THE CLOUD
38% are using a public cloud, such as Microsoft Azure or AWS, while a surprising 61% indicated they have no plans to use a public cloud. 
What it means: This was a surprise, considering the large percentage of respondents who indicated that they are migrating to Microsoft 365. It made us wonder whether people realize MS 365 is a type of public cloud and is built on Azure. 
TIP: At least once a year, review all mission critical applications that are still local and evaluate whether you can efficiently manage it as a cloud application.
Technology is increasing in complexity, and at a faster rate than ever before. 
Need help identifying your unique critical processes and developing a strategic plan to support your company's long-term objectives? Our team of experts can help you design a technology management program that supports your systems 24 hours a day, 7 days a week, 365 days a year.
To find out more about CGS's IT Services visit https://www.cgsinc.com/en/technology-outsourcing