Natalia Kossobokova is the Content Marketing Manager at CGS. She spearheads the development of global marketing content which includes videos, blog posts, newsletters, editorials, emails and other marketing projects. 
7 Takeaways from our Digital Upskilling Webinar with Human Capital Institute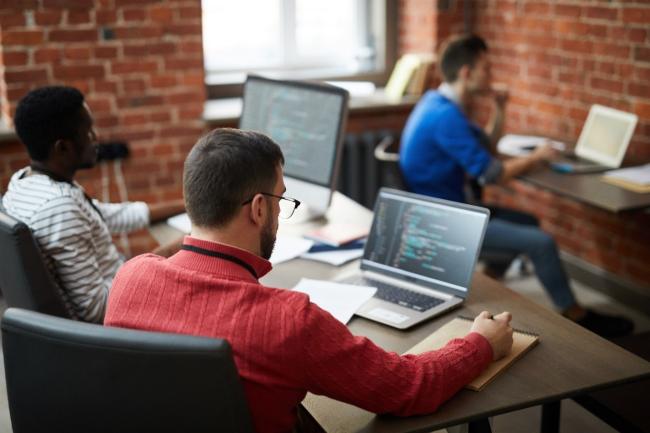 "There's going to be just as many jobs in robotics and automation [as the amount that] that they will replace. There will be 5 million jobs available in cloud, tech, etc in the next five years," said Marc Caslani, Digital HR Transformation Leader at HCM Cloud, General Motors.
Despite the rise in artificial intelligence and automation, Marc remains an optimist when it comes to Digital Upskilling. In our webinar, Digital Upskilling Through the Use of Technology, Marc joined Christopher Lind, head of Global Digital Learning at GE Healthcare to discuss the future of learning in the workplace, skills gaps and the role technology will play in driving digital transformation.
1. Why Digital Upskilling will be Imperative in 2020 and Beyond
Upskilling is now a mandate. The search for talent is competitive, processes and technology are changing, skills gaps are very real, and most are juggling all of the above with a move to a cloud and agile. The key is to learn, adapt and shift. As a result, employers are creating robust upskilling and retention programs. A recent Forbes survey of 500 business executives, 92% stated that agile working will underpin business success as an essential part of their digital transformation. In 2020, HR and Learning departments will be tapped to build a culture that produces a lean, agile foundation
2. Lay the Foundation Based on What Employees Are Asking For
One of the most critical employee goals at GE is creating meaningful experiences.
"Give me an experience where I can put this information to action instead of just reading about it."
Christopher Lind advises that L&D should make learning relevant to each specific individual by personalizing it:
What do you want the employee to know, understand, learn or question?
What do you want the employee to feel and what emotions create the desired energy (equipped, inspired, motivated)?
What behavior change do you want to see?
At GE Healthcare, Lind is leading the global charge of reimagining the learning experience. He advises that future success requires being prepared a journey along the way to digital transformation, knowing what employees want and cultivating experiences.
3. Find Out Where Your Company is Headed
When building your digital upskilling strategy, the biggest thing to identify is "where is your business going?" Where are you going to place your strategic bets? You cannot simply upskill your entire organization. This ties into the long-term vision and mission statement of the company. It's a simple as: "Yesterday, this was our value proposition. Tomorrow it will be this." Now you can start identifying the gaps.
The same goes for your product. For example, the way a company described the equipment yesterday could be fundamentally different from how you describe it today. It's not that you're going to change employees' entire competency set, you're looking for very practical digital upskilling. It's also important to remember that every single line of business is adapting to new tech so it's an overwhelming time for a change. However, there's an opportunity for the L&D community to self-care and update its skillset to include data analysis, agile methodology, design thinking and marketing so that the means of learning can be transformed.
4. How to Train for the Future When You Don't Know the Future Yet
What's the best approach to training people in technical areas for which we do not know the demand or have work for yet?
Speed. Succeed and fail fast by experimenting with new technology. Find others that have failed, compare notes. Find external coaches or peers. Go to conferences and networking groups. Talk to the customers. There are other companies having the same challenges, seek them out, discuss your journeys to success or failure,  and share lessons learned. Hopefully, you can cut to the chase instead of going through all the same mistakes other organizations made. Rapidize, find patterns, collect and analyze data, and leverage courseware and trusted vendors for digital upskilling.
Make sure your executives are embracing the pace at which you are innovating and digitizing learning. Some of it is going back to agile methodology, but it's just about moving quicker. Make shifts and pivots faster and don't get caught up in the things have been done before. Don't forget the core capabilities and soft skills you'll need, no matter how much technology will change.
5. How to use AR and AI
GE Healthcare is finding success in using augmented reality and artificial intel right now. Christopher Lind finds that both technologies support the goals for speed and scale in the form of micro-learning experiences and real-time coaching. Lind is not necessarily moving away from human coaching but supercharging and globalizing it with a coach backed by AR and artificial intelligence. While employees are gaining hands-on knowledge, there is a built-in function to collect scalable feedback when human feedback is just not feasible at such a massive scale.
6. Digital Upskilling is a Great Way to Recruit and Retain Top Talent
With average hiring costs hovering around $7,000 and a search timeline of 30-90 days, while you're competing with all the other companies for that one potential employee, digital upskilling is a necessary investment.
After you recruit a new hire, it's all about providing the employee with continuous learning. The traditional view of 'I just have to keep doing my job' – that's fading. So, companies are applying the investment to employees as well – starting with a set firm expectations: "here's what we are planning on doing, here's how we will coach and train you to get there." Make sure you're picking skills development in the areas the company is putting into action. It's an art. Not a science.
7. The Core Human Skills Needed in the Fourth Revolution
It's a big list. There's no universal list to pull from, but here are the top two:
Leadership skills are not going to go away. The ability to coach an employee and interact with an employee. The way we coach people and develop that. This one stands the test of time.
Conversational skills are just as important. More important for our ability to communicate. We adapt very quickly. Investing in people's abilities to shift and pivot is very important. Know when to go face to face vs. email. No matter what generation you're from, it's very important to know.
Critical thinking, problem-solving and emotional intelligence will be vital as well.
I don't think we do a good job of the "why" all the time. We need to explain why these jobs are becoming automated. Deconstruct the work. Instead of saying "automation is replacing these jobs" we need to replace it with "automation is replacing these tasks so that you can now focus on new tasks."
Digital upskilling comes in after you train people in core competencies.
Natalia Kossobokova is the Content Marketing Manager at CGS. She spearheads the development of global marketing content which includes videos, blog posts, newsletters, editorials, emails and other marketing projects.