8 Reasons Why the Ecosystem Orchestrator Will Become the New Trusted Advisor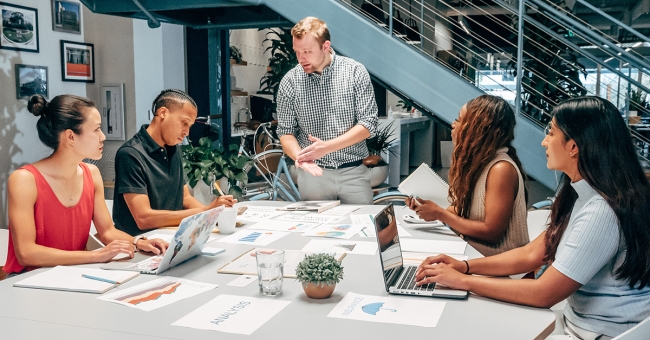 Photograph: Kindel Media, Pexels.com
The way that most mid-market companies purchase IT products and services has changed. In these digitally-driven buyer's journeys, as many as 28 touchpoints exist between when someone begins researching a new goal or challenge and the point of initial vendor contact. The best prospects consume dozens of unique pieces of content before expressing any interest in meeting with your partners' sales teams.
In the "Ecosystem Orchestration – The Key to Unlocking Growth in Your Mid-Market Strategy" webinar, Doug Stephen from CGS and guest speaker Jay McBain, Principal Analyst – Channels, Partnerships & Alliances at Forrester Research analyzed the increasing complexity of new channel partner ecosystems. While it may change in the coming years, no current software-as-a-service (SaaS) vendor has resolved this complexity, and the attribution technology doesn't work, either.
 
Why the Mid-Market Matters
Only about 3 percent of U.S.-based companies are truly considered mid-market companies—those with $10 million to $500 million in annual revenue. Yet, this tiny segment of the U.S. economy accounts for roughly one-third of all U.S. jobs and one-third of all non-governmental gross domestic product (GDP).
The mid-market brings vast opportunities for channel chiefs, distributors, integrators and managed service providers. However, most of the channel ecosystem is struggling to determine how to adapt to the increasing complexity of new ecosystems.
 
Ecosystem Orchestrator
Merriam-Webster defines an ecosystem as "something (such as a network of businesses) considered to resemble an ecological ecosystem especially because of its complex interdependent parts." An orchestrator is defined as a "trained musical professional who assigns instruments to an orchestra or other musical ensemble from a piece of music written by a composer, or who adapts music composed for another medium for an orchestra," by Wikipedia.
So, given that the channel has never before faced challenges of this magnitude, what does the solution look like? Enter the ecosystem orchestrator who, instead of conducting strings, woodwinds, brass and percussion, "conducts" all the transacting and non-transacting channel partners now required to support major IT sales in a subscription-centered IT environment.
 
Trusted Advisor
Historically, trusted advisors hold one of the most coveted roles in the IT industry. They typically bypass the need to compete on price, eliminate most competitive comparisons and enjoy the seat-at-the-table, doctor/patient relationship that transacting IT channel partners can only dream of. To succeed in the digital buyer journey, the channel equivalent of the orchestra conductor—the ecosystem orchestrator—becomes the new trusted advisor.
 
Why the Ecosystem Orchestrator Will Become the New Trusted Advisor
Massive Data Sharing Challenges – The initial transaction is only the beginning of the relationship with the end client, so companies have massive data-sharing challenges to overcome. As Forrester Principal Analyst, JayMcBain explains, these data-sharing challenges don't have "a technology answer. There is no one perfect portal that pulls this all together."
Getting the Timing Right Can be Incredibly Difficult – There's now an average of 28 touchpoints before vendor interaction that happens anywhere from a matter of days to several months or longer. "There's a huge amount of human orchestration necessary to get these partners involved at the right time when they're adding value. (For example, being present at) …the right digital moments, writing the right eBook at the right time, and showing up on the first page of Google," McBain added.
Attribution with New Success Metrics – How do you deal with attribution in a subscription-centric, digital buyer's journey? Who gets credit, and in what proportions? McBain asks, "Is it the partner that's collecting the money for the end client? (What about the partner that's) walking them into a vendor marketplace at the exact right time after vendor selection?"
Customer Lifetime Value (LTV) – With so much of the channel ecosystem now building businesses around retention, measuring the customer lifetime value matters more than ever. How do you reduce churn and transform that customer into a customer for life? "It's a new set of muscles that we haven't been asked to use in 40 years. That's why the piece in the middle of the human orchestration is so critical," McBain emphasizes.
Privacy Changes Driven by Apple and Google – Several months ago, the two companies controlling 99 percent of the mobile and 86 percent of the desktop browsing market shares adopted a "privacy religion," according to McBain. Google built half of its business on harvesting your personal data and selling it to others. In contrast, Apple thrived as a hardware company non-reliant on sponsorship advertising revenue or selling personal information.
MarTech and Adtech Lose a Lot of Punch in a Post-Cookie World – McBain views the end of tracing, targeting and pixels inside emails as monumental changes, with a monumental impact on the channel ecosystem. "The last decade was based on MarTech (marketing technology) and Adtech (advertising technology). Of these 8,000 companies, many of them were based on harvesting these huge data lakes to come up with these very important insights and analytics around intent."
The Empty Data Lake and the Deer-in-the-Headlights Channel Organization – When the business models and underlying technologies supporting the data lake no longer exist, those depending on MarTech will have some very pointed questions for channel chiefs: How many of the 28 data points from problem to vendor selection do we recognize? How many of these new ecosystem partners have we recruited and properly trained? How are these partners incentivized? What's in the co-marketing and co-selling playbook? How is channel tech replacing dependence on MarTech and Adtech?
Getting In Early Matters More Than Ever – With 28 touchpoints in the digital buyer's journey happening independently of your partners' sales teams, every company in every industry is rethinking its go-to-market strategy. McBain underscores the urgency at play: "Every company in every industry, the earlier they get into that customer journey and the more prevalent they are through those 28 moments is exactly correlated to their success rate at the vendor selection point."
Interested in learning more about why the ecosystem orchestrator will become the new trusted advisor? Watch the webinar recording, "Ecosystem Orchestration – The Key to Unlocking Growth in Your Mid-Market Strategy."