8 Steps to a Successful PLM Software Implementation for Fashion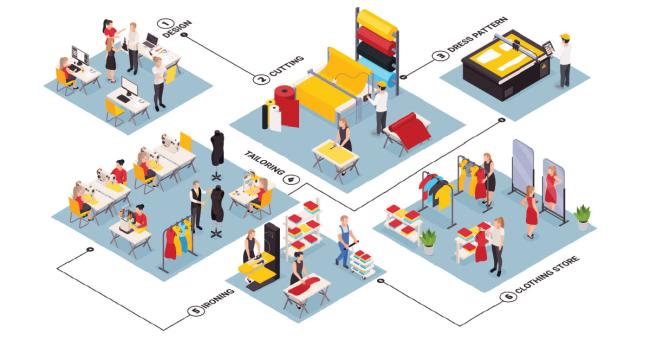 At its core, product lifecycle management (PLM) software is a tool that manages the lifecycle of a product: from its conception to development to dissemination. PLM software has a long history with varied uses, but it has been acting as the backbone of the fashion, apparel, footwear, accessory and uniform industries. And when connected to an enterprise resource planning solution (ERP), PLM can offer many great advantages to a brand.
With 35+ years of experience, CGS's BlueCherry® Next™ team has refined its approaches and developed best practices to ensure businesses gain the most value and return on investment (ROI) from their investment, in a short span of time. Drawing from this knowledge, here are eight steps to successfully implement PLM software for your business.
 
1. DETERMINE YOUR GOALS
"Let's buy the software and see what it does for us," is not the right approach to PLM. For PLM to truly serve a business, it is important to determine precise goals and understand what you want the PLM system to accomplish for your business in the immediate and near future. Below are some sample stages a fashion business can find itself in. Your company may be at one, or a combination, of them.
Your company is growing, and so are the workflows, partner companies, client portfolios, and designs, which are overwhelming the organization. In this situation, PLM is needed. A business is better positioned to scale using PLM software by acting as a central repository of data that can be shared and dynamically managed throughout an enterprise.
If your fashion business is looking to enter or expand in an international market, PLM is needed to support global collaboration through access to design information and support international manufacturing that can be monitored from any location in real time.
If reputation-fostering is the goal, PLM can be employed to smooth out operations and validate data, meet environmental and health regulations, as well as enforce safety requirements—all things that lead to quality assurance and good standing in the industry.
 
2. ASSEMBLE A PLM IMPLEMENTATION TEAM
One of the most important decisions an executive or senior management member must make is selecting the right PLM implementation team. To create a well-rounded team, choose individuals that have core competencies that complement every aspect of the PLM implementation project.
A project manager who will develop the project and maintain timelines and budget. Select this manager based on their experience, not necessarily on their job title.
An IT manager who will liaison between the company and the PLM software vendor during the implementation, as well as oversee PLM implementation progress at the micro level.
An end-user team composed of designers, accountants and warehouse personnel to fully use and adequately test the new software and its features. A designer, for instance, will understand the impact of PLM software on the design stage. They will be able to give invaluable input on digital assets, garment parameters, color data, etc., to fully utilize the software and best serve the company.
 
3. INTRODUCE CHANGE MANAGEMENT
Even though a PLM implementation can significantly reduce your employees' workload, allow them to gain insights on trends and facilitate their collaboration, many types of change are generally unwelcomed. An often-overlooked step, change management is actually the most important aspect to address when it comes to a large organizational change, such as a PLM software implementation.
One of the quickest ways to ensure PLM implementation failure is to have an unsupportive work culture, which can result in resistance. Part of change management is clearly illustrating a strong vision for the team. Investing time into defining the purposes of the new PLM software and engaging employees at every step will lead to success.
With the help of HR, for example, make sure that the end goal of the PLM software implementation is effectively communicated to employees from all walks of life. Considering how demographics, skill levels and personalities will play a factor in accepting new business operations and will shape your communication and training strategies.
Appraising, and praising when warranted, the performances of employees during the implementation process validates the value of their work, cements their role in a company undergoing change and creates overall satisfaction with the PLM implementation process.
 
4. CHOOSE THE RIGHT PLM SOFTWARE VENDOR
Selecting a PLM software vendor will undoubtedly require a lot of the investor's time and energy. This is for good reason. PLM software is not a minor endeavor, and because the software system will stay with a company for many years, so, too, will the vendor.
Avoid unnecessary convolution and costly errors due to PLM customization. Ideally, a fashion PLM software vendor will be specialized in the apparel, footwear, accessories and uniform industries and will have the resources to sustain a long-lasting relationship with your company.
Accurately assess the vendor's experience and reputation. An excellent way to measure a vendor's compatibility with your company is with requests for information (RFI) and demonstrations. An experienced PLM software vendor will not only be ready to answer hundreds of questions and walk your team through a PLM demo, but also their answers will likely demonstrate excellent knowledge of the kind of products or services your company provides.
Keep an eye on the future. Select a vendor that's frequently updating, improving and offering new integrations to its PLM software. Always optimizing your PLM software allows your company to keep up to date with fashion's changing market, its needs and latest technologies.
 
5. CONFIGURE PLM SOFTWARE
Configuration is not the same as customization. PLM software developed for the automotive industry, then customized to serve a fashion business is prone to manifest gross errors because designing an engine part is not akin to colors, shapes, trims, or fabric management. An out-of-the-box PLM software solution, developed for garment design and manufacturing will only need configurations to conform perfectly to a fashion business, saving valuable time and extra expenses.
The integration of Digital Asset Management (DAM) enables advanced asset search (images, tech packs, materials, etc.), organization, processing and controls that streamline communication and collaboration among your internal team and supply chain partners.
Business operations can be conducted on-the-go using PLM software. Fashion suppliers and retailers have the option to connect to PLM on a smartphone to upload images obtained in real time (at a fashion show, for example), communicate with designers and maintain workflows.
If you have an existing ERP system, or are considering implementing one, the PLM software vendor should be able to integrate them and push information to the ERP, creating a symbiotic relationship between the two solutions. Other configurations include adding Business Intelligence and Document Management—tools instrumental in tracking fashion trends, forecasting sales and appraising performance.
 
6. TRAINING PLAN
A well-developed training plan is instrumental in maintaining the PLM software's implementation timeline and ensuring its success. Because tight deadlines are commonplace in business, CGS has optimized and condensed PLM implementation training to only 24 hours. That means that in three workdays your team will be ready to proficiently use PLM. Nevertheless, as the executive overseeing the company's PLM implementation, keep in mind the following during training.
Strategic timing is key. If training happens too early in the implementation process, end-users will have forgotten everything. If it happens very late, PLM adoption will be delayed. The PLM vendor should be able to advise you on the optimal training time for maximized retention.
Not all learners are equal. While a classroom method is an effective way to train, diversified training approaches—such as video tutorials, literature and demonstrations—make way for better information retention by a varied group of users.
Additionally, one of the most effective ways to learn is by doing. As end users become involved in cleansing and legacy data migration to the new software, tasking them with developing common use cases for PLM will cement procedure instructions acquired during training.
7. TEST THE SOFTWARE AND GO LIVE
PLM software is an intricate, yet flexible system. To bend and shape PLM to your company, a series of highly methodical tests need to be run to ensure you take full advantage of the software's versatility.
The use cases created should be used to thoroughly test the PLM software's readiness. These scenarios confirm that PLM supports operations in every aspect of the PLM cycle, meeting goals without error or delay.
During simulations, make sure to use and test both static and dynamic data at each turn. This ensures that both permanent information (e.g., buyers and designs) and changing information (e.g., cost cards, BoMs and line plans) are adequately migrated.
Simulations will become more sophisticated with each test run, and the implementation team needs to be prepared to make adjustments after every round. When the company is confident about the quality of the master data migrated and that the implemented PLM software system is fully ready to perform the entire lifecycle, you are ready to go live.
 
8. MEASURE SUCCESS
A straightforward way to measure a PLM software's implementation success is with Key Performance Indicators (KPI). Measuring success is both a natural and necessary step for any business that has undergone an operational transformation to better understand the path the business is taking.
Use KPIs to concretely determine profit by how much the PLM software accelerates the design-to-product cycle and reduces time-to-market, while cutting costs as a result of reducing waste.
To calculate ROI, calculate the total initial investment your company has made into the PLM software purchase, training and costs involved to achieve IT infrastructure readiness. ROI is determined by dividing profit by the initial PLM investment.
PLM software holistically brings together research and development; manufacturing and assembly; the supply chain; sales and finance. While transformational changes are difficult to enumerate, PLM software implementation nevertheless has a powerful, discernible effect on every member of the organizational chain. There are no right or wrong ways to measure such effects of PLM, but this detailed list can help you to define these effects.
As a final thought, it is important to keep the future of your company at the front of your mind during a PLM software implementation. A powerful PLM system should accommodate the business as it scales and support its transformation and expansion down the line.
Looking to put a world-class PLM system to work at your brand? Download our eBook, The Seven Priorities for Post-Pandemic Success, to discover how a powerful, no-code solution like PLM can enable the collaboration and integration to prepare your brand for the future of fashion design and marketing.