Adapting to COVID-19 with Augmented Reality Solutions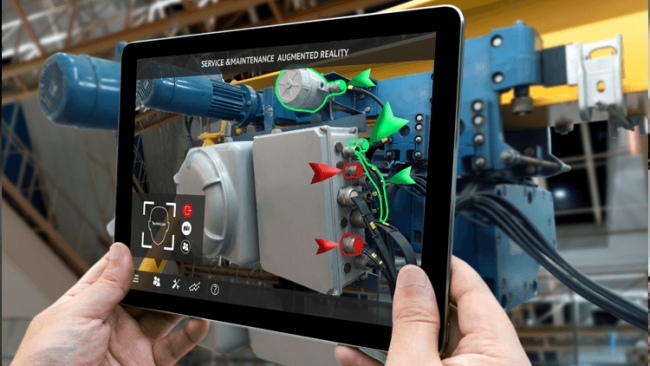 Field service operations are essential to business
During COVID-19, states have deemed grocery stores and pharmacies, healthcare facilities and warehouses to be "essential business." But who keeps those essential businesses running as they scale up? It's the field service teams that keep everything from grocery POS and inventory systems maintained and warehouses up and running to home appliances and cable and internet services installed. According to one estimate, there are over 84,000 OEM service incidents per month, 40% of which typically require a site visit.  Essential installs, maintenance and repairs won't wait for a crisis to be over. Businesses and homeowners alike will continue to require immediate action.
Companies that specialize in on-site technical and maintenance are challenged to keep field service technicians and customers safe during a pandemic. "No visitor" policies, social distancing and stay-at-home orders prevent traditional in-person visits. International travel bans and freight restrictions have limited the supply of replacement parts. Without site visits and parts, how do businesses, both essential and non-essential, keep running? And how can field service technicians continue to perform their jobs safely without unnecessary exposure to COVID-19?
Augmented Reality (AR) offers safe, remote assistance
The answer lies in using advanced technology. Augmented Reality (AR) helps service providers offer safe, remote assistance for employees using interactive tools to collaborate on traditional service calls. Using real-time step-by-step instructions with built in scenario-based videos, gesture tracking, text and live video chat, AR allows field service technicians to tap expert instructors or customer support teams to accurately assess major issues or confirm services while at a client site. No repeat truck rolls, service calls or follow-up visits needed. AR also enables companies to put control in their customers' hands. Using any mobile device, field service technicians can use AR paired with live video, on-screen instruction and annotation, to help customers walk through basic procedures DIY -style or troubleshoot existing issues to determine if a simple fix, replacement parts, or actual in-person technical expertise is required.
AR prevents unnecessary physical interaction during the COVID-19 crisis for both commercial and residential repairs, service calls and training. But AR also offers significant cost savings. Diagnosing issues remotely allows companies to prioritize operations and reserve their expert resources for AR-assisted service to new technicians and more complex in-person repairs. AR has been shown to reduce mistakes and unnecessary calls by 90%, achieve 50% faster task performance and serve as a compliance tool that logs activity in real-time, ensuring service calls are properly performed.
Easily assist those most in need
In a residential setting, field service can be especially challenging. With current COVID-19 protocols, technicians and homeowners must collaborate to ensure that technicians provide contactless support. In these cases, AR helps prevent the spread of illness, benefitting both technicians and consumers.
Traditional remote assistance has only leveraged call services without the aid of rich, live visuals. This approach can be confusing to customers unfamiliar with items needing repair. Using AR, consumers following along with interactive video and guided experiences can more thoroughly self-service. Consider the situation of assisting an elderly person as they try to reset a modem.  Using their smartphone or tablet, they receive clear visual guided experiences that help them to easily diagnose and complete the reset process, leading to a better customer experience, decreased downtime and the savings of the cost of a service call. Many companies are being run from home offices and dining room tables as employees work from home which makes home phone and internet services even more critical to keeping business flowing. 
Remote repair of grocery inventory robots
COVID-19 will have a long-lasting impact on our food inventory and delivery systems, including for example greater use of grocery robots and POS devices that encourage cashless payments to protect the health of employees and customers. Industry leaders like Walmart are currently using robots to record inventory levels, re-stock shelves, and receive shipments.
As more store chains adopt grocery robots in the post-COVID-19 environment, the need for easy repairs and maintenance will increase.  AR provides an efficient way to monitor IoT sensors, provide remote repair assessments, and order required parts. Rather than immediately calling in a seasoned technician, the most up-to-date AR-based training can be delivered to a store employee at the time of need. This hands-on training paired with seamless technical support can improve the efficiency and uptime of expensive equipment through less labor-intensive means.
AR's long-term benefits
AR is a tool that protects technicians, commercial customers, and consumers during a national health emergency. But this event also proves the reliability and value of AR as it not only reduces the traditional labor and overhead resources for in-person calls but provides a better customer experience. Across departments, teams, generations and learning styles, AR paired with rich custom content, helps to solve real problems, in real-time.
Teamwork® AR by CGS
AR tools are a proven way to serve customers while preventing the spread of disease during the COVID-19 emergency. But for the long-term, AR can help your teams reduce risk, errors and injury, accelerate the design process, reduce repeat customer visits and maintenance, provide remote guidance, boost sales enablement, connect a global community of new hires and SMEs and provide interactive support at the time of need.  Teamwork® AR by CGS changes the way work gets done and elevates the outcome.  Available for any device, anywhere, Teamwork® AR includes feature-rich visualizations, integrates with service ticket applications, and provides detailed analytics that showcase results.  Request a demo of Teamwork® AR here.