Advanced Analytics Take Shop Floor Control to the Next Level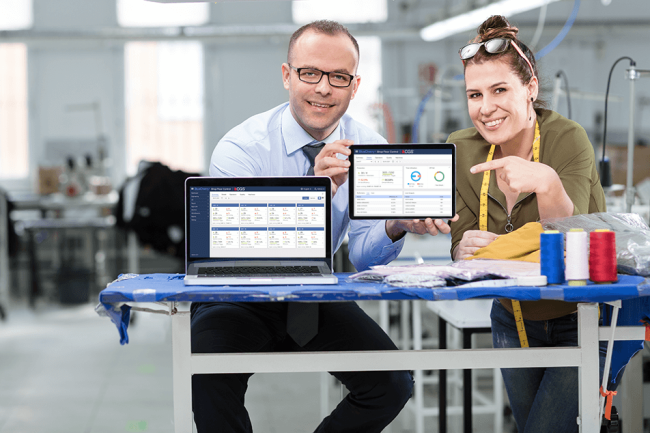 Do you need greater visibility into your manufacturing operations? Wish you could turn all that production data into actionable advice? Have little time and resources to analyze factory floor activities and performance effectively?
The latest CGS BlueCherry® Shop Floor Control Enterprise (SFC) production management solution provides powerful, multilevel analytical capabilities to address these and other manufacturing challenges. It enables businesses not only to collect, but also pragmatically leverage real-time data. These integrated analytics tools benefit production workers, supervisors, plant managers, engineers and C-suite leaders by making it quick and easy to:
Address urgent factory floor issues
Monitor key performance indicators (KPIs)
Dive deeper into issues that impact profit and performance over time
Here is a brief look at the three levels of analytics that CGS BlueCherry SFC Enterprise delivers.
Level 1: Faster, Better-Informed Decisions on the Factory Floor
The first level of SFC-enabled analytics is designed to help teams working directly on the factory floor. It gives them real-time visibility of all production activities and performance. Here's how this applies to people in different roles:
Machine Operators and Other Production Workers: Operators get always up-to-date visibility to their performance and incentive earnings with the latest SFC technology. There is no more uncertainty about how they perform against expectations, the methods they should use or the quality standards for each job they perform. Using connected, industrial-strength tablets, production workers can view operation diagrams, work method videos, quality specifications and more. Pacing tools built into the system motivate them to optimize their individual performance and incentive payroll earnings.
Supervisors, Maintenance and Quality Teams: Supervisors, maintenance and quality assurance (QA) teams benefit from increased visibility to off-standard events, line balancing and quality issues. With BlueCherry SFC Enterprise, QA personnel also use tablets to conduct roving inline and finished goods statistical quality control inspections. The solution supports unlimited inspection types, multiple languages, images and e-tape integration. Armed with real-time technology, supervisors, QA team leaders and managers can better identify quality issues early—before they escalate into production delays.
Line balancing also is easier and more automated with the latest SFC technology. For example, CGS Blue Cherry SFC Enterprise feeds supervisors the real-time status for each job in a line. The solution stores the skills history for each operator, and as a production bottleneck begins to form, offers the supervisor suggestions for which operators to repurpose to resolve it. The solution also makes recommendations for balancing lines in response to planned or unplanned absenteeism, machine breakdowns and other unexpected production issues.
Level 2: Actionable KPI Status on Dashboards
The next level of SFC analytics is all about revealing KPIs to improve decision-making for both on-site factory leaders and off-site executives managing multiple plants. With the latest generation of SFC technology, they get easier access to the information they need, when they need it, in the format they want it.
For instance, they can always see real-time, on-demand digital KPI dashboards, whether on their mobile phone, tablet or PC. For those who prefer a daily update or other scheduled KPI views, the SFC solution generates dashboards or reports in the end user's desired format. CGS BlueCherry SFC Enterprise seamlessly integrates with CGS BlueCherry Business Intelligence (BI), offering built-in access to 500-plus KPIs, many related to production operations. For example, SFC dashboards display managers up-to-the-minute visibility to:
Absent and clocked-in production workers
Off-standard events, with associated times and reasons (such as "waiting on work" or "machine downtime")
Hourly production in real-time for each operator, team, department or plant
Work in process (WIP) by cut, including a real-time view of the number of orders in process and quantity completed by order
Line balancing reports that help predict, prevent and solve bottlenecks
Level 3: Strategic Problem Solving with Advanced Analytics
The third SFC analytics level takes analysis deeper. Whereas the previous two levels focused on trouble-shooting immediate problems and monitoring production in real-time, this next echelon helps companies identify and solve underlying issues behind complex problems and identify opportunities for improvement. With its native integration to advanced CGS BI tools, CGS BlueCherry SFC Enterprise enables engineers and executives to quickly and easily crunch data to get answers. This enterprise-strength analytical power draws on aggregate data in a single factory or across an entire factory network.
Users can "slice and dice" shop-floor data in virtually unlimited ways. The BI engine, integrated directly with BlueCherry SFC Enterprise, enables dynamic grouping and sorting of data. You won't need a third-party BI or analytics solution. For example, using these advanced analytics, they can:
Compare planned vs. actual time, costs and other metrics at overall style and production runs by operation, work cell, production line, factory, and more. The data might identify a process that is performed consistently slower than standard, illuminating the need to confirm operator methods, revisit the standard, retrain operators, adjust staffing or devise another solution.
Use aggregate historical production data to estimate or set standards for new styles without performing new time studies.
Analyze data by machine for predictive maintenance. Trace problems back to recurring mechanical problems and parts consumption, highlighting which machines need replacement.
Turn all of your production data into actionable insights. The reimagined CGS BlueCherry SFC Enterprise offers multilevel integrated analytical capabilities to help your entire business make faster, better decisions, solve production challenges and keep customers informed.
REQUEST A DEMO today to find out how advanced analytics is a game-changer for shop floor control.