Boosting Supply Chain Visibility and Agility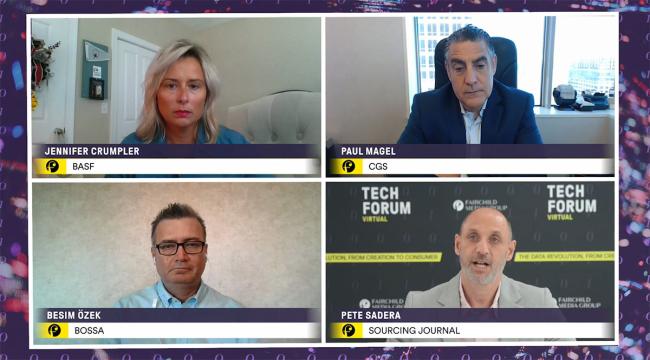 Transparency for Compliance and Sustainability
Consumers are increasingly interested in the impact of purchases, including the environmental and social costs of production. In a CGS survey, 51 percent of U.S. consumers rated sustainability as important to their buying decisions. And 30 percent of consumers in the U.S. and U.K. would stop buying from a brand if they did not use ethical practices. Yet achieving sustainability requires having transparency and building agility throughout a company's entire supply chain.
This was the topic of the panel, moderated by Pete Sadera, Sourcing Journal editor in chief, at the Fairchild Media Group Virtual Tech Forum last month. During the panel, speakers shared how they are addressing the growing demand for data about the origins of products.
As the pandemic turned life upside down, some consumers found their attention pulled away from sustainability, but that has changed in the recovery.
"[It] was all about being safe, healthy and getting through the pandemic. But we're seeing it come roaring back," said CGS's Paul Magel, president, business applications and technology outsourcing division. And alongside consumer demand, recent regulations are further driving the need to track garments back to the source.
Jennifer Crumpler, fiber development manager and e3 sustainable cotton program manager at BASF, compared what is currently happening in fashion to the farm-to-table movement in food. Each bale of e3 cotton is traceable back to the field.
The three Es represent social equitability, environmental responsibility and economic viability. Social equitability involves sharing the story about farmers, their practices and processes. It helps to paint the complete picture that there are lives and livelihoods behind the products we buy. For environment responsibility, BASF tracks eight different parameters—including water use, pesticide use and worker health and safety—to cater to the wide range of definitions for sustainability. E3 can also customize its data to cater to partner needs. In economic viability, they want to bring back value to farmers and others along the supply chain to reward them for new and renewable practices.
Part of what is driving more traceability is greater collaboration along the supply chain. "Silos are being broken, and those who maybe aren't willing to have the transparency . . . [are] being weeded out," said Crumpler. She added that e3 is working to align the terminology being used to describe a bale of cotton, so it simultaneously works for farms, suppliers, brands and consumers.
In addition to agricultural traceability, retailers are seeking ways to get more information about manufacturing production. The Shop Floor Control Enterprise solution within CGS's BlueCherry software suite has typically been used as a productivity measurement tool. While output analysis remains important, today companies are using its data collection capabilities to track factory compliance, including ensuring that goods are not being subcontracted to noncompliant facilities.
To enable better information sharing, companies need to have the capacity to analyze and correlate data points. Along with helping companies collect data, CGS tools tag information, so it can then be reported and disseminated via their website or product labels. "The world doesn't lack for data; there's data everywhere," Magel said. "And sometimes, that data is in a file cabinet, sometimes it's in a database, sometimes it's in somebody's head. The real task is connecting it all, and then making it available."
According to Besim Özek, strategy and business development director at Bossa, a denim mill, traceability of materials in the supply chain is already an expectation rather than a differentiator. Brands want to see the data. Some retailers will even establish ultimatums, asking suppliers to prove a specific target has been met—such as lowering water consumption—to retain their business.
Bossa has taken an open approach, sharing information on its dyes, energy sources and recycled content use. For organic cotton, Bossa provides QR codes to customers, so they can see details about the farms, as well as where the seeds come from and the growers' use of irrigation. In addition to sharing data with customers, Bossa also discusses its methods with others in the denim industry.
"We believe that for the future of the world, if we are doing something good for sustainability, it shouldn't be a best-kept secret," Özek said.
Bossa is part of Reformation's traceable denim supply chain, which uses FibreTrace to follow cotton from the field to the final customer. Physical traceability solutions—such as DNA or mineral-based tags—range in price, with some adding 25 cents or more per meter of fabric. However, Özek sees the costs coming down in the next few years as the technology matures.
Making up for added costs is the price premium that can come with verified sustainability. According to Magel, consumers reported they are willing to pay about 25 percent more for sustainable goods, and e3 has seen brands successfully test higher prices for jeans made with traceable cotton. The e3 program then passes some of this premium on to its enrolled farmers.
"Nothing can be done without the economics," Crumpler said. "And what we're really striving to do is . . . [bring] value back to our farmers and what they're doing on their farm . . . rewarding them for what they're doing to help others downstream."
It's clear that brands and manufacturers will need agility and visibility to meet the changing consumer demands and regulatory requirements around sourcing and sustainability. Embracing these trends can have an economic return, as well. For more details, click here to view the full, far-ranging panel discussion.