CGS Canada Gives Thanks by Donating Emergency Food Supplies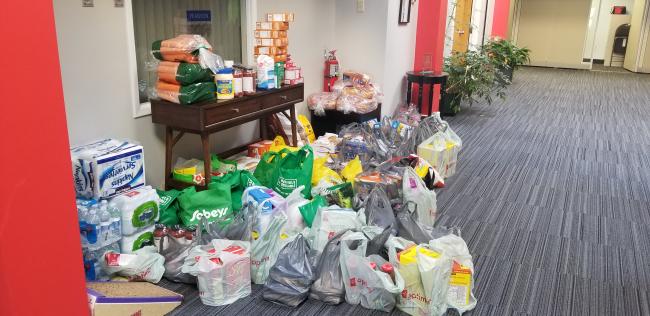 According to Community Food Centers Canada (CFCC) one in seven Canadians struggled with food insecurity in 2020. So, the CGS Canada team stepped up to give thanks this holiday season by collecting a literal truck load of food to ensure local families would have a healthy and hearty meal for Thanksgiving.
The team collected food for two weeks leading up to the holiday and as you can see in the pictures, they were beyond generous. The donated food was distributed by Romero House in New Brunswick, just one of the charities that the Canada team supports throughout the year.
The Romero House provides local assistance in many ways:
Running a soup kitchen that serves meals 365 days a year

Assisting with medically prescribed diets and special food needs (e.g., for diabetics and cancer patients).

Running a clothing and household goods center where families can take needed items free of charge

Providing visiting nurse services for follow-up care and special health needs

Street outreach to provide hot drinks and warm clothes to those stranded on the streets on cold nights
Collecting food to help hungry families really brought the Canada team closer together for the Thanksgiving holiday and they plan to make this an annual tradition moving forward.
To learn more about our CGS Cares campaigns, visit our Corporate Social Responsibility on our website.