Consumers Increasingly Buy Local for Quality, Manufacturing Materials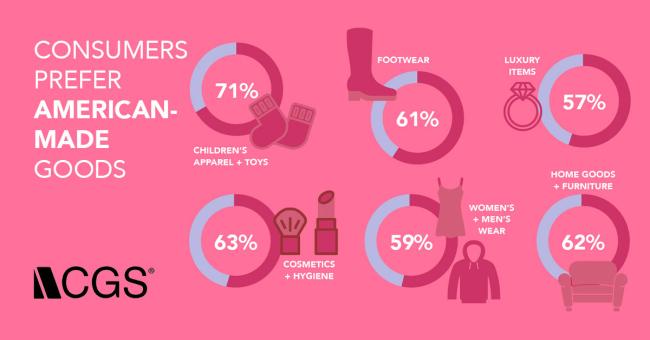 In our 2021 State of the U.S. eCommerce Consumer Survey, 1,000 U.S. consumers provided insights and identified trends from their shopping habits. New data reveals that consumers are gravitating toward buying local and American-made goods for several reasons, chief among them quality and delivery times.
Quality Over Cost
When polled on their interest in purchasing products that were made in America, several interesting trends emerged. Some 71 percent of respondents felt strongly that children's items and apparel should be made in America. Nearly half (42 percent) cited concerns about materials used in manufacturing as the reason, which makes sense when considering headlines about recent recalls of popular Fisher-Price infant products. Durability is the top priority (43 percent) for consumers when it comes to children's apparel, even over cost and comfort (both 22 percent).
With children's apparel, support for local businesses was most important to 54 percent of the survey respondents when it comes to wanting children's apparel and items to be made in America. This may be due to a perception that goods from mass-produced big box brands are not as durable or unique, while items made in the U.S. or from local brands are of higher quality.
Demand and Delivery
News outlets, such as The Washington Post, have reported on supply chain issues manufacturers and brands are still facing 18 months into the pandemic. From fresh coronavirus outbreaks at manufacturing facilities to labor challenges to restricted railroad shipments, these disruptions are causing shortages in back-to-school supplies right now. And experts are eyeing the upcoming holiday season when potential manufacturing delays may cause some empty shelves.
Companies worldwide are balancing maintaining a healthy workforce and network of partners with meeting increased demand for goods as global economies recover. For example, CNBC reported on a shortage of Nike sneakers produced in Vietnam as factories shut down amid outbreaks.
Delivery times for furniture also have soared as a perfect storm of supply chain problems, short-staffed factories and heightened demand from consumers who are eager to upgrade their spaces came together. In just February 2021, Americans spent an estimated $11.3 billion at furniture stores, according to Commerce Department data. However, many retailers are experiencing weeks- to months-long delivery delays.
In our survey, delivery time was one reason buyers are shifting to more American-made goods and local suppliers. Some 62 percent stated they would like for their furniture and home goods to be made in America. One-third of these respondents cited faster delivery times as the reason, and 42 percent selected the importance of shopping local as the reason. Finally, 18 percent pointed to eco-friendly reasons – lessening carbon emissions – for buying American. This alludes to a potential trend in which more shoppers want their purchases to take shorter journeys from factory to front door.
Data Over Disruptions
As with many modern issues, the right technology can give companies and brands the agility and visibility into processes and procedures to identify and manage challenges and roadblocks, sometimes before they even happen. While no one could have predicted the depth, breadth and length of this pandemic, those companies with digital tools in place were able to pivot and adapt more quickly than those without.
Production management tools, such as BlueCherry® Shop Floor Control, can digitally transform your factory and production with the latest data and technology. Everyone from management to individual producers can access information around production, machine status, resources and goal setting.
Retailers benefit from the data, as well. Companies can see successes and stoppages with their production partners and identify alternate sourcing needs when necessary. If a factory slows production in Vietnam, it could be augmented with production at another location. But only if you know what is happening throughout the supply chain.
A fully connected supply chain is the one prepared for future growth and success. It can benefit retailers' and brands' production and delivery times, sustainability initiatives, compliance and fair practices and much more.
To gain more insights from our eCommerce consumer survey, review our Top Consumer Shopping Trends infographic.