Creating Onboarding Programs That Drive Retention & Performance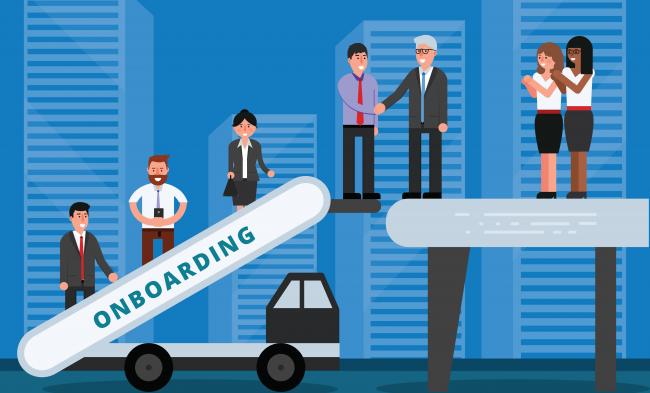 Employee engagement is becoming more and more of a focus for businesses, and for good reason – high employee engagement correlates very strongly with better company and team performance. One essential element of employee experience and engagement has a tendency to get overlooked though: Onboarding. A strong onboarding experience helps develop new employees to be more prepared and excited to contribute to your company's success, and less likely to leave soon after starting.  
At many companies, onboarding remains stuck, consisting of a brief run-through of company policies.  
Some organizations, however, are creating excellent onboarding experiences that become real strategic differentiators for their businesses. These programs tie the recruiting experience to the employee experience, and allow new employees to understand the business, its culture and its challenges right from the start. They equip recruits with information about how the company works in a way that truly helps them do their jobs better.  
One place that's managing to create an onboarding process that's a powerful asset for the company: Hulu. Stephanie Bertmer is the onboarding program manager and talent development leader at Hulu, and she recently appeared on a Human Capital Institute podcast – which CGS sponsored – to talk about the importance of outstanding onboarding in creating stronger organizations. Here are a few key takeaways from the podcast (you can listen to the entire podcast here). 
Onboarding as a success engine
Fundamentally, Stephanie says, onboarding should be about preparing employees for success – getting them started with what they need to perform well in their roles, so they can help the business succeed in its field. Administrative information is usually a part of that; if it's the main part, however, your onboarding program may have some issues.  
Instead, an onboarding program ought to allow recruits to really understand and get a feel for the company and the culture. Letting employees know how people can succeed at your company is a key part of building an engaged, high-performing workplace. And starting all employees off with a common understanding of the company, its strategy, challenges and vision conveys the idea that they have a real stake in company performance. Creating an onboarding program that deals with these issues in a way that informs but doesn't overwhelm new hires may be a challenge, but it's one that will pay off in terms of long-term engagement and performance. 
Don't stop short 
Thinking of onboarding as a one-time proposition can limit its effectiveness. A single session is unlikely to give employees the information and perspective that could allow them to make a greater impact in their new roles. 
Instead, it makes sense to make onboarding an extended experience, allowing recruits time to soak in new information, starting with basics and continuing by providing more detailed information in the weeks after they begin at the company. At Hulu, onboarding lasts 90 days. The first two days are dedicated to it, and then employees have weekly sessions during the first month, followed by periodic sessions over the next two months. Ongoing onboarding allows people to ask questions, to learn things that will contribute to their success after they've had a little bit of time to understand their role in the company. If companies are able to give employees a strong start in this way, then onboarding can become more than just a "welcome" – it can serve as a productive first step in a program of effective talent development that helps workers succeed and contributes to performance throughout their time at a company.  
Consider things from a fresh perspective 
The imperative of onboarding program managers is to provide the information that's most useful to brand new employees – a frame of reference that can be challenging to get to for company veterans. Stephanie, when starting at Hulu, had the experience of getting onboarded right before she began to work on changing the onboarding process. The opportunity made it easier to see where there was room for improvement.  
But even if you can't start again as a new employee, talk to new people about the onboarding experience, try to imagine things from their perspective when determining the content of your onboarding program. And finally, it's not enough to think about what gets conveyed in onboarding, you also need to consider how information gets delivered. How do people like to learn? Incorporating self-directed elements into onboarding can he highly effective. People like the feeling of figuring out answers for themselves. In a simple but fun example, Hulu developed a way for new employees get to know the building they're working in by teaming them up for a scavenger hunt. People from different divisions are paired together (which is good for internal networking), people love the process of finding things in the building for themselves, and then, once they're done, they know the building.   
The real value of better onboarding 
One of the key benefits of onboarding, and an indicator of a strong program: Employee retention. 40% of employees who leave a job voluntarily do so within six months of being hired (56% of those who leave do so within one year).  A well-thought-out onboarding experience can help employees feel comfortable in their job, during that period and after, saving companies significant amounts of money by avoiding having to search for and train their replacements. Hulu has seen significant increases in employee retention since revamping its onboarding process. Beyond that, a strong program is generally a foundation of a successful employee experience, one where people know the ropes, and know what they need to perform their best and bring value to the company.