Samir Alam is a writer and researcher with over 10 years of experience across multiple domains and industries. His current areas of specialization include Business Process Outsourcing (BPO) research, Information Technology Outsourcing (ITO) and Data Governance.
Customer Care Behind the Scenes: 10 Stories of Wholesomeness and Hilarity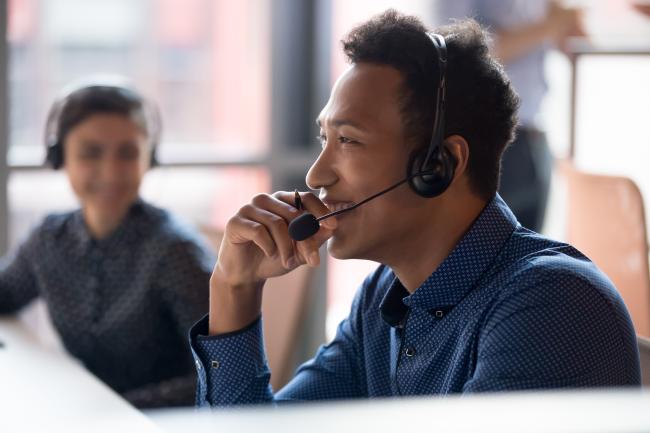 Sometimes irate, sometimes adorable, sometimes sentimental, and at other times, rib-ticklingly funny. If you spent time in customer service, chances are you met all of the above customer types and more. Agents are often the first human touchpoint for customers. So the responsibility of ensuring that a customer's first experience with a brand is positive lies squarely on their shoulders. Research also shows that humans are hard-wired to remember negative experiences more than positive ones. In a world where customer experience is a critical differentiator for a company's success,  human agents play an irreplaceable role. Their task is all the more challenging when we consider the sheer unpredictability of how different personalities behave.
While a satisfied customer can be its own reward, an agent's job does have its lighter moments: sharing a laugh, being surprised and having a chance to commiserate over shared experiences.
Every now and then, a customer care rep has a truly unforgettable experience with a customer that must be shared. Here are 10 such unforgettably classic examples from our call center agents:
1. Hello? Is This The North Pole?
One Christmas Eve I was on duty when the phone rang. A child's voice answered and I really didn't know what to expect. Her query: She wanted the exact location of one Mr. Santa Claus. Funny or not, this was surely cuteness personified. I guess that's what happens when you leave a 4-year-old alone for five minutes.
Diane, Back Office, Specialized Care
With CGS: For 7.5 years
Fun Fact: Being an IT pro with my 20 years' experience.
2. Patience is a Virtue
I had a difficult call with an elderly customer who suffered from memory loss. I had to repeat instructions every few minutes. Empathy is really the best way to deal with any client so I practiced the golden rule of treating others the way I would want to be treated. I put myself in the shoes of this customer and patiently walked him through the steps as many times as he needed. I even got him to take notes. It was not easy, but I was determined to stay positive and patient. It worked! They customer even remembered to call me out on their survey. Yay! Breathe and believe through it all, I say.
Akeeme, Trainer
With CGS: For 6 months
Fun Fact: I love basketball and I'm a member of a professional team.
3. One Banana Two Banana
There are requests, and then there are hilarious requests. A customer once asked for a telephone handset in the shape of a banana. Stifling my laughter, I quickly composed myself and apologized as we didn't have one. Unfazed, the customer then asked for a company t-shirt instead. That did it. We both burst out laughing and after they heard what happened, my colleagues joined in too.
Thomas, Agent
With CGS: For 10 months
Fun Fact: I won a Salsa dancing contest in 2014.
4. The 'Oh No!' Moment
My toughest call was when a customer wanted to cancel their service after twenty years of patronage. They were experiencing dropped calls and said the last straw was when a business call with a VIP client was disrupted multiple times. To add insult to injury, my customer's client asked why he couldn't afford better service. I expressed empathy and apologized sincerely. But there was more. It turned out the customer had reported the issues previously and was supposed to receive an added device that would give better service coverage. But it had been six weeks since his complaint and he still hadn't received it. I completely understood his anger, but I was determined to retain this customer. I apologized again and then calmly made an offer he couldn't refuse: I would send him a new device by overnight delivery, I explained the advantages of continuing with us and I promised to call him back after it arrived to make sure everything worked. Staying calm and adopting a friendly and apologetic tone diffused his anger immediately. The caller accepted my offer and was grateful.
Shiphonia, Customer Service Rep
With CGS: For 3 months
Fun Fact: I'm a proud bibliophile.
5. They Walk Among Us
I remember having a conversation with a customer who was furious that her device just wouldn't turn on. We went through every step but nothing seemed to work. At this point we'd been on the phone for a while. I'd nearly reached the end of my tether when the customer suddenly realized that her device wasn't plugged in. Yes, that actually happened with me. Eye-rolls aside, my team and I had a good laugh about it afterwards.
Brittany, Service Rep
With CGS: For 4 months
Fun Fact: I love to cook.
6. The Familiar Call
One of the most challenging calls recently was when a customer couldn't make a full payment on their account. They were pretty worked up. I wanted to figure out a solution. After all, everyone's got their own battles to fight. I managed to calm the customer down and offered to do a payment arrangement for them. I don't like my customers to end the call on a sad or angry note. I always consider their feelings and make sure I make their day a better one after speaking with me.
Kaneka, Sales Representative
With CGS: For 3 months
Fun Fact: I have a twin!
7. Fill in the Gaps 
Once a customer called to complain that their bill was too high. A fairly standard complaint. But this particular customer frequently went on and on, with the result that the conversation lasted nearly 40 minutes.  As I scanned his account, I discovered that the higher-than-normal bill was because of a one-hour long-distance call they had made. The customer paused for a beat and said, "Well, you see I can talk a lot". We both had a good laugh and they calmly accepted the charges. A pleasant conversation followed and frankly, their honesty was refreshing and humorous.
Rochelle, Customer Service Rep
With CGS: For 4 months
Fun Fact: I can keep my cool no matter what happens.
8. Irate to Incredible
All hell broke loose on a call one morning. A customer was yelling non-stop because he claimed his device was defective. I stayed Zen and tried to empathize with him. I knew the anger wasn't directed to me. I was simply caught in the crossfire. In what I hoped was a soothing tone, I got tech support on the job to help diffuse the situation and solve his problem. He left the call mollified and much calmer.  
Niccholas, Subject Matter Expert, Back-order Support
With CGS: For 1 year
Fun Fact: More like freaky fact, my thumbs are double-jointed.
9. Ahoy Me Hearties!
I'm not sure if this customer was trying to mess with me or maybe had watched 'Pirates of the Caribbean' too many times. Either way, I once had a customer interaction with someone who insisted on calling themselves "Captain" and sent in their entire problem in sea speak. I was tempted to begin my response with "Avast ye!" but alas, professionalism prevailed.
Annmarie
With CGS: For 6 years
Fun fact: My dream vacation is to go to Spain.
10. Hilarious Endings
I was just winding up a successful call with a customer and signed off with the customary offer of "Is there anything else I could help you with today?" The customer responded with a "yes". All set to resolve another issue, I was pretty amused when the customer then added: "I need a million dollars, could you help me with that?" It was such a funny and unexpected thing to say, and I loved that we were just connecting like regular people, instead of a customer and a service rep. I told him, "You and me both," because isn't that the truth?
Janay, Dispatcher
With CGS: For 1 month
Fun Fact: I was one of the Top 8 Women of American Idol 2005 (Season 4)!
It takes a lot of strength and courage to stay calm and professional through intense situations where emotions run high. So it's always a much-needed relief when a customer surprises you with their humor, warmth or just straight-up silliness. In a profession where service with a smile is always the goal, an occasional bout of laughter or a heart-warming encounter is well deserved. In fact, it may need to be prescribed for the brave hearts stationed at the frontlines of customer service!
Samir Alam is a writer and researcher with over 10 years of experience across multiple domains and industries. His current areas of specialization include Business Process Outsourcing (BPO) research, Information Technology Outsourcing (ITO) and Data Governance.