Enterprise Trends 2022: XR and the Connected Workplace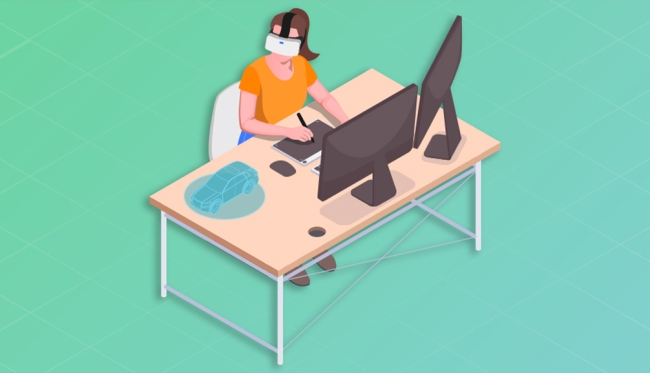 Some of the most exciting moments in innovation come from discovering synergies between different tech. In particular, enterprises are beginning to realize the power of combining extended reality (XR) and the internet of things (IoT) to create a truly connected workplace that drives innovation, creates efficiencies, and generates ROI.
The global market for augmented reality (AR) and virtual reality (VR) is predicted to expand from $12 billion in 2020 to $72.8 billion in 2024. Simultaneously, the corresponding IoT market size is poised to hit $1,842 billion by 2028, up from $310 billion in 2020.
Adoption for both of these next-gen technologies may be growing independently of each other, but, just like improvements in connectivity technologies supported growth in software development—and vice versa—we're now entering an era in which IoT and XR are combining to create a force multiplier for organizations that are savvy enough to invest in them.
Recently, we had the opportunity to moderate a series of panels at the Augmented Enterprise Summit, and one panel that really caught our attention focused on how XR and IoT are converging in the connected workplace. We got to hear from leaders across multiple industries, including:
●      Ed Moore, Distinguished Engineer of OT at Chevron
●      Henry Akwa-Mensah, Director of Innovations and Insights at Walmart  
●      Kevin Harrup, Manager of Emerging Technology at Altria
●      Anand Jaiswal, Director of Industry 4.0 at SWM International
These are our top three takeaways about XR and the Connected Workplace.
How advanced technologies like XR and IoT are coming together
Whether it takes the form of smart sensors that monitor machine metrics on the factory floor or connected infrastructure that keeps track of inventory in a warehouse, enterprise IoT constantly creates a stream of real-time data. That leads to one of the biggest challenges, which also happens to be the biggest opportunity: transforming that raw data into valuable insights and assets.
XR provides a great solution. "As we move towards a fully autonomous operational future, XR is how we visualize our data in 3D," explained Chevron's Ed Moore. Moore sees XR as being crucial for managers to get a high-level and high-real overview of their facilities from a command center while simultaneously giving workers on the ground the ability to view a digital overlay on top of the machines themselves. For example, this can easily direct repair personnel to malfunctioning machines and help them to troubleshoot and fix the problem.
This is just the beginning. Henry Akwa-Mensah, Director of Innovations and Insights at Walmart, asked us to think about what the future will look like when we find the answer to this formula: "XR plus IoT times AI to the power of 5G." When we put together these technologies, we can unlock immense potential. "There's no telling what the future will be," concluded Akwa-Mensah.
For manufacturers like SWM International, that future is already here, and it's called Industry 4.0. Anand Jaiswal, the company's director of Industry 4.0, explained how his company uses these technologies to "optimize for the 'golden batch'" that enables them to tune their machine parameters to maximize output.
Emerging use case: Directed Work
One of our favorite moments from the panel came from Walmart's Akwa-Mensah. He dove into the story of how his enterprise developed an emerging use case, Directed Work, that is a true game-changer for the connected workplace.
It's the next evolution of immersive learning and training, a proven use case for getting value from AR and XR that leverages the power of experiential learning.
Still, getting the solution to where it is now wasn't always an easy road. Walmart began with AR for warehouse order filling in 2018, and "our first test failed miserably," said Akwa-Mensah. They took the lessons learned, evolved the solution, "and it still didn't do as well as expected, but we had promise."
After the test and fail process, they began integrating data into the solution and, on the third test, they found the success they were after.
Now, they have a solution that massively improves productivity of warehouse staff. Essentially, all workers have to do is put on the headset, and when they look around, they see prompts that are generated by the IoT devices in their environment.
"You don't even need training," concluded Akwa-Mensah. "Put on the glasses, follow the prompt, and once you fill the order, it tells you where to put the case… It takes thinking out of the process. You don't even need to know how to do it. All you need to do is see and follow the command."
Embracing cross-functionality
The connected workplace isn't just about digital connectivity. To drive a successful initiative and get the most out of the investment, top enterprises embrace cross-functional teamwork that focuses on developing real solutions to tangible problems.
"Take a smarter approach, and include IT connectivity and cybersecurity from the beginning," said Kevin Harrup, Manager of Emerging Technology at Altria. "You can't be siloed, and you have to be empathetic to others' views."
Walmart's Akwa-Mensah followed up by explaining that "the best way to gain adoption is having a cross-functional team. Think of all the stakeholders who will have a say, bring them in early, and make them part of the process, part of the journey, and part of the solution."
Bridging the divide between groups goes beyond development as well. According to Chevron's Ed Moore, user testing is just as important. "Make sure the solution brings value, works well, is easy to use, and always works," he said. The only way to do so is to make sure that the end-users also have a seat at the table and that developers listen to their feedback.
Conclusion
As the pace of digital transformation accelerates and more companies realize that they have to make a choice between investing in the future or falling behind, it's important to not just look at individual technologies but also the relationships between them.
When we combine XR and IoT technologies, we open the door to amazing possibilities. And what we've covered in this article is only a small fraction of the deep dive from our panel at the Augmented Enterprise Summit.
To learn more about the latest trends for XR and the connected workplace, watch the full discussion now.