Gen Z Leads Changing Consumer Shopping Habits, Motivations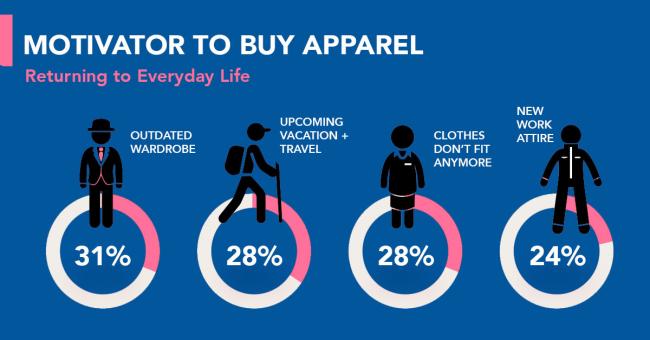 With the continued rollout of vaccines and the move toward a new normal, consumer shopping trends continue to evolve. Some trends, such as sustainable and American-made goods, are reflected across generations, while others, such as a focus on quality and manufacturing over cost, are being driven by younger generations.
In our 2021 CGS State of the U.S. eCommerce Consumer Survey, 1,000 consumers provided insight into where they are shopping, what they are purchasing, what the motivations are by generation and how they feel about American-made goods.
"As the shopping experience continues to evolve, brands and retailers need to take notice of the preferences of younger consumers," said our President and CEO, Phil Friedman. "Generation Z and Millennials have different shopping habits and motivations for buying that continue to affect the post-pandemic retail industry."
Key findings include new motivations for shopping, different approaches to loyalty and a willingness to use technology in shopping.
 
GENERATION Z BLAZES A NEW TRAIL
Shifts in buying habits in 2021 are led by one group, the up-and-coming Gen Zers, individuals born between 1997 and 2021. With spending power estimated up to $323 billion, Gen Z is not shopping with online marketplaces nearly as much as other generations. While 67 percent of older generations are relying on sites like Amazon, only 37 percent of Gen Z said the same.
Gen Z is putting their dollars into more sustainable shopping destinations. Some 15 percent of Gen Z consumers are using secondhand sites, such as eBay or ThredUp, for their nonessential items, compared to just 3 percent of Baby Boomers. Recent news around Etsy's acquisition of UK-based social selling site, Depop, is another indicator of the importance of acknowledging Gen Z's shopping preferences. Billeted as a resale home for the youngest generation, 90 percent of Depop users are under age 26.
 
WHY THEY BUY
Motivations for shopping are another area where Gen Z is trending differently than other generations. Only 18 percent of respondents in our survey cited cost as a motivation for shopping. Instead, they were motivated by quality (27 percent) and influencer endorsements (21 percent).
The biggest motivator for Gen Z's buying of apparel was their concern that their wardrobe is outdated (35 percent), a different motivator than all other generations. For example, 37 percent of millennials were buying new apparel for their return to work. "Upcoming vacation/travel" and "clothes don't fit anymore" were the second and third motivators to buy apparel across all generations.
 
LOYALTY GOES BOTH WAYS
Then there's loyalty. When it comes to deciding whether to repurchase from a specific brand or retailer, Gen Z considers loyalty programs, such as discounts on future purchases, far more important than fast delivery times, company philosophy and even quality of products.
Factoring in all generations' answers to repurchasing from a brand, the top choices were quality of products (51 percent) and great customer service (49 percent). Loyalty programs came in fourth. This is a contrast to 2020; during the peak pandemic lockdowns, delivery delays and product availability were more top of mind for shoppers.
 
REVENGE IS SWEET
A recent phenomenon, "revenge shopping," also appears to be driven by a younger set. This trend, a desire to make up for lost spending, was first seen in China. "Revenge shopping" is a literal translation of a Chinese phrase describing the country's post-lockdown rush to purchase luxury items. And some indicators point toward a similar euphoria in the U.S.
In our survey, most Baby Boomers were not "revenge" shopping. In fact, 64 percent of baby boomers have not splurged recently or planned to splurge on a purchase. Millennials and Gen Z are the generations driving the revenge economy—82 percent planned to splurge or already splurged on a purchase in 2021.
 
VIRTUAL SHOPPING EXPERIENCES
In addition to where and why we shop, the ways in which we shop are changing, as well. In our survey, younger generations are the most willing to try shopping via technology. Nearly half of millennials are eager to try livestream shopping on Amazon/Facebook. Some 35 percent would try on clothes using virtual technology like augmented reality (AR), and another 32 percent would try on makeup using AR.
However, all generations were interested in using shopping technology in some ways. In the overall results, the top three interests in technology shopping were livestream shopping (40 percent), trying on clothing virtually via AR (24 percent) and using 3D technology to see how footwear looks before buying (23 percent).
 
THE LONG AND THE SHORT
So, what do these changing motivations and trends mean? Well, retailers and brands are entering an era of quick competition. Increasing demand for unique, high-quality items that are produced and delivered more rapidly is spurring competition across the shopping spectrum.
Retailers and brands are competing with consignment and rental websites, which offer fashion that is sustainable and affordable. They are competing for loyalty, as well, enticing repeat buyers with more sales and incentives than ever before.
As with many industries, well-implemented technology can be essential in gaining a competitive edge. Nearly all retail and brand organizations would benefit from increased or upgraded tools. The right solutions can give brands the visibility, agility and knowhow for today's increased competition for quality, delivery and loyalty.
Consider how these tools might help your brand:
Looking for more consumer trends? Check out the infographic from our survey and our article on consumers buying more locally for quality and safe materials.