The History of the CGS Outsourcing Division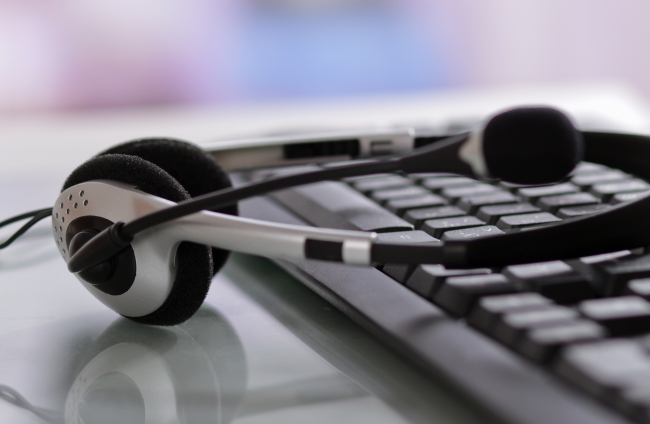 In honor of CGS's 35th anniversary this month, the CGS team is highlighting the origin story behind each of its three divisions: Applications, Learning and Outsourcing. This week, we take a look at one of the most digitally transformed units of CGS: The Outsourcing division.
As you may have read in our previous post, Phil Friedman started CGS in 1984, providing professional IT services. As his apparel industry clientele continued to purchase his core retail software, he noticed there was a clear need for a help desk and other outsourcing services. In 1990, Friedman created a department called Customer Support Services.
"We are very diversified in what we do, which was something I wanted to achieve from the very beginning. I never wanted to be dependent upon a single product or service," said Friedman.
The very first outsourcing deals were in partnership with IBM through CGS offices in Tampa, FL; Atlanta, GA, and Rochester, MN. In the late 1990s, the Outsourcing division eventually expanded to include technical support, customer care, outbound telesales and channel enablement and back office support, including finance and accounting. To this day, CGS maintains its own training practice by co-locating trainers with the agents in each of its global facilities. Customized to meet each client's needs, agents are trained on-site to provide the required customer care and technical support.
CGS Edison
Executive Director Tom Walsh oversees one of CGS's very first and most awarded technical support centers out of Edison, NJ. He joined CGS in 2004 on-site at a client location for Fujifilm where he has remained since his first day. Starting out with about 30 agents, his team has changed along with customer needs over the years.
"We have grown but more importantly, we have done a good job maintaining steady revenue stream in the face of a changing market," said Walsh. "We've performed to the level that Fujifilm considers us their partner of choice when exploring new business opportunities."
He believes that Friedman has had a significant impact on the growth of the BPO and ITO division. Friedman's business contacts were some of the very first contact center clients. Walsh recalls:
"Phil was very well-connected with a partner of ours called CES. They did field service work. One day they gave Phil a tip: 'Hey, we heard Fujifilm needs Help Desk support.' Since then, CGS has been viewed with the highest esteem compared with the rest of our peer vendors supporting Fujifilm. It wouldn't have been possible without corporate and Phil's support and leadership."
Walsh believes that the reason why CGS's clientele have renewed their contracts multiple times throughout the years is due to the company's consistency, satisfaction ratings and comfort level with how we manage their business. He gives all the credit to his agents and support staff that works for him. Walsh's management team in Edison was promoted almost entirely from within. He believes that the key to his team's success is that they know and feel that CGS is a company that holds its employees and its brand to the highest standards:
"Collectively, we care about every employee who works in this facility. In order to run it well, people have to feel valued."
CGS Atlanta & Tampa
Although CGS has operated a BPO office in Atlanta since the '90s, the company experienced significant growth in the outsourcing business in 2013. By this time, the Atlanta facility housed more than 350 agents. The team provided technical support and customer care services to clients in the consumer electronics, retail and hospitality industries. The aggressive growth resulted from the increasing demand for contact services worldwide, particularly in the technology market.
In 2017, the Atlanta operations would once again see growth and expanded to a larger office, practically doubling in size. This time it would be a 50,000 square foot, state-of-the-art facility, allowing room for up to 1,200 employees. This facility includes a biometric security system, secured access rooms, and a state-of-the-art data center for reliable operations and to protect in the handling of sensitive customer information.
The second largest U.S. BPO facility CGS has in the U.S. is in Tampa, Florida, which opened in 2002.  Prior to that, the operations were in two different locations in Florida.  When the teams moved into their newest facility, there were about 300 employees and it has further grown in recent years.  
CGS Romania
In 2006, CGS acquired a company called Easycall Communicatii SA in Bucharest, Romania, and rebranded it as Computer Generated Solutions Romania. This expansion into Europe resulted in CGS's ability to provide customer service in 18 foreign languages throughout its six contact centers. To this day, the Romanian team provides customer care, technical support, enterprise help desk, telesales and other outsourced services to customers in multiple industries. CGS was determined to uphold a high standard for the agents, with up to 95% of them holding or actively pursuing a college degree. Many of these agents can speak up to five languages.  Over the years, operations grew from 300 to 3,500 employees today with facilities in Bucharest, Brasov, Sibiu, Targu Jiu, Miercurea Ciuc and Galati, offering support in 20 different languages.
In 2013, Romania secured a prestigious award at Call Center Week in Las Vegas. The operation center received second place in the "Best International Call Center" category. The award was based on "superior thinking, creativity and execution across the full spectrum of call center functions." The CGS Romania call center won several more awards over the next few years including "Multinational Company of the Year" (Gala Wall Street Awards), "BPO Company of the Year in Romania" (The Diplomat Bucharest) and "Finalist for Call Center Excellence Award" (IQPCs 14th Annual Cell Center Week).
In 2014, CGS announced the expansion of its Romanian operations to support its growing contact center division in the city of Targu Jiu. This was the fourth office for CGS Romania in the history of the company. Once the expansion was completed, CGS Romania targeted two additional cities in Romania: Galati and Miercurea Ciuc, where facilities were opened in the following years; thus, bringing CGS Romania to having six centers in six different towns in Romania. 
"Romania is capable of servicing the world because of the talent of our people. We've made major investments into our Romanian operations and hope to continue to provide long-term career opportunities for our employees," said Vlad Sterescu, SVP and Country Manager, Romania. "Few companies can compete with Romania on the level of multilingual, neutral-accent skills, and we believe that the outsourcing sector will continue to grow.  "
CGS Chile
In 2012, CGS purchased Prego, SA in Santiago, Chile, and rebranded as Computer Generated Solutions Chile, to provide BPO services throughout Latin America and to other Spanish-speaking countries. The office initially housed 800 employees.
At the time of the opening, Phil commented: "The opening of CGS's new office in Chile is a natural effect of the strong and rapidly expanding customer base we have in Latin America."
Unfortunately, in 2014, CGS's main Santiago office was destroyed by an electrical fire. Thanks to the efforts of dedicated employees that worked around the clock, service was partially up and running within two hours and fully restored for all clients within one week.
Since then, CGS Chile continued to win many customer service awards and support clients including Transbank, Entel, Red Salud UC Christus, Clinica Alemana, and Celulosa Arauco.
In 2018, the United Nations International Children's Education Fund (UNICEF), selected CGS BPO for customer support and outbound sales to aid the program's donor initiative in Chile.
"With a growing global need for funding, UNICEF looked to acquire more than just a telemarketing agency, we see CGS as a partner for fostering donor retention and value maximization, and, for exploring telemarketing channels on the acquisition of new donors," said Macarena Arangua, Pledge Officer UNICEF. "CGS's expertise and customer support capabilities made the selection process very clear cut. We look forward to being pioneers on building a successful partnership for quality fundraising campaigns in Chile."
CGS Chile also supports Movistar (Telefónica), a leading multinational broadband and telecommunications provider. The company expanded their contract with CGS Chile's Contact Center to include back-office services and new digital channels for their customer service, such as chat and email. CGS now manages more than 170,000 interactions per month with Mass Fixed and Mobile back office channels, along with the back office for corporate, containment and migration, enlistment and GVI accounts.
Eventually, CGS would grow its headcount in Chile to over 3,000 team members due to the acquisition of Mas Cerca in 2015. To this day, CGS Chile helps hospitals, financial institutions and telecommunications companies, among other verticals, achieve efficient information processing, improved cross-departmental collaboration, and superior patient/customer management capabilities through a range of inbound and outbound call center solutions.
CGS Israel
Three years ago, CGS also opened an office in Netanya, Israel, delivering BPO services to current and potential clients. The office started with 35 employees and now employs 75 team members. The team provides services in Hebrew, Russian, Arabic and French.
Friedman flew to Israel and stood alongside Netanya Mayor Miriam Fierberg-Ikar and CGS Israel team leaders to cut the ribbon and meet the new employees for the office opening in 2015. The facility houses a modern data center with a telecom infrastructure.
In 2017, CGS Israel won the Diversity Award from the Doy Lautman foundation. The team won based on its diverse hiring practices – often hiring new immigrants who have spent less than one year in the country. Only three companies won the award that year: Osem (the largest food manufacturer in Israel with 25,000 employees) as well as Israel Electric Company (with 13,000 employees) and CGS with 50 employees that time.
As a result of their skilled team members and consistent stream of business, CGS Israel has increased in size and added large telecommunications and tech companies to its portfolio.
CGS India
In 2004, CGS opened a new office in Hyperabad, India. The new facility was created to provide technical support as well as research and development (R&D) services for the CGS BlueCherry® suite of software solutions in India with less than 100 employees. The office celebrated its 15th anniversary earlier this year. The India office now includes over 140 BPO team members.
"It has been an amazing 15-year journey for CGS India," said Jithendra "Jithu" Rao Battu, Managing Director and country manager, CGS India. "What began with a small group providing software application development services has since grown significantly. This evolution was only made possible by the extraordinary dedication of our employees coupled with unstinted support from our corporate team."
"The longevity and commitment of the India team is paramount to CGS's consistent global quality services," said President and CEO Phil Friedman, CGS during the 15th-anniversary celebration of CGS India. "Our India operations have been turnkey to facilitating our Applications and BPO businesses, adding value through R&D, Business Analysis and Technical Support. With continued dedicated employees servicing our global clients, we anticipate continued growth in this region."
CGS Outsourcing Division Enables 50 Million Transactions Per Year
The BPO division of CGS currently handles more than 50 million successful transactions each year and employs agents who speak more than 20 native languages, which accounts for 80 percent of the world's population.  With a base of thousands of dedicated call center agents located in North America, South America, Europe, the Middle East and Asia, CGS currently supports many of the world's industry-leading brands through this division. This includes global retailers, healthcare providers, technology and telecom providers as well as global hospitality brands.
Michael Mills leads the CGS global contact center sales team in nurturing client relationships, developing and executing sales strategies, and successfully transitioning contact center solutions. Since 2015, Mills has realized year-to-year growth in both revenue and profitability in the business process outsourcing (BPO) and contact center outsourcing division. This has been accomplished through the addition of more than a dozen new logo clients, a high percent renewal rate on existing customers, and the focus on process optimization and agent productivity through utilization trending analytics and service level forecasting metrics.
CGS's BPO management team is focused on re-envisioning the recruiting, training and retaining of the CGS contact center reps in a bid go beyond the "usual" and make sure CGS advances as quickly as technology does. Most recently, CGS has partnered with AI-focused companies to further enhance the customer journey, providing customers with next-generation technology including chatbots and robotic process automation (RPA) as well as data and analytics. He believes that having the integration of core technology components can often drive ROI for the business.
"There is no doubt that technology enablement will eventually and dramatically change the way human interactions are implemented, resolved and measured as it relates to overall customer experience," said Friedman. "CGS is moving forward with several key technology partnerships to enable our clients the access to new technologies that will drive increased automation and response times in critical situations."