How Next-Gen PLM Can Blunt the Impact of Supply Chain Disruption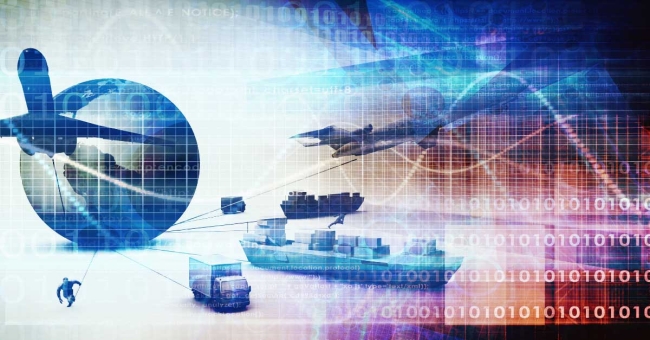 Fashion is facing supply chain disruption on an unprecedented scale. Initially seen as a temporary consequence of the COVID-19 pandemic, shortages in raw materials, high shipping costs and bottlenecks in the global value chain are now expected to last well into 2022—and to affect almost every industry that relies on bringing products to consumers.
For fashion brand and retail organizations, where time to market is vital, the longer these disruptions last, the larger the impact on their bottom line. And as time wears on, the greater the risk becomes of short-term causes having long-term—or even permanent—effects on the way the industry sources, produces and ships.
This crisis also comes at a pivotal time; in our last blog, we wrote about how the 2021 holiday season is set to stress-test the retail industry in entirely new ways. But even when the heightened holidays' demand ends, and that stress starts to subside, it's becoming clear that supply chain disruption will persist even as consumer demand recovers. This has significant implications not only for fashion's post-pandemic future, but also the broader economy. According to recent analysis, a mismatch between shoppers' expectations and enterprises' ability to deliver products is responsible for slowing down the world's all-around recovery from the pandemic. This mismatch has reached a point where traditional monetary policies are struggling to manage.
As of last month, the majority of global ports were experiencing delays in turnaround times. While headlines, such as "Why Christmas Could Be Stuck In A Shipping Container," continue to highlight the severe near-term consequences of the strain on various links in the global supply chain, the highest levels of government are discussing the longer-term implications.
The same scale of disruption is also shared within the global shipping industry. Speaking to The Washington Post, a senior representative of SEKO Logistics is quoted as saying, "It's going to get worse before it gets better." And while they and other shipping and logistics businesses are benefitting from once-in-a-century profits, the retail and product-centric businesses they serve are facing the possibility that there is simply no end in sight when it comes to delays in getting finished products into consumers' hands. This includes the impact to fulfilment and last-mile delivery, as well as higher supply chain costs that threaten to swallow profits.
The CGS team spotted this trend early, and our free eBook (The Seven Priorities for Post-Pandemic Success… and How PLM Can Support Them All) spotlighted supply chain control and collaboration as one of the seven priorities for post-pandemic success, enabled by next-generation product lifecycle management (PLM).
In the immediate timeframe, brand and retail businesses are looking to deepen their use of PLM to solve the most pressing issue: securing the flow of new products at a time of peak consumer demand. To achieve this, next-generation PLM like the completely rebuilt BlueCherry® Next™ PLM platform empowers brands to work more closely and collaboratively with their suppliers to safeguard their calendars and improve time to market.
With secure, gated access to live product data, accurate technical specifications and full in-solution communication and accountability, the right PLM platform can streamline the iterative processes of technical development, material approvals, fit improvement and much more. The best PLM helps brands avoid unforeseen delays that would otherwise be compounded by supply chain disruption. By making the right decisions early, the brands that make the most effective use of PLM will be able to shorten their time to market, minimizing the need to fall back on expensive air freight that other brands have encountered.
Next-generation PLM could also be one of the most powerful engines for forging the future of supply chain relationships. Many brands and their suppliers seek to co-create—sharing the burden of design and development—and to safeguard their sourcing and supply chain strategies against the next wave of unpredictability. By providing a common platform for collaboration and a set of portable best practices, the right PLM solution can add both resilience and agility to supply chains at a time when regional instability is complicating global disruption.
While the last 18 months have shaken the global supply chain to its foundations, consumers' interest in sustainable styles is likely to remain consistent. As global governments come together to act on environmental issues, the fashion industry is seeing fear around the impacts of climate change start to drive shoppers' spending habits in a deeper way.
This heightened demand is already putting pressure on brand and retail organizations whose overseas operations lack the visibility needed to make confident, concrete commitments and to set targets. The evidence suggests that consumers and regulators alike are becoming increasingly wary of exaggerated sustainability statements. This means the brands and retailers that need to shore up their environmental and ethical credentials must be able to not only collaborate with their suppliers, but also score and manage a range of different sustainability metrics—materials, labor and more—on a pre-product basis.
Next-generation PLM also has a big role to play here; the right, futureproof solution has robust supplier management and auditing capabilities built-in, as well as the ability to monitor and control the labor and material component of a given product. The right PLM supports next-level transparency strategies with accurate data.
Looking for more on the central role that BlueCherry Next PLM is playing in helping the fashion industry manage the impacts of supply chain disruption and prepare for a future of data-driven sustainability? Download our free eBook: The Seven Priorities for Post-Pandemic Success… and How PLM Can Support Them All.