How Next-Generation PLM Will Support the Acceleration of 3D in Fashion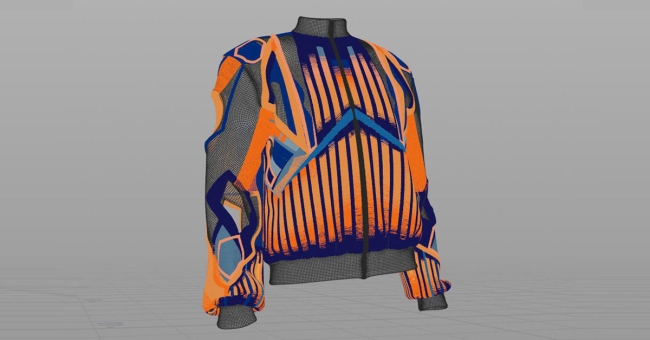 During the darkest days of the pandemic, digital design and development became the only game in town. Unable to get into their offices, and facing the breakdown of long-standing supply chain relationships due to the displacement of workers and a historic shortfall in demand, creative and technical designers needed tools that allowed them to keep moving. 3D design and simulation solutions provided the answer.
Instead of testing concepts through physical samples, creative designers were able to visualize their ideas quickly in 3D, using digital assets to collaborate with their colleagues and make decisions that would previously have relied, to some degree, on producing physical garments. And in place of testing fit on real dress forms, technical development teams and patternmakers were able to simulate new designs on demographic-appropriate digital models to quickly simulate drape and other physical characteristics to identify potential problems.
Those same 3D assets, whether they were digital garments, shoes or accessories, also became critical to consumer-facing applications. Under shelter-in-place orders and other movement restrictions, product photography was all but impossible to conduct, but consumers—who were increasingly shopping through online channels—still wanted to see products before buying. This created a clear opportunity for digital twins of clothing to stand-in for physical photoshoots, allowing shoppers to choose with confidence from a distance.
As we approach the end of 2021, and brands and retailers across the USA, Europe, and Asia start to shape their post-pandemic priorities, 3D and digital product creation initiatives are shifting gears—from survival to long-term, strategic transformation. And next-generation PLM like the new BlueCherry Next PLM will have a vital role to play.
Far beyond the ability of 3D design, simulation, and visualization to keep the fashion industry moving during COVID, analysts and influencers are now articulating the importance of digital twins to the full suite of digital transformation. From collaborating with suppliers, to engaging consumers across new channels and new media, a 3D garment, shoe or accessory now has the potential to be much more than a replacement for a physical sample. Today, a digital representation of a product can be "one of the highest orders of content."
The importance that the fashion and textile industries are now placing on 3D assets reflects the sheer number of different applications those assets can have.  
Retail buyers can browse their suppliers' entire catalogues remotely—with no requirement for travel. Brands' in-house teams can conduct line reviews, plan assortments, and make decisions based on digital assets alone. Fabric suppliers can showcase their latest innovations as digital fabrics, and creative designers can experiment with them in real-time visualizations.
Garment technicians can refine patterns, place artwork and simulate the results of their changes in real-time. And marketing and retail teams can sell-in to end consumers with 3D assets alone, as well as opening up entirely new business models through the sale of digital fashions.
The list goes on.
When it comes to the digitization of the fashion value chain, the potential for 3D is almost endless. But 3D solutions alone will not unlock all those possibilities, and brand and retail organizations face two key challenges in turning 3D strategies that demonstrated their worth in helping their teams to weather the pandemic, into the cornerstones for comprehensive digital transformation.
The first is talent. When the pandemic put the burden of continued design and development on those brand and retail creatives who were already capable of working in 3D, many fashion organizations found that they simply did not have enough of those people available in-house. This led to greater reliance on external bureau services and overseas partners, and a competitive hiring market quickly developed, making designers with digital product creation experience some of fashion's most valuable professionals.
To get around this, educational institutions are now preparing graduates for a world of work where digital tools are the norm, closing the digital skills gap that has persisted in the U.S. and the U.K. The fashion industry is also looking to grow a next generation of creative, commercial, and technical teams through both grassroots and academic approaches.
The second challenge is integration: as 3D assets take on greater importance in the supply chain and go on to have a new life in retail applications and augmented/extended reality, centralization of the core components of digital products will become essential. From color and digital fabric libraries to costing data, technical specifications and 3D visualizations, brand and retail organizations that want to deliver on the full promise of digital product creation will require a central engine for both consolidating that data and integrating the different solutions that will contribute to effective, enterprise-wide, extended use of 3D.
This is an area where PLM has historically fallen short. Integrations between traditional PLM and 3D solutions has been bespoke or time-consuming. That situation has often placed limits on what data can be shared, where 3D assets can be visualized and interacted with and how much of the full concept-to-consumer lifecycle was covered. As a result, it also affected how far the PLM environment was able to support the brand or retailer's ambitions.
BlueCherry Next PLM® is different. Designed from the ground up for the full scope of digital product creation, BlueCherry Next PLM supports bidirectional integration with leading 3D design and simulation tools for both apparel and footwear, seamless output to eCommerce, where digital assets are rapidly becoming essential. It also offers a single point of reference for all the different libraries and critical product data that will support the acceleration of 3D across the fashion industry.
Far more than just an enabler of 3D working, BlueCherry Next PLM was designed to be the engine driving the future of digital product creation.
For more on the central role that next-generation PLM is playing in helping the fashion industry seize the new opportunities presented by greater uptake of 3D and digital product creation technologies, download our free eBook, The Seven Priorities for Post-Pandemic Success . . . and How PLM Can Support Them All.