How to Scale XR Adoption in the Enterprise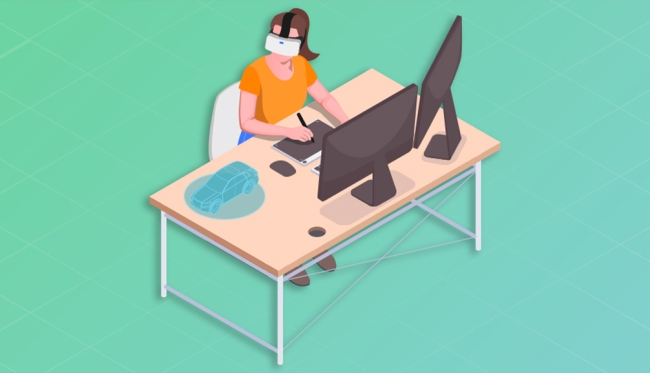 With the worldwide market size of augmented reality (AR) and virtual reality (VR) technologies predicted to grow from $12 billion in 2020 to $72.8 billion in 2024, more enterprises now recognize the value of this next-gen technology for their own digital transformations and strategies.
Since AR and VR are still emerging, one of the biggest obstacles remains scaling extended reality (XR) adoption beyond proof of concepts or pilot programs. From getting buy-in at the senior leadership level to removing concerns and raising adoption among end-users themselves, it's critical for a successful XR initiative to have a defined strategy for scaling XR adoption in the enterprise.
In a recent panel at the Augmented Enterprise Summit, we led a discussion on how to get started with a roadmap for successful adoption of XR. Doug Stephen, President of CGS's Learning Division and TeamworkAR, kicked off the talk by presenting his biggest takeaway for introducing XR into the workplace: the confluence of opportunity and preparation.
He explained how in 2019 the American Red Cross began training phlebotomists with immersive XR lessons via TeamworkAR rather than traditional class and textbook based courses. When the pandemic hit in 2020, the Red Cross had already done the preparation they needed so that, when the opportunity arose, they didn't miss a beat and were able to train over 7,000 phlebotomists using mixed reality (MR).
If you're prepared, the opportunity will happen.
These are three other key takeaways from the XR adoption panel.
AR is learned, not taught
When Murali Nathan, Director of Digital Innovation and Employee Experience at Avery Dennison, first heard about MR, he was skeptical. Despite his initial misgivings, once he got a headset and started to experiment with it on his own, the tech grew on him and it is now what "wakes me up in the morning," he said.
So, what changed? Despite having read books on the subject and watched videos that taught him the benefits of XR, he didn't really get it until he had that first-hand experience. He then saw the same phenomenon when he went to introduce XR to everyday employees at his company, such as the technicians on the factory floor.
Nathan had an idea. Basing the concept off the Apple Store where customers can browse the technology at their leisure and explore the features at their own pace, he began constructing an "inspiration studio" where people could come and try out different XR technologies.
By letting them explore on their own time and go at their own pace, it built confidence. Instead of trying to teach them about AR, Nathan saw the benefit of giving them the tools and the space to learn it on their own.
At the same time, it was also crucial for employees to recognize that their organization was supporting their adoption of XR technology. It wasn't just "here's this brand-new technology, figure it out and use it!" Instead, by showing that they were willing to support the transition and give them the tools and space they needed to learn how to leverage the technology, Avery Dennison's employees had more confidence and felt more inspiration to adopt XR.
Define success, then measure it
Before starting an XR adoption campaign, we should start at the end and then reflect backwards. When asked about what steps an organization should take to maximize their chances for success, Dawn Miller, IT manager at AmerisourceBergen, spoke about the importance of defining and measuring success.
She recommended starting by working with all stakeholders, including finance, end users, testing teams, and analysts from IT. Emphasizing that this is a joint effort, she urged the audience to reflect on opportunities to realize tangible benefits, such as increased productivity, improved efficiency, or reduced costs.
Ultimately, it comes down to knowing what you're trying to solve for. There's nothing worse than building a solution in search of a problem.
After that, Miller concluded that pulling in data is also critical. "What are you trying to grow and change?" she asked. From there, you can set key performance indicators (KPIs) so that you know you spent resources on a successful solution.
Matt Shellenberger, Staff Engineer at American Electric Power, also reiterated that metrics are the key to a successful project. He urged those who are just starting out to start small and to scale over time.
"The proof is in the pudding," concluded Shellenberger.
Immersive learning and training should have an emotional impact
Experential learning is one of the biggest ways that enterprises get value out of XR. It's a proven fact that XR learning and development is more effective than traditional methods. To get the most out of it, however, organizations need to go beyond the basics and consider how their training materials can have an emotional impact on trainees.
Not only does it help the lesson stick, but it shows why it's so important. American Electric Power's Shellenberger spoke about how his company places extreme emphasis on safety, but it can be hard to get the message through to the "tough guys" who often make up the crews that build out America's electrical infrastructure.
XR put it right in front of them. Though nobody sustained lasting injuries, they got to see with their own eyes what could happen if they didn't take the proper precautions and something went wrong. The message hit home a lot harder than it had when they only read about it or were told about the possibility.
AmerisourceBergen's Dawn Miller shared a similar anecdote from the training material that they developed for warehouse pickers. The XR content showed the entire journey of a vial of insulin—from production to the warehouse where they worked to the child patient who depended on it. They showed them what happens when a child can't get their insulin, and it put the importance of their work into perspective.
This motivated the workers, made them proud of their work, and ultimately helped reduce the time it took to train a new employee from an entire day down to a single hour.
Avery Dennison's Murali Nathan summed it up for us best: "lead with empathy."
Conclusion
We're incredibly thankful for the panelists who shared their stories and hard-earned lessons learned for driving XR adoption in the enterprise. While these were some of our favorite takeaways, we've only begins to scratch the surface of the knowledge that they shared during the panel.
Don't just take our word for it. Watch the roadmap to succesful XR adoption panel for yourself  to learn more.