How the Shift to Subscription and Consumption Are Changing the Channel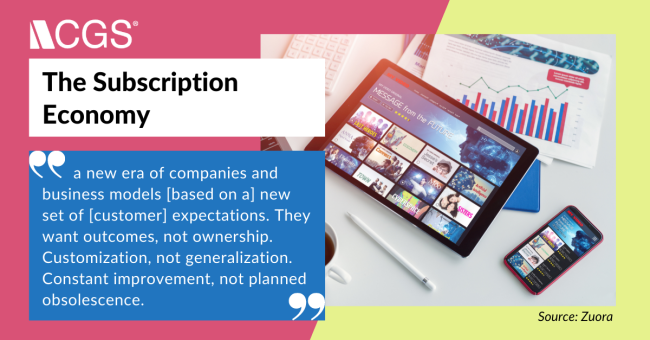 Zuora defines the subscription economy as a "new era of companies and business models (based on a) new set of (customer) expectations. They want outcomes, not ownership. Customization, not generalization. Constant improvement, not planned obsolescence."
In addition to the dozens of cloud services used by knowledge workers in their daily routines, even non-technical consumers have become familiar with service subscriptions from Amazon Prime, Hulu and Netflix.
McKinsey & Company sees "winning companies . . . investing time and resources into reimagining their business models to unlock the power of consumer-centric, data-driven growth—which our analysis suggests is a $1.7 trillion to $3 trillion opportunity across industries."
While many consumer preferences start outside of the workplace, business-to-consumer (B2C) behaviors eventually migrate into business-to-business (B2B) behaviors—especially when it comes to how mid-market technology is researched and purchased.
To analyze how the shift to subscription-based business models and on-demand consumption impacts the IT reseller channel, Doug Stephen from CGS and Guest speaker Jay McBain, Principal Analyst – Channels, Partnerships & Alliances at Forrester Research hosted a webinar on "Ecosystem Orchestration – The Key to Unlocking Growth in Your Mid-Market Strategy."
 
Tech Buying Preferences and the Subscription Economy
To adapt to rapidly changing technology buying preferences that support the subscription economy, most technology vendors should rethink their go-to-market strategy.
As Stephen explained, "with transacting and non-transacting partners . . . a lot of the larger vendors are trying to penetrate this market. We've got to look at independent software vendors (ISV) that have complementary solutions that will tie into our solution. These ISVs have no intention of doing any transacting. So, we've got to find a transacting partner . . . We've got the vendor, the non-transacting ISV (or multiple ISVs in some cases). And then we've got to be able to attract and put the right message in front of the customer and convince the customer that this complimentary solution is what they like."
If you think that sounds complicated, you would be correct. Stephen pinpointed the root cause: "How do you orchestrate all of these different groups in one cohesive message to the customer and keep that deal going on?"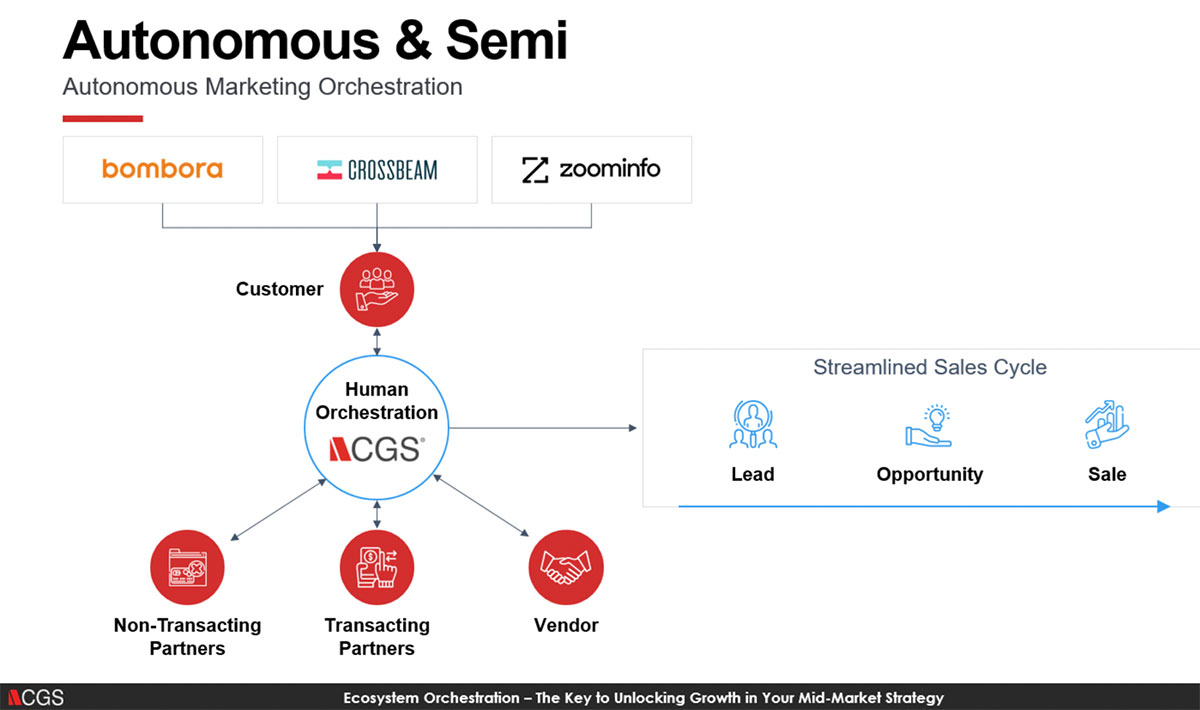 Orchestrating Around Non-Transacting ISVs
Human orchestration can potentially coordinate the moving parts and competing interests for the traditional IT channel while transforming potential chaos into highly aligned technology adoption plans. But what's truly needed to sustain technology buying activity as preferences rapidly transition to subscriptions and consumption-based purchases?
Principal Analyst McBain of Independent Research Firm, Forrester keeps a bird's-eye view on this very challenge and concedes that "183 technology companies are trying to solve this problem, and no one has at this level of scale . . . This is a level of orchestration that we've never seen before. The linear model: distributors . . . all kinds of multi-tiers of channels; that's complicated. Now let's take that to the next level of complexity."
Neither the attribution technology nor the data sharing is ready to rise to the occasion of orchestrating around all of the non-transacting ISVs. "This orchestration level has a number of technology alliances, business alliances, and strategic alliances—influence-style partners that are talking to prospects in those early 28 moments," pointed out Principal Analyst McBain of Independent Research Firm, Forrester. "We don't have really a good way of figuring out who they are and how good they are and stack ranking them and where we should be investing more. We don't have an attribution technology yet . . . or the data sharing that we're going to need in that market."
 
No Magic Portal Can Fully Support Subscription- and Consumption-Centric Tech Buying
While some technology providers and distributors are better prepared than others, most legacy transacting partners—integrators, managed service providers (MSPs), and value-added resellers (VARs)—are still paying the bills from a business model that's only changed incrementally since the 1990s.
Whether their channel partners are ready or not, "most companies are moving into the subscription model . . . where that initial transaction (is) only the first 30 days with the customer. Then all the fun starts where I need partners that can drive, for example, adoption which leads to better renewals," detailed Principal Analyst McBain of Independent Research Firm, Forrester, "I need to drive better integrations and stickiness, which drives to better retention rates. I need to think about upsell, cross-sell and enrichment every 30 days forever. Now a customer journey that never ends."
No matter how bullish you are about artificial intelligence (AI) and other forms of automation, there is currently no magic vendor portal that can fully support the seismic shift to subscription- and consumption-centric technology buying. The industry, at least for the near future, needs "a huge amount of human orchestration to get these partners involved at the right time when they're adding value," added Principal Analyst McBain of Independent Research Firm, Forrester.
 
Preparing to Win in Resale, Marketplace and Direct Channels
Given the dynamic where most technology purchases evolve into subscriptions, what can technology vendors and their channel managers do? What should traditional transacting technology providers and non-transacting ISVs be thinking about in the months and years ahead?
Today, businesses and governments worldwide spend $3.5 trillion on technology; and about two-thirds of that (64 percent) flows through the channel. By the end of the current decade, overall technology spending will double to $7 trillion, but only half the percentage of that revenue will flow through resellers. Principal Analyst McBain of Independent Research Firm, Forrester forecasts that:
One-third of that technology spending will go through resale
One-third will go through marketplaces and
One-third will go direct through product-led growth (PLG), subscription consumption, usage-based models, value-based models and all kinds of new models wrapped around direct
"Every company in this industry should be thinking through the lens of a third, a third, a third. And your total addressable market (TAM), your big number that you're chasing to get your fair share of, that's where your buyers are going to exchange their dollars," advised Principal Analyst McBain of Independent Research Firm, Forrester. "So, you've got to win in all three of those places concurrently. The point where the money changes hands is becoming the least important part of the conversation, where for the last 40 years, it's been the most important part of the conversation."
Are you interested in learning more about why the shift to subscriptions and consumption-centric technology will change the channel? Watch the webinar recording, "Ecosystem Orchestration – The Key to Unlocking Growth in Your Mid-Market Strategy."