How to Successfully Scale Enterprise Learning Through Vendor Selection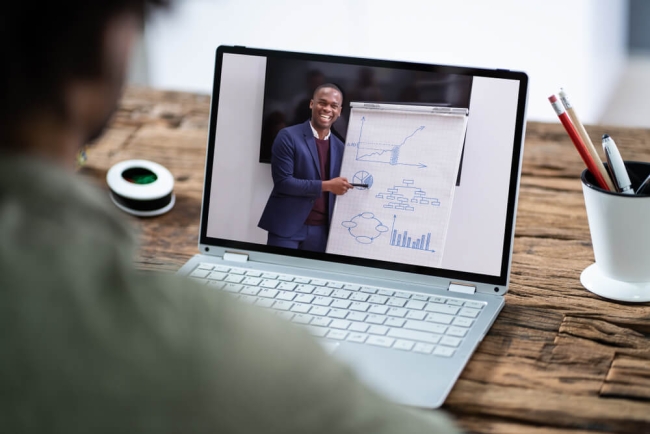 For an enterprise-level business to survive through the COVID19 pandemic (and to thrive) Human Resources and Training and Development need to put their weight into upskilling wisely. The key to upskilling staff at companies with over 5,000 employees is agile curriculum that creates multi-cultural transformational learning. Transformational being the operative word here. Here are eight reasons that organizations will need to hone in on as they navigate new paths forward.
1. Identifying new leaders to tap for growth (via learning) within the ranks
Many employees value opportunities for learning (and growth) in the workplace over higher salaries. Transformational upskilling can allow your company to retain the highest performing employees, rather than lose them to competitors. It can easily cost upwards of 30% of a year's salary to recruit and hire to fill the void when a full-time IT professional vacancy occurs, considering down-time and onboarding.
2. Onboarding and upskilling must be transformational
Learning programs for upskilling current employees and onboarding new employees must transform themselves in real-time to meet the needs of learners. They also need to plan in ways that allow organizations to measure the transformation taking place, while employees are learning. Real-time, continuous measurement is possible with the right planning and partnerships.
3. In the new normal, volumes of custom content will be needed
Good news: you can expect your Learning Services vendor to behave as your business partner. Expect delivery of highly tailored agile content that is form-fitted to meet your global and multi-cultural needs. With the right LSP your company's tailored content will be available globally for diverse micro-learning, virtual instructor lead training (VILT), augmented reality (AR) gamified microlearning, and other learning delivery methods.
4. Scale is key to training remotely, supporting varied cultures, delivering measurable results
Embracing a learner-centric approach is critical to efficient, effective, measurable upskilling across diverse populations. Side-by-side with acknowledging regional cultural norms, learning teams must acknowledge the diversity of learning preferences. Scaling enterprise learning programs requires providing content on multiple learning platforms within the flow of work.
Delivery leads to data: During delivery of the material to the individual employee the learning system needs to measure improvement of the employee skill-set being taught.
Data causes instant pivot: In real-time, the system needs to recalibrate itself and tailor the curriculum content it is about to deliver to that employee.  
This is real-time, self-directed change of content. And this is how scaling enterprise-level learning is successfully implemented.
5. Maintaining (or improving) diversity and inclusion amidst upskilling
This is particularly relevant in our COVID19 environment where positions are being eliminated while staff in remaining positions must take on out-of-scope duties. To avoid labor voids, upskilling is key.
Upskilling through an agile content strategy provides opportunities for:
Recognizing untapped skills from existing employees as individuals rise to challenges,

Increased diversity by fully meeting the challenge of providing learner-centric tailored training,

Heightened loyalty as a result of the company facilitating effective training solutions.
6. New Tools and Tech to Support Talent Development
Staff within Human Resources and Talent Development are already familiar with rolling out new protocols and implementing important trainings.
Training at our current pace of change, post pandemic, is about change management, emotional intelligence, leading upwards, and training the trainer. This is value-added corporate risk management.
Enterprise-level learning during COVID19 can be outsourced to a Learning Services business partner with their thumb on the global, collective pulse of scaling transformational learner-centric training.
This business partner should have a world-wide network of experts to help your company's learning teams expand capabilities quickly, in multiple languages. You can expect advice on infrastructure and architecture, team staffing, project management, governance, technology, data analysis, and internal systems.
7. Making learning both useful and accessible
Having a corporate culture that is inclusive of personalized learning is critical to survival of enterprise-level businesses. The new normal amidst COVID19 includes a primary focus on making training accessible and palatable for staff to upskill themselves proficiently, wherever they are located.
8. Choosing the Right  Learning Services Provider (LSP)
To enhance employee engagement and increase productivity the Learning Services market is witnessing a rising demand. The task of selecting a vendor can be daunting and demanding of a team's time, especially in the current environment.
To better serve present and future needs of the enterprise, research and consulting firm, Everest Group, conducts its PEAK Matrix® assessments of best-in-class service providers and technology vendors based on 12 dimensions:
Experience

Global reach

Ability to scale

Standards of excellence

Wide-ranging expertise

Systematic use of best practices

A true Business Partner

Knowledge of industry trends

Anticipation of future trends

Strategic partnership for enhanced service offerings

Customized solutions

Advanced technology for cutting-edge solutions
In its Learning Services PEAK Matrix® 2020 report, Everest Group recognizes CGS as a "Major Contender" based on the assessment of market impact, vision and capability. CGS has tapped into its 35 years of expertise to develop COVID19-specific learning programs and receives high ratings for flexibility, innovation, and constantly endeavoring to bring best practices to the table.
To discuss creation and curation of content, learning administration and spend management download the full Learning Services PEAK Matrix® 2020 report and contact the CGS Enterprise Learning Group.