How to Create Learning Experiences Everywhere
The time for learning and development is always. According to the CGS 2019 Enterprise Learning Trends Report, "The majority of L&D departments roll out new employee policies and processes training annually (44%) or quarterly (28%), but ... employees are seeing new policies and procedures monthly." There's a huge opportunity to train employees more frequently, especially since there's such a strong correlation between developing, engaging, and retaining employees.  It doesn't mean training has to look the same every time. With new models and systems, it's easier than ever to match the offering with the learning need and style.
The trends report also highlights the finding that 52% of L&D leaders rank Digital Upskilling as their highest priority for 2019. It's worth maximizing the learning and development resources you are building or curating as opportunities to upskill as a secondary objective. It's also wise to understand the current level of your participants' skills before deciding to over-digitize so that you can meet them where they are and set them up for success. Surveying is one way to do it but tapping into data that's already available is another. I was once asked to create a learning experience for a group of leaders using our internal social media platform, but then we realized that none of them even had personal accounts set up despite the fact that our platform is very successful and used by a large percentage of our overall population. It just so happened that these folks who had been identified as top talent were not the average user, so we had to rethink the program to make it more user friendly. We didn't want to give up on our goal of creating a digital and social learning platform, but we wanted to make it easy, so we set up email alerts and created engaging content that they would want to seek out. If we hadn't checked first how many of our learners had accounts, we might have had a much larger gap to close.
LinkedIn's 2019 Workplace Learning Report directs learning professionals to take into account how needs vary at different points in one's career: "Cultivate learning experiences for the multigenerational workforce—from practiced leaders to rising professionals.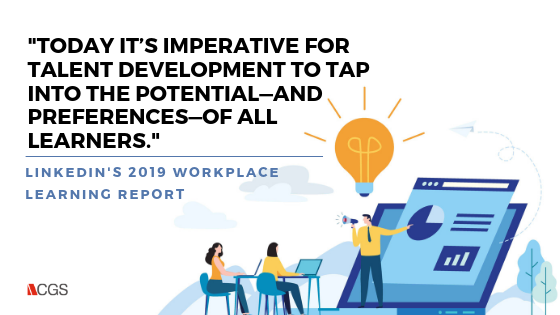 This means that social, mobile, manager involvement, and self-directed learning opportunities will increase engagement. This is particularly true of Millennial and Gen Z workers who will comprise nearly half of the total working population by 2020." 
What does the ultimate real-time, on-the-job, lifelong learning model look like?
And what does this omnipresent learning experience look like for learners at different points in their careers?
Creating an attractive place to work. Not just a physical space-  now that more than 53% of workers spend more than half of their weeks working remotely- L&D professionals are tasked with creating an environment and culture that makes learning and development opportunities ever-present in multiple forms. This may include microlearning, communities of practice or business guilds, peer-to-peer learning, and good old-fashioned classroom training. Understand that onboarding is a critical time, when employees are open to learning a lot of new material at once, and as they become more seasoned, they will seek new challenges. If mobility is encouraged in your organization, then employees will enter that open onboarding stage multiple times, contributing to your culture of learning.
The learning journey, according to Josh Bersin: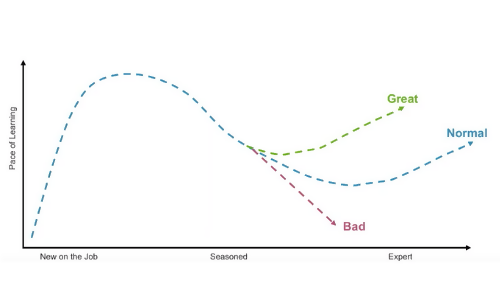 How to keep a great learning pace for those moving from seasoned to expert? Microlearning is a great tool to supplement macro moments, to keep employees learning in between major onboarding or training rollouts by allowing them to decide what new information they want to pursue and how much of it they can handle when. Organizations that map out career paths for individual contributors and leaders alike should look at these moments of transition closely and consider data before deciding whether they are micro or macro learning moments. A good approach to always-on learning is a concept referred to as A5- Anywhere, Anytime, Any Content, Any Device, Anybody. Often it's just-in-time training for tactical initiatives around hiring practices and policies, and potentially mentorship or SME-based learning for emotional intelligence, problem-solving, and strategy, for example. How can you design smaller chunks of content that learners can access on their terms in such a case? 
Spotify is famous for its workplace culture, and the learning component is driven largely by communities of practice or business guilds, where employees self-organize around topics that interest them. Communities of practice are great for big companies or organizations where collaboration can be stifled by structure. They are another fantastic way to supplement the typical learning cycle and material.
To truly create learning experiences everywhere, tap your experts. More formal types of peer-to-peer learning might call for actual content created by subject matter experts rather than learning professionals. Companies can sponsor classroom-style experiences for complex topics, use social learning, or create videos to avoid lots of time and resource from SMEs.
Finally, it sounds like many companies are starting to write off traditional classroom training, as their investments in it are waning, according to the CGS report: "Instructor-led learning continues to be the big loser when it comes to company investment. However, employees find this type of learning the most engaging." And engagement is exactly what companies are after. So don't write off the good old-fashioned teacher-pupil style of learning just yet. Perhaps just consider that it doesn't have to be the only way. Or re-think how and when it happens. There are many ways to create a blend of in-person and web-based training and to leverage a network of peers in addition to the teacher archetype we are all used to.
Whether you are looking to initiate an onboarded post-grad, re-inspire a mid-career employee, or hang on for one more year to the one on their way to retirement, there are many ways to create always-on learning experiences everywhere and for all.