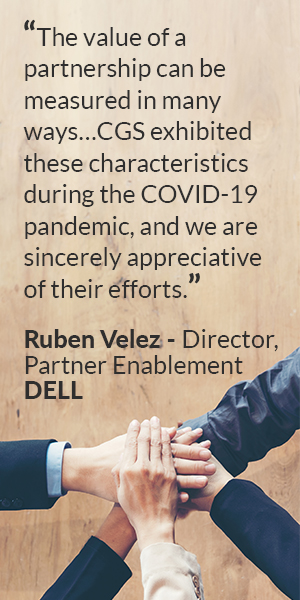 How Your Customer Support Defines Your Brand
Customer support has always been an important part of a product or brand, but the focus on maximizing the customer experience has really ramped up over the past couple of years. Since March 2020, focus on support teams to meet the desire for strong, omnichannel service from customers has intensified.
Some 50 percent of customers have reported that customer service has increased as a factor in whether to do business with a company. And more than 30 percent of customers are willing to pay more for excellence customer service, which is up 6 percent over 2019. The pandemic has shifted perspectives on work and life for many people, so it's important not to neglect those who are also reevaluating why, how, when and with whom we make purchases and do business.
In that context, let's look at branding, how support is shaping up over the past couple of years, as well as ways to ensure your support can define your brand for post-pandemic excellence.
 
CX AND BRAND
In recent years, many companies cut costs in an attempt to lower overhead, streamline operations and make up for cost increases in other areas. However, in some cases, these cuts were made to parts of the business that affect the customer experience (CX), which then affect the brand, satisfaction, customer effort and loyalty and many other measures of success. If you aren't investing in customer service, you're overlooking a very influential piece of your brand's story.
A brand isn't just a sleek logo, catchy tagline or memorable jingle—but those can be important elements of it. Put simply, your brand is the expectation a customer has upon hearing your company name or seeing your logo. And most often, expectations are formed by experiences.
Every interaction you have with customers is a potential branding message. Greetings and communications, service contacts, follow-ups and promotions are all touchpoints that add or detract from your brand—and whether you encourage repeat business or turnover with your CX.
 
STATE OF SUPPORT
Though the pandemic has created many difficulties for individuals and organizations, there is good news. Overall, brands are improving problem resolution and customer experience over the past couple of years. Customer call volumes have increased 14 percent since the start of the pandemic. Despite the increased contacts, average customer satisfaction (CSAT) for experiences has improved for most channels from 2020 to 2021: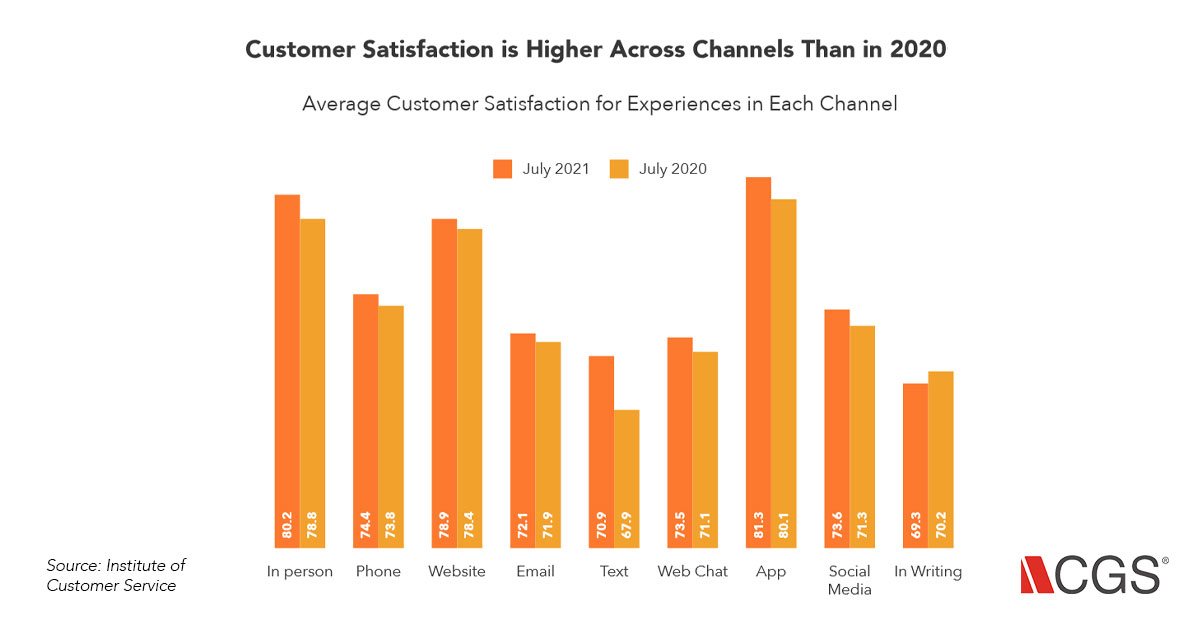 But your results may vary depending on who you do business with. Small businesses are faring better than big brands for support in COVID times. While 48 percent of global consumers said that small businesses got better at customer service, 71 percent said that large businesses stayed the same or got worse in the same timeframe.
 
CUSTOMER BEHAVIORS EVOLVE
So, what are customers wanting or expecting in their service and support? That, too, is evolving in the pandemic era, and several trends are emerging. Customers are valuing empathetic agents (42 percent) and quick resolutions (20 percent) greatly since the pandemic. This reveals that consumers desire not only knowledgeable agents, but also approachable connections with their brands. Reduced effort and empathy are key.
Top concerns also are evolving. Our research showed the top three areas of concern when shopping are quality of products, customer service and speed of delivery. This is a shift from earlier in the pandemic when consumers were mostly worried about delays in availability and shipping.
Influencers are another trend. For the up-and-coming Generation Z buyers, born between 1997 and 2012, only 18 percent cited cost as a motivation for shopping. Instead, they are largely motivated by quality (27 percent) and influencer endorsements (21 percent). Buying local and ecofriendly products are also top of mind for many consumers. These trends are expected to continue growing across generations of consumers.
Lastly, there's loyalty, which goes both ways. More than 70 percent of customers recommend brands with good loyalty programs, and our research revealed that 49 percent of consumers expect great customer service before they purchase more or repurchase from a brand.
 
SUPPORT TO DEFINE YOUR BRAND
With all these shifts and expectations, how does a company prepare and empower its teams to provide CX excellence? It all starts with the best agents and training.
Concerningly, Gartner found that only one in three agents is engaged at work. Disengaged agents can lead to lower first-contact resolution, making customers repeat information and adding unnecessary steps to resolutions. And 84 percent are likely to be job hunting.
On the other hand, engaged and satisfied agents are 16 times more likely to recommend their company to a friend, 8.5 times more to stay more than a year and 4 times more likely to stay than dissatisfied colleagues.
Well-trained, empowered and appreciated agents are more engaged and provide a better customer experience. It's a simple equation: Feeling valued equals more valuable agents for service and support.
 
OMNICHANNEL
Omnichannel support has gone from a "nice to have" to a necessity. Brands must meet customers where they are. While phone is still the preferred method of interaction for customers at 69 percent, email (54 percent) and chat support (46 percent) have gained a lot of ground. And social messaging use and comfort levels has exploded in the past year:
WhatsApp +219 percent
Chatbots +84 percent
Texting +30 percent
Live Chats +27 percent
It's not hard to believe that these trends will continue to expand as more workers and shoppers embrace digital tools and channels.
As crucial as omnichannel is, it comes at a cost. Gartner found a 61 percent increase in the cost of multiple live support channels. To compensate, companies are targeting tech investments to expand and improve their support. The top three investment areas are:
Offering multiple channels
Improving information security
Boosting agility
Emerging technology, such as augmented reality (AR), can help companies recover from pandemic-related issues, digitally transform frontline support, meet rising customer expectations with aplomb and improve field services and remote support. And technology leaders agree: 95 percent of those surveyed said AR solutions will help their organizations better keep up with rising customer expectations.
While new technology can mean significant investments, your digital CX can supercharge your sales per customer, including:
30 percent improvement in customer lifetime value
30 percent increase in advocacy
23 percent realize increase in shopping basket size
The past year has seen seismic shifts in trends around service and support, and many of these will remain permanent fixtures for how customers shop, purchase and perceive products and brands. Review our infographic for more statistics on how support can define your brand. And for those companies that do not specialize in support, there's always help. The right customer support partner, an outsourcing specialist, can provide a skilled and engaged workforce that scales up and down for your needs.