HR Analytics: A Case for Leveraging Small Data in a Big Data World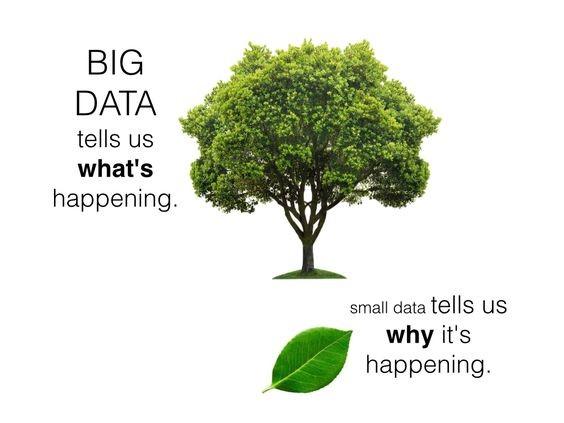 Big data has become such a popular buzzword that some now suggest the
term is passé
. Buzzword or not, people have embraced big data as a concept and practice because of the unlimited opportunities in analyzing large amounts of data to understand behaviors, habits, the needs of customers, and countless other trends. And this is what matters most in business -- fantastic insights into patterns, and along with them, amazing possibilities to predict behavior. 
However,
trends and patterns don't tell us everything. If we need to understand individual needs, trends can only tell us so much. This is where so-called "small data" becomes important. Small data focuses on single persons or small groups, which is necessary for individualization
and personalization. While big data is often cold numbers crunching, small data is about the little things – conversations, feedback, emotions, reactions and drivers. Martin Lindstrom, a brand strategist and author of the influential book
Small Data – The Tiny Clues that Uncover Huge Trends
 states that "where Big Data is all about drawing correlations, Small Data is about identifying causation."

Use Cases: How big and small data should be used in big companies
Amazon is a great example of how both big and small data analytics are important. The e-commerce giant analyzes vast amounts of data to predict demand, such as the number of new baby booster car seats or Kindles that will sell in a particular US state or city. The company will then send a fairly accurate number of items to the closest warehouses before a major event like Cyber Monday. This approach reduces shipping costs for Amazon and speeds up delivery times. 
Equally interesting is the small data collected from reviews and user feedback. Companies selling their products on Amazon that want to maintain a competitive edge, tap the comments and user feedback for new and interesting ideas. Sellers can use these comments to improve their service, create new products or enhance existing ones. Jason Feifer of
Fast Company
wrote
this great piece
about an Amazon seller whose success is an amazing example of how small data can lead to great products. 
Data's Role in Learning and HR
When it comes to using data to support employees and the business in general, there are countless cases for using both big and small data analytics. Deloitte, PwC and others commission global surveys annually and analyze big data sets to reveal macro trends in workplace changes, leadership strategies and HR in general. These analyses provide us with a great overview of modern practices and what works and what doesn't. The insights also give us solid ideas into which systems or processes to invest. 
On the other hand, each company is unique, with its own organizational culture, goals and people. Understanding digital trends is one thing, but understanding how the trends impact your company and industry, is a completely different thing. This requires a deep understanding of smaller internal data, both qualitative and quantitative, that take into account your demographic makeup, current technology stack and level of agility. 
Cisco is a great example of a company that is leveraging small data to create big changes. By carefully analyzing external big data, they realized they needed to transform on many levels, from introducing continuous employee reskilling to shifting the culture toward forward-thinking services. A change of mindset was required. However, their HR department at the time played a more conservative, program-centric role. Transforming the HR department overnight wasn't realistic, so they did the next best and quickest thing. Cisco decided to "hack" it. During a 24-hour long global hackathon called "HR Breakathon," 800 employees representing all departments in 39 countries, brainstormed new approaches to how Cisco's HR drives employee excellence. The outcome: The hackathon resulted in 105 mini projects borne out of all kinds of easily accessible small data laying around offices. This included feedback forms, exit interviews, reviews, surveys and statistical anomalies. 
In the words of Gianpaolo Barozzi, Senior HR Director at Cisco, "One of the key targets was not to provide people with any direction. We simply asked them to 'break' those little, everyday things that stopped them from delivering the people experience we want to give."

The result actually went above and beyond the primary goal. Fran Katsoudas, Chief People Officer of Cisco, believes the hackathon is actively changing the mindset of employees, as they now feel more empowered to make changes and "fuel their energy to think of all the little and big things that could be changed." The Hackathon humanized and empowered HR. 
Humanizing Massive Amounts of Data 
This "humanization" of processes, and understanding the impact of small data, is especially important in learning and development today. Fueled by the incredible growth of e-learning, microlearning, VR, AR, gamification, social and especially machine learning, 
the value of interaction
and the use of small data for proper personalization are absolute musts. 
With 90 properties worldwide, in a wide variety of locations and situations, Ritz-Carlton's learning programs are centered around making sure that best practices spread companywide. The luxury brand keeps a database of more than 1,000 innovative best practices and service ideas tailored to the needs of their VIP clients based on their habits, usual wishes and special requests. Staff use this data not only to provide best-in-class service to those clients, but also to try to understand patterns, their cause and effect, and how they all contribute to company goals.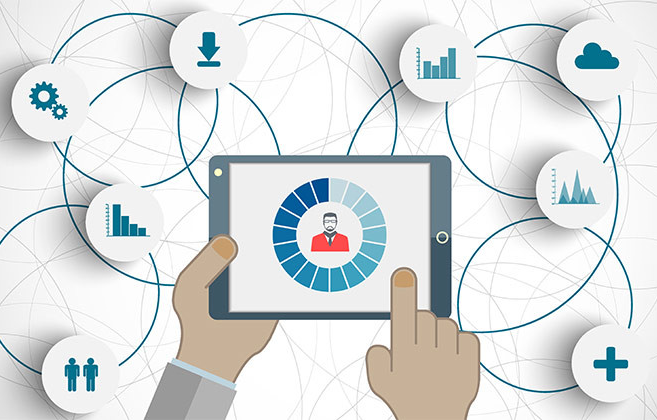 Putting analytics into practice
Small data analytics are unique data sets that often contain an organization's "secret sauce" or breakout opportunities. Companies can collect small data in high profile experiments, such as the CEO of Modell's working as a cashier on Undercover Boss and talking directly with customers. Collecting small data can also be built into the daily culture of a company and continuously tapped via internal forums, training evaluations, feedback forms and others. Leveraging small data can lead to powerful, transformative insights, so don't be afraid to use it in our big data world. 
For more information on how to implement both big and small learning and development analytics, watch our webinar on
Putting Analytics to Practice
presented with Kirkpatrick Partners and Discover's HR Analytics lead.