James Kobielus is Wikibon's lead analyst for artificial intelligence, data science, big data, cloud-native computing, advanced analytics, and application development. Previously, Jim was IBM's data science evangelist. He managed IBM's thought leadership, social and influencer marketing programs targeted at developers of big data analytics, machine learning, and cognitive computing applications.
Immersive Reality Can Close the Training Gap Among Remote and Deskless Personnel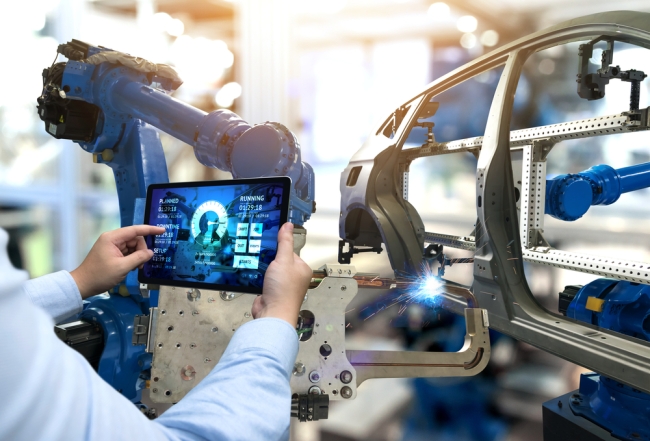 High-quality professional training can be difficult to obtain if you're working far from a traditional physical office. In fact, a recent study published in eMarketer shows that 61% of business and technology leaders ranked training and development of workers as their top workforce challenge.
If you're one of the legions of deskless workers who make up a vast majority of the global workforce----around 80 percent of personnel, according to some estimates—you may lack convenient opportunities to access remote learning. And you may be too far from the home office to participate in traditional classroom training.
Remote and Mobile Work Is the Heart of the New Normal
Learning and development professionals are exploring the use of immersive reality technologies—such as augmented reality (AR)--to provide high-quality training to deskless personnel. At the same time, these technologies must also suit the learning and development needs of growing legions of work-from-home and other mobile personnel.
The COVID-19 crisis has precipitated mass migration of workers to at-home settings. Going forward, the percentage of personnel working from home will continue to grow, and their training requirements will grow more acute. According to a recent enterprise survey by 451 Research, the emerging technology research unit of S&P Global Market Intelligence, the COVID-19 crisis has accelerated the long-term shift toward work-from-home as a standard business practice, as reflected in its findings that:
85 percent of enterprise respondents have limited or banned face-to-face meetings;
80 percent have implemented or expanded universal work-from-home policies; and
67 percent plan to keep at least some work-from-home policies in place long-term or permanently.
Though work-from-home personnel may enjoy easy access to remote learning services, they may still find these unsatisfactory. That's because distance learning tends to lack the interactive, immersive capabilities equivalent to what workers would gain in in-person learning labs and classroom environments.

Immersive Reality Can Close the Learning Gap between Deskless, Remote, and Other Mobile Personnel
Accessible through headmounted displays, smartglasses, smartphones, and other client devices, immersive reality technologies approximate the interactive experience of in-person training and can provide a holistic simulation environment for cultivating practical job skills.
Chief among these approaches are augmented reality, virtual reality (VR), and mixed reality (MR). What distinguishes them from each other is the extent to which an approach delivers an experience that blends actual and simulated environments. These differences suit distinct use cases for professional learning and development:
Augmented physical training environments: AR displays descriptive "augmented" labels in a 3-D format over an employee's direct camera view of his or her physical environment. For learning applications, AR dynamically supplements the information in a worker's physical environment with a dynamic display of descriptive labels and guidance. Wearable AR technology can automatically present deskless and other workers with the information they need at the exact moment they need it. For example, some AR-based training applications display step-by-step instructions for complicated assembly work. This eliminates the need for workers to retrieve that information manually from desktop computer or paper manuals during the training exercise. These sorts of AR training applications have shown consistent productivity gains between 20-35 percent.
Simulated virtual training environments: VR provides high-fidelity interaction with an entirely simulated work environment. VR is well-suited to training scenarios where important participants, tools, and activities are entirely missing from the deskless, mobile, or work-at-home employee's immediate physical environment. It may use avatars to stand in for unseen personnel and computer-generated machines, buildings, maps, and timelines to support photorealistic simulations of end-to-end workflows or specific projects, tasks, or outcomes. It provides simulated learning environments where people can cultivate skills without the real-world consequences of failing. It has been widely adopted for low-cost accelerated training applications in medical, engineering, aerospace, military, and other domains where inadequate training would create inordinate risk to life, property, and public order. For example, VR has long supported low-cost simulated surgical training.
Simulation-enriched physical training environments: MR hybridizes AR and VR by seamlessly blending real and simulated work environments within a dynamically interactive experience. It is well-suited to training in deskless and other mobile environments where some, but not all, important participants and activities are not always within a worker's immediate field of vision. This may call for dynamic labeling of those aspects of the physical environment whose meaning is not entirely evident alongside simulation of those aspects that are missing from the environment. For example, military and police agencies are using MR tools to train personnel in a variety of simulated scenarios, including active shooter, domestic violence, and traffic stops. The blend of physical and virtual environments enables realistic training without putting the lives of soldiers or police offers in danger.
Interest in Immersive Reality for Training Has Been Boosted by the COVID-19 Outbreak
Immersive reality technologies will become a core platform for training for all personnel, even those still working for traditional multi-person offices.
For work-from-home personnel—which includes many of us who've fled physical offices to protect ourselves from COVID-19—immersive reality technologies are the next best thing to having in-person learning labs and other physical training resources at our disposal.
Even for deskless and other mobile employees who may be able to use such labs, AR and kindred technologies may become the only viable option for immersive learning. That's because in-person training facilities may either remain closed for the duration of the pandemic, or else they'll be so capacity-constrained, on account of social distancing, as to be practically unavailable for many individuals.
A generational shift will amplify the shift toward technology-mediated immersive training. Where deskless workers are concerned, a 2018 survey found that a mix of interactive learning formats is necessary to engage them. That same study found that Generation Z workers (born between 1995 and 2010) value simulation exercises most highly.
The "bring your own device" revolution of the past 20 years will ensure that many future workers will be very comfortable with immersive reality in their professional lives. There is already an abundance of commercial options that many employees have adopted in their personal lives for gaming and entertainment. Currently, these options include consumer-grade devices from Google (Glass), Facebook (Oculus Rift CV1, Oculus Go, Oculus Rift S, Oculus Quest, Oculus Medium), HTC (Vive), Magic Leap, Microsoft (HoloLens 2), Samsung (Gear VR), and Sony (PlayStation VR). The immersive functionality of these devices varies widely.
Considering how important devices and services have been to business continuity during the pandemic emergency, it's no surprise that the above-cited 451 Research study also found that 50 percent of businesses are planning to spend more on communication and collaboration technologies and 43 percent are spending more on employee devices and services. For sure, there will be learning and development budgets allocated for trials of such devices in training and other operational settings.
Going forward, vendors of these solutions will build up the MR capabilities needed for robust interactive training that blends physical and virtual work scenarios.
Takeaway
It may be too early to point to specific returns on investment from the deployment of immersive reality solutions in deskless, work-from-home, and other business environments that have been disrupted by COVID-19.
However, we can predict the likely productivity benefit of these technologies in training programs by considering the rapid enterprise adoption of other remote collaboration and telepresence tools during the pandemic. If nothing else, they enable continuity of core business functions, such as training, so in that sense that entire future of the business is riding on them.
Key recommendations for business stakeholders consist of the following:
Learning and development professionals should familiarize themselves with the spectrum of AR, MR, and VR technologies on the market and how they can be used to address post-COVID-19 training challenges.
Line of business/departmental leaders and managers should recognize that the days of everybody receiving training and development in traditional classroom settings are long gone, and that new approaches may be needed to ensure that knowledge workers, deskless employees, work-from-home personnel, and other employees all receive consistent, high-quality, immersive training.
Senior technology executives must leverage their organizations' growing post-COVID adoption of remote collaboration, social distancing, self-service, and mobile technologies into a "new normal" infrastructure for keeping the skills and knowledge at every level refreshed constantly without introducing the risks associated with physical in-person gatherings.
James Kobielus is Wikibon's lead analyst for artificial intelligence, data science, big data, cloud-native computing, advanced analytics, and application development. Previously, Jim was IBM's data science evangelist. He managed IBM's thought leadership, social and influencer marketing programs targeted at developers of big data analytics, machine learning, and cognitive computing applications.