Measuring the ROI of PLM for Post-Pandemic Success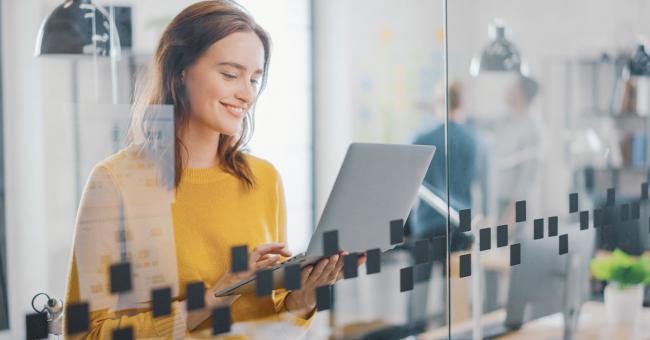 THE ULTIMATE KPI CHECKLIST
Let's begin with the good news: Product Lifecycle Management (PLM) technology can address fashion and apparel brands' business priorities for post-pandemic success.
Now the bad news: Few companies know how to effectively measure PLM's return on investment (ROI).
The fashion, footwear and accessories marketplace has changed. With 18 months of COVID behind us, analysts are predicting that physical retail will reclaim some of its lost market share as movement restrictions are eased. But eCommerce is also likely to continue to pick up speed, working from a much higher baseline than before.
Pre-pandemic, 11 percent of total retail sales in the U.S. were made online; post-pandemic that figure sits at 15 to 17 percent. Indicators suggest that apparel and accessories will see more than 23 percent year-on-year growth in online trade.
At both extremes of any given fashion or textile product's lifecycle, the initial upheaval of COVID may have settled down, but it's evident that permanent changes are being left in its wake.
This has created a compelling business case for investing in technology that tackles the lasting challenges from both ends. Brands and retailers have begun to prioritize product information management and integrations that offer a smoother onramp from product design and development to the population of online catalogs and storefronts, in preparation for eCommerce's more dominant role. And at the same time, supply chain resilience and risk mitigation has emerged as business-critical for brands that have experienced a breakdown in sourcing and distribution.
Again, PLM is one solution to address these changes. But how can you be sure it is working for you?
The benefits of PLM can be challenging to evaluate because KPIs cannot be easily generated from the data, such as time usage, data reliability, quality of products and other complex transformational changes that are hard to gauge in isolation.
That's why we've created this checklist to be used by company executives and key stakeholders not only to calculate the ROI of fashion PLM software, but also to gain a comprehensive understanding of where your apparel company stands today—and to where it's going in the future.
 
CREATING A BASELINE
Composing a formal outline to assess product development at major milestones is important. Before determining ROI, it is helpful to know how the company has been operating thus far. The following are fundamental measurements to take, in order to set a baseline and cement the company's case for fashion PLM:
Time it currently takes to access data
Sales figures and successful contracts
Inventory waste
Returns
Cost of lost user productivity
Number of data entry errors and their associated cost
 
INVESTING IN PLM
A PLM implementation should not be embarked upon without thorough preparation. PLM is a significant, lifelong investment, but it requires time and attention from a company and its future PLM users to implement. To accurately evaluate the ROI of fashion PLM, all aspects of PLM costs must be noted. This group of metrics is used to calculate the investment in a PLM software system and make concrete the less tangible ones, such as the impact on its users.
PLM license investment
Technology upgrades, if any
API integration
Annual subscription and support contract
IT resources
Number of users trained
 
QUANTITATIVE KPIs
The following are KPIs that appraise the quantifiable gains of a fashion and apparel PLM system. Using these KPIs, a company can better understand how PLM can accelerate new product creation, reduce time-to-market and eliminate waste.
Number of workflows implemented
Quantity of legacy data migrated
Amount of PLM software errors reported after go-live
Time to find information
Design time, including travel time and collaboration
Number of design errors
Design review process time
Product development cost
Response time to clients and partner companies
Time-to-manufacturing and other relevant product development milestones
 
QUALITATIVE KPIs
While the quantitative KPIs may seem more useful to an investor, they fail to account for every aspect of a fashion company's business objectives. PLM holistically brings together research and development; manufacturing and assembly; and the supply chain. A multitude of discernible advantages across the PLM sequence are difficult to enumerate. Nevertheless, their impact is felt throughout business operations. Rather than put a figure on PLM profits, executives and key stakeholders need to acknowledge how PLM has had a positive impact on both business processes and employees:
Supported global collaboration and access to design information
Supported global manufacturing with real-time data
Achieved quality assurance which fosters the business' reputation
Met industry environmental, health and safety regulations
Assured validity of data and reduced human error
Maintained a traceable record system
Improved enterprise communication and sped up response times to issues
Reduced administrative tasks and automated tracking, data linking, and a unified terminology
Reused data, making data more valuable as its reliability is increased
Automated the transfer of Bill of Materials to ERP
The above checklist is designed to serve as an inclusive list of KPIs for the fashion and apparel industry. Launching a PLM initiative leads to company-wide efficiencies and yields a markedly greater ROI than a company without PLM. PLM boosts productivity and lessens design modification time, decreases assembly errors, eliminates wasted resources and time, and upholds a collective competence that is greater than the sum of its parts.
PLM can:
Serve as a data backbone for distributed workers and disconnected solutions
Act as a hub for collaboration with supply chain partners
Enable effective digital product creation
Deliver against brand and consumer expectations
Keep in mind, however, that no two companies will have the same objectives from a PLM technology, so you should determine your own. When investing in a PLM, the vendor should help set benchmarks that match your company goals. Executives and decision-makers will find that a PLM keeps information and operations reliable, yet flexible—leading to better and faster management, ready to adapt to and adopt changes in the fashion market.
As we transition to a post-pandemic world, sometimes the right guidance and insights can help you succeed. Download our eBook, The Seven Priorities for Post Pandemic Success, to learn which priorities to aim for in applying your PLM technology toward the future of fashion apparel success.