Rebuild, Expand and Adapt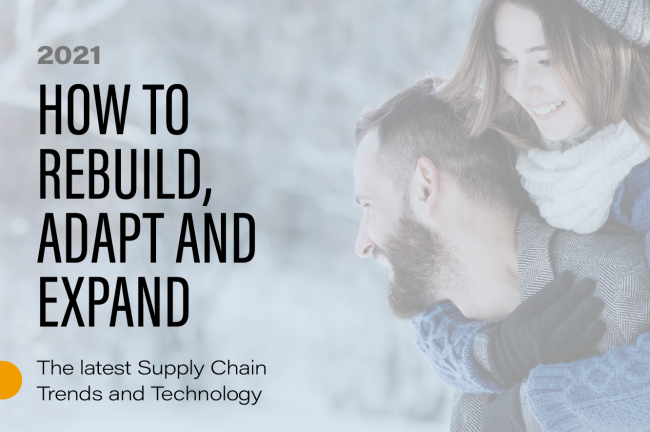 Brand and Retail Leaders Share Top Technology Strategies for Thriving in a Changed World
Every year, the CGS team surveys a global panel of brand and retail leaders. This supply chain survey is an effort to measure how their technology uses have changed and how their strategies have been shaped by rapid digital transformation. No prior year could have prepared us, or the participants in our annual study, for the disruption of 2020.
The COVID pandemic has compressed years of transformation into just twelve months. It created total upheaval – from eCommerce channels to extended supply chains. Consequently, brand and retail businesses have had to respond in real-time to the full extent of the apparel supply chain and fashion product lifecycle. They need to learn how to survive and thrive in the digitally transformed fashion and consumer products retail.
In the space of a single year, organizations have needed to insulate themselves against historic change. They need to prepare for a future where almost nothing is predictable. This distilled disruption has dramatically altered the way our survey group feels about technology, and about the wider industry. Because of this pandemic, our 2021 Annual Report on Supply Chain Trends and Technology (available for free now) is unlike any report we have published before.
Instead of charting iterative change and innovation, this year's report has become a line in the sand between a difficult past and a rapidly-digitizing future – a snapshot of a transition period like no other in living memory.
Despite the tragedy of the past year, this report is a roadmap to the future. It features exclusive analyst outlooks, key market growth indicators and insights into the lessons that leading fashion and retail businesses have learned. It shows how the apparel industry is incorporating these lessons into the product lifecycle management (PLM), enterprise resource planning (ERP), outsourcing and supply chain strategies for the future.
The full report is available to read today. Read on for highlights of key destinations and opportunities for digitization on this roadmap.
Return Stronger, and Seize Your Share of a Growing Market
Brick and mortar sales collapsed in 2020 as the U.S., U.K. and Europe entered protracted restrictions on movement and trade. There was a lifeline that many direct-to-consumer businesses and retailers held on to: eCommerce. Across the three major shopping holidays in the United States, online spending rose 25 percent year on year. Retailers are betting big on that trend continuing: eCommerce, digital marketplaces and social commerce were our survey panel's top growth opportunities for this year.
Through a technology lens, taking advantage of this eCommerce explosion means establishing or scaling online operations, and last year provided evidence that this can be done quickly. One well-established physical retailer – with more than 1,000 locations – was able to launch its first eCommerce channel in merely 13 weeks. They pivoted from a total loss of brick-and-mortar sales to a rescue plan that saw online sales grow 400 percent in just a month.
To cope with this proliferation of new and expanding digital channels, organizations will be looking to implement or deepen PLM and product information management (PIM). They will implement PLM and PIM functionality that allows them to populate digital storefronts quickly and easily, from product data to product listing. Already in 2020, CGS has helped existing clients to expand their use of PLM to prepare data for eCommerce platforms. Furthermore, BlueCherry Next's PIM functionality is being used to propagate directly to marketplaces like Amazon and platforms like Shopify.
Putting the "I" in IT
In a world where remote working is quickly becoming standardized, leading thinker Jack Nestell, who is interviewed in this year's report, believes that comprehensive technology adoption was what distinguished brands and retailers who weathered COVID well from those who did not. This is because integrated IT environments gave organizations access to accurate, timely information.
"Your competitors are investing in new IT every day," Nestell says. "IT is essential to the survival of the fittest. If you're not on top of it, you're going to get left behind."
Many of the brand and retail leaders who responded to our survey agreed, offering advice to other businesses such as:
"Utilize the available technology to visualize and understand your business."
"Integrate. Automate. [Make] data-based decisions."
Further and deeper adoption of technology also seems guaranteed. Around 40 percent of the global brand and retail leaders we surveyed saying that COVID had catalyzed expansions of their PLM and ERP usage.
A Future Built on Fundamentals
According to CGS's Applications Division President Paul Magel, "The pandemic has been an acceleration event versus an innovation one." This adds weight to the data we gathered. The data reveals that, rather than completely reshaping their business models, most (67 percent) organizations are confident that their supply chains will continue to support them. With that in hand, their primary targets for improvement are better management of product quality, better cost control and better alignment of design and development to consumer demand.
Beyond these basics, the report reveals that retailers see significant potential in expanding to new product categories and new geographies. This goes for both sales purposes and to expand their sourcing networks. Improvements to supply chain visibility also ranked second in respondents' priority lists for the second year running.
The full report features exclusive case studies of CGS customers Canada Goose and Delta Children. The studies examine how the pandemic impacted their strategies for 2021; top ten requirements for PLM and ERP adoption and optimization; interviews with key figures from within CGS; and much more.
Download your copy of the report today to discover key advice for rebuilding stronger, and contact CGS to find out why 250,000 users worldwide – across PLM, ERP, omnichannel, shop floor, B2B eCommerce, BI and business integrations – trust us to help them prepare to thrive in a changed world.