Reinventing Retail: The Impact of Mobile Shopping (Part 1)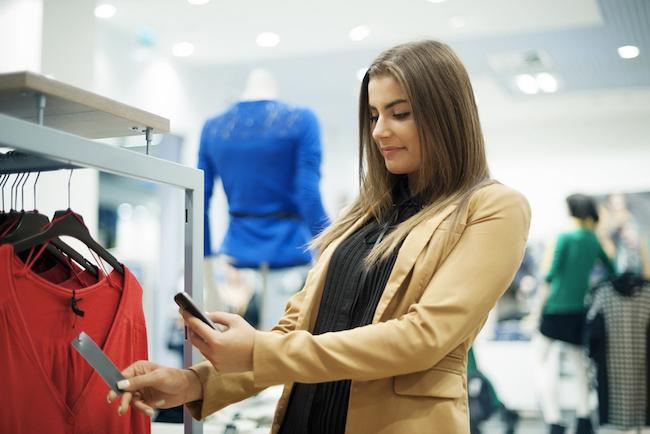 According to Statista, there are now around 2.08 billion smartphones in use around the world. Retailers need to pay attention, as this stat shows how mobile devices have forever changed shopping.
You've likely heard this before if you're in the retail industry. You've probably seen shoppers using smartphones and tablets while in stores, and it's very likely that as a consumer you've done the same once or twice. But have you determined how to access a smartphone to alter the buyer's journey?
In part one of this two-part blog series, let's take a look at how consumer technologies - mobile devices, specifically - have changed shopping forever.
 
Purchase decisions are based on information over impulse
Historically speaking, many retailers tend to build their shopping experiences around impulse buying. This is evidenced by the importance of eye-level shelf space and attractive product packaging.
While many consumers still rely on impulse to guide their buying habits, mobile devices have significantly altered those behaviors: Think With Google found that 82 percent of consumers use their smartphones to evaluate a product or price prior to committing to in-store transactions. It's simple: With the Internet in their pockets, customers are much more inclined to ensure they're making a smart purchase decision.
The practice of researching before buying has effectively created an industry in itself. Forrester concluded that $1.5 trillion is spent by shoppers who start their path to purchase digitally and complete transactions at a brick-and-mortar location. This speaks even more to the information-over-impulse aspect of modern, mobile-enhanced shopping. Consumers want to actually see, touch or try on items after seeing them online, using supplemental or critical information found digitally to enhance in-store shopping experiences.
 
Providing personalization is easier than ever
Consumers crave personalized experiences, according to eMarketer, which found that 36 percent of U.S. Internet users want stores to offer them discounts in real-time upon entering their establishment. Going back just a decade, this experience would be incredibly difficult to offer. If retailers use tech effectively, mobile devices have arguably made it easier to secure a sale.
Shopping is now a very personalized affair for customers who interact with brands and retailers with their own mobile apps. Smartphones have made it more important for businesses to give shoppers discounts and recommendations based on purchase history and intent. Beacon technology and other similar tools like near-field communication only accentuate the need. In fact, some stores can even go the extra mile and offer personalized suggestions according to where people are within a brick-and-mortar shop.
 
Consumers expect rewards for loyalty
In a similar vein as personalization, mobile technologies have made shopping a more rewarding experience. Retailers are now allowing loyal customers to connect their profiles to mobile payment apps such as Apple Pay, and with every dollar spent, points are accrued that lead to bigger rewards down the line. It's important to note that many brands are providing rewards programs through their own mobile apps as well.
Loyalty program memberships have reached all-time highs.
Loyalty program memberships have reached all-time highs, according to Boston Retail Partners, but around 33 percent of consumers wouldn't even join those initiatives if it weren't for the rewards.
Retailers should look at the broader impact of this mobile shopping experience trend. From now on, consumers will expect some sort of reward for remaining loyal to their favorite stores and brands, and if they don't see those benefits, they could take their money elsewhere.
 
Shoppers are extremely price-conscious
If consumers love a discount, it shouldn't surprise you that they're very price-conscious. And, unfortunately, smartphones have only made competitive pricing more relevant. Ninety percent of shoppers check ecommerce-only retailers and brick-and-mortar sites before committing to an in-store purchase, according to Fierce Retail.
To help deal with this trend, lots of businesses have implemented price-matching policies to win sales. But, according to HRC Advisory, that practice often leads to sales deficits. After all, ecommerce-only stores don't have the overhead of brick-and-mortar shops, so the former can more easily lower prices. The solution could lie in pricing optimization solutions to secure sales, as well as the enhancement of existing supply chain and staffing operations to effectively cut costs over the long term.
52% of millennials have bought an item that they saw on their social feeds.
 
People heavily rely on social media
What would a modern shopping experience examination be without a mention of social media's influence on the buyer's journey? Consumers are social beings, and we want know what others have to say about products before we buy them. But it's not just about accessing customer reviews on Amazon while checking out items. According to Synchrony Financial, 52 percent of millennial shoppers have bought an item that they saw on their social feeds, while 30 percent of all consumers said the same.
This shopping trend is a combination of others: People want to be informed as well as desire personal recommendations. Social media covers both of those bases, and accessing those channels via a smartphone is very common. What does this mean for retailers? In short, encouraging social reviews can go a long way toward boosting sales.
At the end of the day, mobile's influence on shopping is really just the beginning of a dramatic shift in consumer behaviors. Augmented and virtual reality are equally anticipated to disrupt shopping experiences, and other in-store technologies are set to reinvent retail if businesses leverage them the right way. But that's for part two.
---
References:
http://www.statista.com/statistics/330695/number-of-smartphone-users-wor... https://www.thinkwithgoogle.com/articles/5-ways-consumers-connect-stores... https://www.forrester.com/report/Mastering+The+Art+Of+Omnichannel+Retail... http://www.emarketer.com/Article/What-In-Store-Technologies-Do-Shoppers-... https://bostonretailpartners.com/wp-content/uploads/2015/08/2015-BRP-SPE... http://www.fierceretail.com/story/66-consumers-more-likely-shop-stores-s... http://www.businesswire.com/news/home/20160503006294/en/E-commerce-Chipp...