Reskilling the Workforce for the Next Normal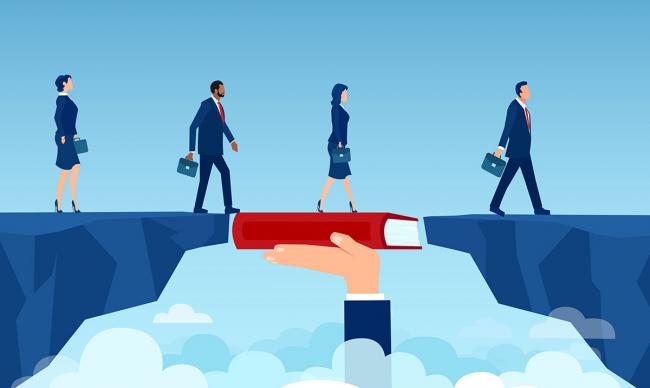 Learning leaders and their departments serve multiple customers, but often their top two are the business (i.e., the senior team driving it at the top) and the employee base. With these two groups in mind, leaders can apply pandemic lessons to upgrade their approaches to learning and truly understand what it means to reskill the workforce in the next normal.
Consider this statistic: 87 percent of executives are noticing skill gaps in their companies or expect them in the next few years. Yet less than half of executives know precisely how to address this issue.
This insight came just weeks into the pandemic based on data gathered before the first case of coronavirus had been documented. Since then, companies, countries, communities and individuals have learned lessons from the changes the entire world has been forced to embrace.
Executives who were "noticing" skill gaps in early 2020 have by now faced them head-on in ways that are informative and ways that are painful as change sometimes is. Leaders who thought they had a few years to figure things out around skill gaps are realizing that they don't have a say in how fast the world changes. And if fewer than half of executives knew how to address skills gaps in February of last year, imagine how many would feel confident in their ability to do so now. The pandemic has forced the creation and implementation of contingency plans as companies face tests to endure that no one saw coming.
Building or revitalizing your learning culture can ensure a strong emergence as we approach the light at the end of the COVID tunnel. Reflecting with new eyes on the current state of business strategy and employee experience will point you toward the right steps to take for your situation.
Business Strategy
For L&D professionals, customer number one is always "the business," or the senior leaders responsible for driving bottom line metrics through strong strategy. Today, as digital transformation becomes a larger and larger part of business strategy, smart executives realize that bringing learning and other HR functions into the realm of strategy will strengthen their game. Some 93 percent of CEOs who introduce upskilling programs see increased workforce productivity and resilience. Learning culture is defined by an effort to reskill and upskill in step with business evolution. If you haven't developed your plan for digital upskilling, now is the time. An enterprise-level needs assessment is a wise first step, as always.
There is no digital or any other kind of transformation without a learning culture. "For instance, Microsoft shifted from a 'know it all' to a 'learn it all' ethos, incorporating open learning days, informal social learning opportunities, learning data for internal career paths and new platforms and products for its partner network," writes Asmus Komm, Florian Pollner, Bill Schaninger, and Surbhi Sikka in a recent McKinsey article about how companies are rebuilding for the future.
Employee Experience
Anxious, burnt out, unclear about the future. After a year of pandemic survival, this is how employees are feeling. If things were moving too fast for employees in 2019, imagine how they are feeling now. Luckily, the pace should be slowing soon, allowing us all to catch our breath.
To lift your workforce out of the fog and into a space where they feel empowered and confident, you must develop a learning culture. According to some recent analysis by McKinsey, "Along with employee burnout and anxiety has come a lot of soul-searching. After a year of the COVID-19 pandemic, people are reexamining and remaking every part of their lives, especially their jobs."
Their advice: "Start by empowering your people." Of course, employees see the future and the potential to get left behind. But they can also see the potential to accelerate as many companies are leading with their culture through new approaches to career development, remote work and increased flexibility. This can ramp up the war for talent as companies who adapt are attracting and/or picking off top talent.
To optimize employee experience, listen to your employees' desires and adapt where you can. Microlearning platforms and mobile-enabled courses can make asynchronous learning more manageable in this faster-paced environment. Whether online or virtual, train the trainer programs can be a way to empower employees while optimizing the pace of a roll-out. If your folks love in-person training, adapt where possible. For example, while you move to virtual trainings that lean on new technology, also look at to bring back some type of meaningful, face-to-face interactions while remote and before coming back to in-person. Find more meaningful ways to make the virtual experiential through immersive, accessible technology like Augmented Reality.
Integration
Most trends that were predicted a year ago have accelerated, but not all the ways we've responded to the pandemic will stick around once the world emerges. Transforming your business intentionally requires integrating learning innovation into your overall strategy, which requires listening to your employees and understanding their experience so you can empower them to execute on that strategy. Think about creating a learning culture that democratizes development and aligns to digital transformation – however that aligns to your business and your strategy.