The Right Customer Experience Technology Can Aid Sustainability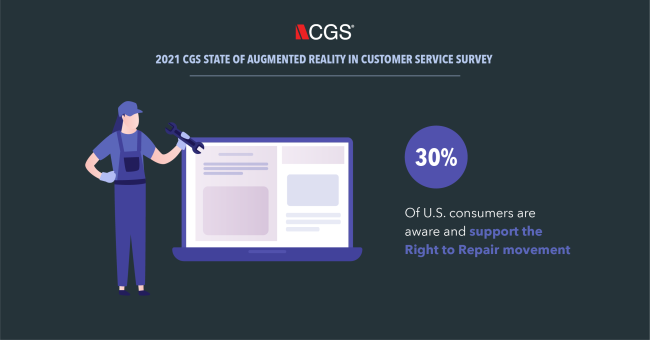 The pandemic accelerated several trends that were already under way. Shifts toward remote work, virtual collaboration and self-serve repairs were becoming mainstream even before we were forced to work remotely. Sustainability is another such trend.
Now more than ever, people are considering how the products they purchase are made and shipped, as well as how well they are made, how long to keep them, what happens when they are no longer ours, etc. This Earth Day and Earth Month is a good time to consider consumer and organizational behaviors and the repercussions on the planet we call home. Whether it's things we buy or things we do, everything has an effect.
A recent BCG survey examined how the pandemic has shifted global consumer attitudes toward environmental issues. Nearly 95 percent said they believed their personal actions could help reduce unsustainable waste, tackle climate change and protect wildlife and biodiversity. Some 27 to 30 percent noted this belief had strengthened resulting from the crisis.
Before we delve into sustainability in a business context, let's define it. Sustainability means meeting our needs today without compromising the ability of future generations to meet their own needs. This is done by managing three overall resources: natural, social and economic. Sustainable products provide environmental, social and economic benefits while protecting public health and the natural world throughout their whole lifecycle, from extraction of raw materials to production to distribution to sale to use to final disposal.
Unsustainability Has a Cost
Traditional waste patterns and processes can literally mean throwing away money. According to the United Nations, global e-waste volumes grew by 21 percent between 2014 and 2019. Much of the e-waste growth has been around phones. Americans throw away 416,000 cell phones every day. And for every million cell phones that are recycled, 35,274 pounds of copper, 772 pounds of silver, 75 pounds of gold and 33 pounds of palladium can be recovered, according to the EPA. In 2019, the value of the raw materials contained in the e-waste produced in the U.S. alone was $7.49 billion. Electronics is one area, but each consumer category has an ROI for at least baseline recycling efforts.
Sustainability Extends to Behaviors
During times of economic, social or health-related challenges—or in the pandemic, which spanned all three—consumers alter their behavior according to comfort levels, expertise and options. In our 2021 CGS State of Augmented Reality (AR) in Customer Service survey of consumers:
71 percent reported having resolved a challenge with a household product's assembly or repair by themselves in the past year
27 percent of consumers disposed of a household appliance in the past year because it was too old or inconvenient to get help to fix it
Almost 30 percent are aware of and support the "Right to Repair" movement—a multifaceted campaign to give consumers and small businesses access to the parts, tools and service/technical information they need to repair products to keep them in use and reduce waste
Sustainability Is Good for More than Just Mother Earth
You can probably already guess the natural and human benefits gained from sustainability. There are key economic/financial benefits as well. Consider the following from our consumer research:
More than two-thirds of respondents considered sustainability when making a purchase
47 percent are willing to pay more for sustainable products
Millennials are willing to pay up to 25 percent more for sustainably produced products
30 percent would be willing to switch from brands that do not use ethical practices
Customer loyalty is another area that benefits from sustainability. In a Nucleus Research study, consumers were 64 percent more likely to recommend companies with sustainable practices to friends and were 63 percent more likely to try new products from these companies.
The COVID-19 crisis also revealed three sustainability aspects around business operations:
Business resilience: Companies that integrated sustainability and transparency strategically into business operations prior to the pandemic were more agile in responding to unexpected events.
Health, safety and well-being: These became central to the resiliency and sustainability discussion in a bigger way.
Partnerships: No one country, company or individual can deal with a pandemic on its own. Likewise, we can better tackle sustainability together.
Technology Can Help
So, sustainability is a big (and only getting bigger) trend that involves people, economies, products and the world. It extends to behaviors and has social, environmental and financial benefits. But how can companies leverage these to strengthen operations for efficiency and financial solvency?
As with many modern challenges, technology can be a great help and, in some cases, a key differentiator when it comes to everyday products. In sustainability, Augmented Reality (AR) or Extended Reality (XR) could tip the scales in your favor. AR involves placing digital content overlays and displays on top of real physical surroundings. You may have explored the world of Pokémon or Hogwarts in games with this tech, but AR offers use cases that span the entire business.
As we saw above, many consumers are willing to do simple repairs and parts replacement on appliances and devices in their homes, especially during times of crisis. Providing consumer assistance with repairs and assembly is an area that could benefit greatly by integrating AR.
AR vs. Older Support Options
Solutions such as Teamwork AR™ with Agent Assist put the power of immersive, interactive support in the hands of customer service agents and the customers they serve. Imagine that a customer calls in to address an issue with his washing machine. Traditionally, the agent can do some basic troubleshooting and try to talk the customer through complex steps by voice. With AR, the agent can connect to the customer through a safe, secure app on the customer's smartphone or tablet. Using the device's camera, the agent sees what the customer sees and lays out digital information with easy pointers to key knobs and parts, as well as instructions that walk customers physically through the step-by-step repair.
Using AR for customer support translates to many benefits:
Support simple repairs and fixes anytime, anywhere, on most internet-capable devices
Greater customer satisfaction and engagement
Reduced 'no fault found' incidents through all support channels
Longer product life and recommendations
Fewer house calls/experts in the field conducting simple repairs
More entry- or mid-level technicians can similarly connect to your experts to walk through complex repairs
In the 2021 CGS State of Augmented Reality (AR) in Customer Service survey, nearly 29 percent of respondents would be inspired to try professional repairs or assembly support via AR instead of shipping an item and waiting for service. Another 19 percent would be inspired to try these repairs via AR rather than having someone in their home because of COVID-19 concerns.
Sustainability Is Here to Stay
Many customers are willing and able to use emerging tech such as AR for support and repairs. It's up to businesses to enable and empower them. Additionally, it's faster, safer, more convenient and cost-effective to encourage these types of support. The benefits extend beyond the social and environmental. Troubleshooting service and repairs with augmented reality saves time and resources; it reduces costs for companies and environmental impacts of unnecessary shipping and service calls.
The right support and service technology can drastically improve company and customer experiences. And by aiding sustainable trends already under way, it ensures both humans and organizations—now and in future generations—can be healthier, more productive and even more profitable.
For more insights on consumer expectations and comfort level with augmented reality, you can view and download our infographic. And the Teamwork AR for Customer Support page has more information on our groundbreaking solution.