Shop Floor Control: The Recipe for Manufacturing "Made in America" Success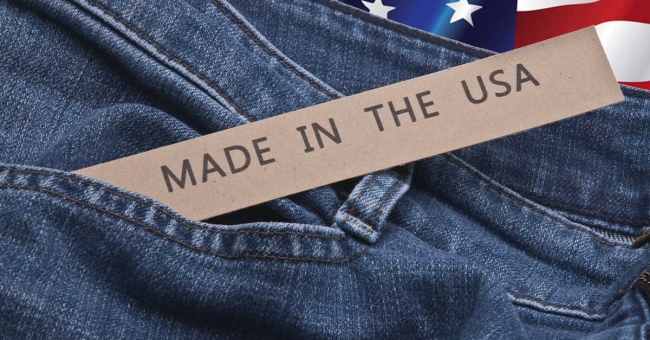 In decades past, "Made in America" products were a point of national pride, and then they seemed to slowly disappear from hangers and shelves. In recent years, however, the move to onshore or nearshore and produce products closer to home is on the rise again. Our survey of 1,000 consumers revealed a growing desire for USA-made products, especially children's toys and clothes, cosmetics/hygiene products and furniture/home goods. Motivations behind this desire include shopping local/supporting small businesses, concern over materials used in manufacturing and faster delivery times.
Into this climate we add a global pandemic, which has affected supply chains across the globe, including retail and fashion. Factory slowdowns or shutdowns due to outbreaks in key production economies, such as Vietnam, are causing manufacturing delays, and no one is certain just how many empty shelves we will see in the coming months. But while COVID-19 may have upended business as usual, disruptions in the supply chain were not new. Even before March 2020, the cracks were beginning to show.
In addition to the motivations above, moving toward a "Made in America," or "Made in the Americas," model can resolve or bypass the supply chain issues that many organizations are facing today. Made in America can shorten the supply chain, lower distribution costs, ease performance tracking and improve a brand's reputation.
However, there are still challenges to onshoring. In parts of the U.S., you may encounter higher labor costs, an unskilled workforce and limited production facilities. It can feel overwhelming for fashion and apparel makers looking to make a change.
So, how do we make "Made in America" affordable? One clear answer is technology. By implementing a production management solution, such as Shop Floor Control (SFC) technology, you can gain real-time manufacturing visibility and control. Retail manufacturers can streamline operations, avoid bottlenecks or issues, and successfully overcome added costs of producing goods domestically.
Shop Floor Control
Shop floor control solutions provide management and production teams with real-time data and proactive metrics. This enables everyone—from factory managers to individual operators—to gain visibility into the processes and progress of each team. From the bird's-eye view to the nitty-gritty details, you can manage the entire production process, troubleshoot or eliminate production bottlenecks and downtime and improve overall productivity. But above all else, these solutions empower everyone in the organization to meet their business goals.
For example, the cost-cutting technology of BlueCherry® Shop Floor Control has allowed Joseph Abboud—one of the most recognized menswear brands in the world—not only to maintain its 400,000 square foot factory in New Bedford, Mass., but also to improve its overall competitive positioning in the fashion market.
Joseph Abboud, whose brand was acquired by Tailor Brands in 2013 and then WHP Global in March 2020, has used BlueCherry Shop Floor Control for 25 years to meet intensifying cost, speed and production management challenges. In that time, Joseph Abboud has continued to add BlueCherry Shop Floor Control to other parts of its business, including its cutting room, assembly line and tracking systems, to keep in step with the increased efficiency attained in its sewing department.
Some of the overall benefits the firm reports experiencing include:
Increased Productivity
Cycle Time Reductions
Labor and Inventory Cost Savings
Streamlined Training Times
Improved Process Visibility
Enhanced Competitiveness  
"BlueCherry Shop Floor Control, along with other improvements, enables us to efficiently manage the small orders while providing the high quality and fast deliveries that our U.S.-based retailer partners need in today's challenging market," said Richard Motta, director of engineering at Joseph Abboud. "Now, 'Made in the USA' has become our niche!" Motta added.
For most retail manufacturers, a wealth of data exists across different divisions of a business. Selecting appropriate SFC metrics helps managers realize the "bigger" picture while also empowering their workforce with the data necessary to make informed decisions. SFC systems create a culture of learning and experts, thereby building a more skilled and engaged workforce committed to quality, on-time production.
In fact, a highly skilled, effective and efficient workforce has remained one of the biggest competing factors for manufacturers when deciding whether to stay in the U.S. or to take their business abroad. Low efficiency has the potential to kill a manufacturing operation, no matter the location. And plants without internal measurements for tracking efficiency will be full of surprises.
An effective SFC system enables manufacturers to avoid most surprises by providing a real-time production cost history for each product, thereby enabling managers and staff to capture, monitor and control costs throughout the production process. Often, the savings achieved from the productivity improvements alone pay for the investment in the technology within six months to one year.
Made in America!
As American manufacturers grow their brands, remaining on domestic soil will be viewed more and more as a viable and smart option! An effective Shop Floor Control solution that maximizes the use of data while building a skilled and agile workforce will provide the visibility and control needed to consistently deliver quality products at a competitive price. You'll then be positioned to capture this growing market for local and USA-made products, as well as reap the reputational gains.
For more benefits that Shop Floor Control technology can bring to your factories, download our white paper, "4 Steps to Digitally Transform Your Factory Floor."