Streamline Support and Save Resources with Augmented Reality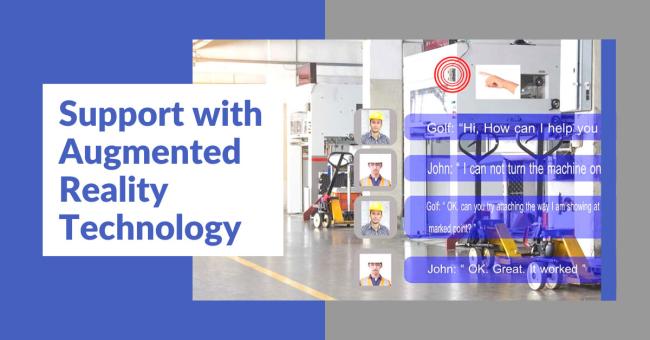 The pandemic has accelerated and compressed companies' and workers' adoption of trends and technology that were already well underway. This includes remote work and the tools for collaboration and communication needed to stay productive and connected. And for collaboration and support, an immersive and hands-on technology can run circles around traditional chat and meeting apps. Enter Augmented Reality (AR) or Extended Reality (XR). While it's still considered an emerging technology, AR is poised to go from cutting-edge to everyday use.
Consider another growing trend: a preference to get support through digital channels, away from brick and mortar. Live chat and social media support have moved from "nice to have" to essential options for customer service, especially in pandemic times. A survey by Freshworks showed that 81 percent of customer service leaders in the U.S. are investing more in live chat/messaging compared to pre-crisis investments. And according to Twilio's COVID-10 Digital Engagement Report:
97 percent of respondents said COVID-19 accelerated their digital communication transformation
95 percent of all companies are seeking new ways of engaging customers because of COVID-19
92 percent reported their organization is very or somewhat likely to expand their digital communication channels as the world reopens
For example, many users prefer to order, unwrap and set up a new smartphone with online support and step-by-step instructions versus going into a store for assistance. Once the new phone connects to the network, a series of automated text messages can walk them through transferring files and details to the new device. Instant communication and issue resolution have changed the way companies interact with customers.
The good news is the same immersive tech that connects employees can also be used to empower and support your customers.
Teamwork AR™ with Agent Assist
Augmented Reality is transforming customer service and support. To complement voice support, an agent can have customers open an accessible, secure web link or app on their mobile devices or computers, and using their devices' camera, overlay an interactive AR application that provides visual information that customers need. With no extra equipment, agents can diagram which buttons and knobs to push, open web pages and how-to guides on their display and post answers to common questions instantly. This saves time and resources for your team and the customer. Imagine your customer satisfaction scores when issues can be addressed and resolved at lightning speeds.
And consumers are showing a growing awareness of and interest in using AR. Consider these statistics from our recent State of Augmented Reality in Customer Service survey of 1,000 consumers:
10 percent of consumers have already tried AR to receive expert guidance to fix an issue
43 percent have not tried AR with remote professional help only because it was not offered
34 percent would prefer using AR with a representative to assist them instead of mailing an item for repair
AR vs. Legacy Support
Compare the power and experience of AR with these traditional customer support options:
Mail: Consumers mail/ship the item away, and it could take weeks to receive a replacement or repaired model
In-store: Consumers take the item to a certified specialist or outlet; depending on the size of the appliance, this can be difficult for the consumer and often requires an appointment
In-home service: Manufacturers send a technician into the customer's home to conduct a repair, which could be inconvenient, time-consuming, expensive and, especially in a pandemic, undesirable
Phone/assisted: Consumers may try to get repair assistance by phone, but limitations in consumer knowledge and the specialist's ability to interpret the problem without seeing it could be frustrating and lengthy
DIY: Consumers opt to repair or replace parts themselves, but this can be complex and may violate warranty and license agreements with manufacturers
The first four options are less convenient and desirable for consumers in today's busy lives. The fifth option is where AR can build a connection between you and customers. Using AR to address issues alongside customers will empower them to install, set up, repair and appropriately use purchases. After the initial investment, it can speed up support, so your time and resource costs are reduced. It can also build confidence in your products and create new brand interactions with consumers.
Awareness and Accessibility
Further delving into data from our consumer survey, consider that 16 percent of respondents don't believe they have the right technology to use AR for support and service. Yet, our Teamwork AR with Agent Assist uses any device with a camera (smartphone, tablet or computer); no special headset or equipment is required. So, providers will continue to drive home the message that AR is easy to use for consumers.
Additionally, many consumers may already have had an AR experience without realizing it. According to Threekit research, 1 billion people worldwide already use AR. Some 100 million consumers used AR to shop in 2020. In terms of preferences, 71 percent of consumers would shop more often if offered AR technology, and 61 percent preferred shopping experiences using AR.
Cracking Use Cases
From ours and other leading agencies' research, it's clear that customers are showing an increasing desire to use immersive tech like AR and XR to assist them over slower and more expensive avenues. What may not be immediately clear are the use cases. What are you helping them to do? In our study, the following percentage of consumers ranked these interests in how AR could assist them:
45 percent for setup, installation or repair of technology, phone or internet services
36 percent for appliance support
32 percent for product assembly help (e.g., furniture)
29 percent for automotive support (e.g., changing wiper blades)
15 percent for help with a medical device (e.g., CPAP machine)
Boons of Enhanced Collaboration
We've seen how customers benefit from Augmented Reality: quicker resolutions to issues, easier setups and installations. But companies also will realize benefits from investing in these tools. Consider the following that using "see what I see" technology can offer your customer service:
Lower average handle times with less miscommunication
Reduced in-person specialist visits
Fewer 'no fault found' errors
Increased first-time fix rate
Improved customer experience, value and satisfaction/CSAT ratings
Improved agent skills, satisfaction and retention
All of which add up to:
Reduced cost of support services
The market value of Augmented Reality is estimated to be $50 billion by 2024. Everything from sales and marketing to support and enterprise learning can be transformed by this revolutionary technology. And it's available now, no complicated equipment necessary. Like many technologies in the 21st century, the stuff of science fiction is becoming science fact.
Check out our infographic to learn more about consumer feelings around AR for customer support. You can also get your copy of our Supporting the Enterprise in a Post-COVID World report if you'd like to learn more about how this technology is being used by operations leaders and colleagues worldwide.