Today's Winners Rethink and Act Boldly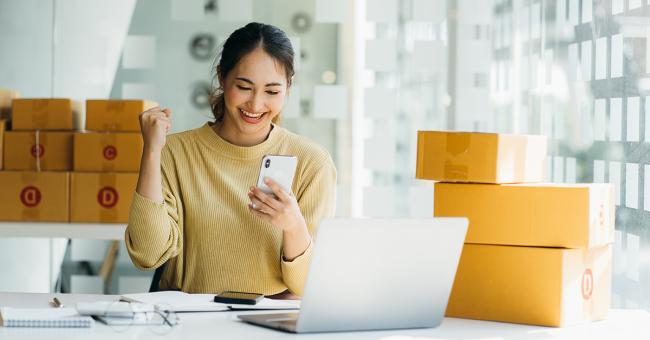 Just when the pandemic began to subside, and pent-up demand returned, a host of new and expanded challenges took center stage for consumer goods companies. Fueled by unpredictable demand patterns and record price inflation, fulfillment complexities like supply chain disruptions, skyrocketing shipping costs, labor shortages, rising wages, and more keep retailers, brands and manufacturers awake at night.
And let's not forget the consumers. You know, the primary drivers of this economy. Through it all, consumers continue to demand value and quality, near-instant availability and delivery, and sustainably and responsibly sourced products.
It all creates a perfect storm for every aspect of the concept-to-consumer process. But still, best-in-class companies are winning the day by rethinking everything and making bold moves to position themselves for continued success, no matter what comes next.
The new CGS Whitepaper, "How to Build Better Supplier Relationships While Boosting Efficiency", reveals a common strategy these leaders are taking to succeed in this new normal. It details how they are rethinking and revamping their supply chains, considering the changing needs of both buyers and sellers, and embracing technology to secure their futures.  
4 Ways to Shore Up Your Supply Chain
1. Rebuild Trust
During the pandemic, many buyer-seller relationships were severely strained due to the flood of order cancellations and missed or delayed payments. As a result, many suppliers struggled to stay alive. Retailers and brands are at a turning point, presenting an opportunity to transform supply chain relationships.
Now is the time to change traditional buyer-supplier dynamics for the better. Even the most margin-conscious businesses are now putting cost-per-unit concerns on a more level footing with factors such as reliability, resilience, flexibility, speed, environmental, social and governance (ESG) goals.
An example of how these dynamics are changing, featured in the New CGS Whitepaper, is Nicaraguan workwear producer Confexsa. President and Owner Roberto Bequillard said, "the pandemic and geopolitical issues have triggered a mindset shift among buyers, who are putting greater focus on total costs, risks and profits vs. the least expensive price per unit."
2. Rethink and Respond to Challenges
In today's business environment, survival demands dramatic action. This is why so many are rethinking their internal and supply chain relationships and operations. When The National Association of Manufacturers (NAM) conducted their February 2022 survey of 290 U.S.-based manufacturers, respondents revealed they had made significant supply chain changes in the past two years.
29.8% Redesigned or postponed a specific product line due to lack of input availability
53% Reevaluated their company's entire supply chain
58% Explored more domestic U.S. sourcing or production
68% Increased inventories of raw materials and other inputs
83% Increased wages and benefits for existing and new employees to meet demand
3. Meet Joint Relationship Requirements
While traditional buyer-seller relationships were primarily characterized by producers complying with the buyers' requirements, achieving the resilient and agile supply chains needed today requires both parties to understand and achieve their collective goals and requirements.
Brands and retailers need reliable suppliers who make products:
Efficiently with minimal waste, rework and delays
Economically to meet target price points and profit margins
On schedule to meet mission-critical delivery and selling windows
Responsibly and ethically in compliance with ESG standards
Suppliers need buyers who:
Honor order commitments and pay on time
Pay a competitive price that supports quality and ESG priorities
Recognize manufacturing complexities
Think beyond price per unit
"Customers want to partner with manufacturers that are achieving productivity improvements of their own accord to help offset rising costs due to inflation. Strong ESG practices are a core requirement of our customers and prospects", added Confexsa's Bequillard.
4. Embrace Technology
Supply chain visibility and transparency are must-haves nowadays. That's a big reason why digital transformation is now on the mind of everyone involved in the consumer goods supply chain. Supply chain digital connectivity enables true transparency between the factory and the rest of the supply chain.
The CGS Whitepaper details how newly advanced solutions, such as CGS BlueCherry® SFC empower both manufacturers and sourcing teams with the transparency to track the up-to-the-minute status and get answers immediately as shop floor activities occur. It gives retailers, brands, and buyers the real-time information they need to head off, pivot, address problems and make course corrections in the face of quality problems, supply delays, non-compliance and other issues.
SFC also helps producers measure and improve productivity and quality. They can proactively use the information provided to anticipate bottlenecks and delays to improve productivity and quality.
Achieving this visibility and control does not require additional staffing or complexity to production, sourcing, ESG or other supply chain management teams. The old model of adding more people to solve problems doesn't achieve the needed change anyway, especially since skilled workers are so difficult to find and retain today. Built-in analytics feed the automatically collected real-time information directly to dashboards that can be viewed on desktops or mobile devices anywhere internet service is available.
SFC also provides real-time feedback to production operators and teams to support onboarding and retaining the factory workforce. Using a tablet computer at their workstation, they can track their performance against production standards and goals, learn how to pace themselves for optimal efficiency, contact a supervisor or mechanic when needed, and display product and construction details for their jobs. 
These and other improvements make investments in such early warning technology mutually beneficial for buyers and sellers. After all, production delays can equal delivery delays and keeping orders on schedule is essential to success in today's new normal.
To learn more about how consumer goods supply chains are acting to win in today's challenging environment, download the free "How to Build Better Supplier Relationships While Boosting Efficiency" whitepaper.