Top 10 PLM Requirements for the Future of Work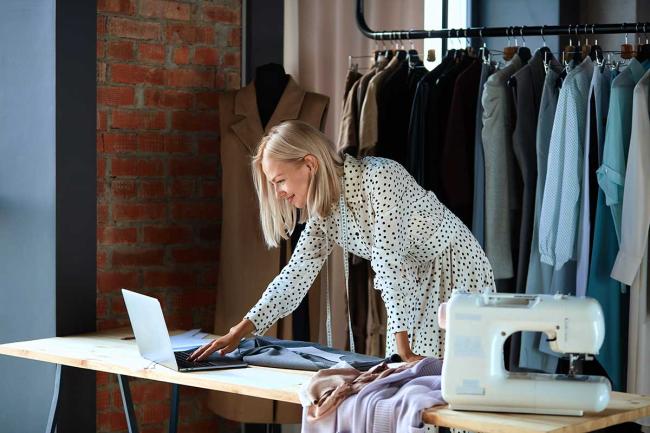 The future of work confronts us every day. Here are just a few ways:
The eCommerce surge as consumers turn to online shopping instead of frequenting malls or physical stores
The struggles and successes of individuals and families as they adjust to remote work and learning
New technologies to learn
Hurdles to overcome
For fashion and consumer goods companies in the retail, wholesale and manufacturing industry, similar challenges have been on the radar for a while now. Chances are, you've seen a need to:
Collaborate digitally with supply chain and retail partners
Increase online sales
Adopt new technologies
Break free from old business models
Compete in a digitized retail era
The pandemic has accelerated these trends toward digital transformation. These priorities are front and center. They are essential to the future of work and, in turn, business success.
What is the future of work for fashion and consumer goods companies? Without question, it involves more remote work, greater digital global collaboration and more focus on flexible, responsive planning closer to market. There also is renewed emphasis on supply chain diversification to reduce risk for interruptions.
CGS conducted a survey of 125 fashion and retail industry leaders. For the first time, CGS asked respondents about their top priorities for product lifecycle management (PLM). Perhaps it is not so surprising that their top 10 PLM requirements happen to correlate closely with the future of work the industry faces today. Let's take a look:
#1 Requirement: Vendor Collaboration
Whether it's a tech pack, compliance documentation, costing information or work-in-process update, you need a streamlined, simple and effective way to exchange data with your vendors on a centralized platform. With a cloud-based PLM portal for suppliers to easily access, you can eliminate a lot of emails, spreadsheets, and phone calls. Data exchanged through the portal also streamlines onboarding of new vendors and helps with vendor score carding. Both are increasingly important as retailers and brands consider consolidation and diversification of their supply chains.
When you collaborate with suppliers via PLM, you keep the flow of information moving regardless of time zone differences. For example, if you're separated by geographies, there is no need to text or call a vendor in the middle of his/her night, vendors can access PLM first thing in their morning, update the necessary information, and it's ready and waiting by the time the customer's morning arrives. With more communications taking place digitally, supply chain partners can reserve their one-to-one interactions for the most value-added collaborative activities and negotiations, not simple status updates.
#2 Requirement: ERP Integration
When PLM integrates seamlessly with enterprise resource planning (ERP), companies significantly reduce redundant data entry, save time and speed cycle times. For example, the data associated with approved styles does not need to be re-typed into an ERP system from PLM. Specified fabrics, trims, patterns and other information is immediately available and associated with the purchase order (P.O.). This functionality is all the more important at a time when individuals can't always walk project files down the hall to drop on the desk of a colleague, or even count on quick shipping. In addition, with integrated PLM-ERP, it's possible for multiple teams — design, product development, planning, sourcing — to have shared visibility to actual production costs, helping to inform decisions on new styles and collections.
#3 Requirement: Integrated Business Processes/Workflows
The last thing any retail business wants right now is a siloed software solution that only a select group of people utilize. When connected PLM solutions are leveraged organization-wide and beyond into the supply chain, companies reap the competitive rewards of being ahead on the PLM Maturity Curve. As a result, they avoid fragmented workflows and disconnects between teams. Everyone benefits when there is end-to-end visibility because no department, individual or partner operates as an island.
With teams having to work remotely these days, they all need access to PLM to stay on the same page and collaborate with each other. "PLM does a great job of allowing you to have complete visibility of the entire product lifecycle, so you don't have any disconnects or gaps in that process or lost time," says Jack Nestell, CIO, MyDyer, a fast-growing full-service apparel manufacturer. "With PLM you can manage your workflow and have visibility of your processes, and that allows you to move your product and design much more quickly."
#4 Requirement: Product Information Management (PIM) Functionality
In the omnichannel world, an efficient flow of product information is paramount. Businesses need to continuously update their own eCommerce platforms and those of online marketplaces and other retail customers. Doing so is faster and more accurate when they can connect PLM data to third-party systems and automate data flows. Being PIM-savvy means keeping billions of bits of data organized in a central repository and ready to move between stakeholders. This includes stock keeping units (SKU), costs, prices, product descriptions, dimensions, images, care instructions, packaging details and more.
#5 Requirement: Merchandise/Assortment Planning
If you ask the average retail executive to define PLM, even today, it's not unusual to hear responses such as, "it's a tool for design and product development." And while that limited PLM scope might have sufficed before the pandemic, now the future of work says all departments need to be online with PLM. If not, critical information could fall through the cracks.
This is especially crucial for merchandise planning. Merchandisers and assortment planners and allocators all need visibility into PLM so that they can see what styles are coming down the pike. Likewise, their colleagues in design, product development and sourcing need transparency into planning so that they can work toward the right targets. No one can afford a big "miss" if there is confusion over financial goals, a customer's desired look or the assortment breadth. With integrated planning, teams stay in the loop, even if they're working remotely and can't touch base in person quite as easily.
#6 Requirement: Cloud Support
Today, the cloud is practically synonymous with "online." The pandemic has highlighted how being connected online is essential to the future of work. As a result, cloud-based enterprise solutions, including PLM, are mission critical for retail and fashion teams to work virtually and remotely. But not all cloud solutions and vendors have equal qualifications. It's important to be sure your PLM solution comes from an experienced managed cloud provider with specialized cybersecurity capabilities. The vendor should be able to provide evidence of its system availability rate. Can you expect your application to be up and running 80 percent of the time or 99.9 percent of the time? You need and should demand the latter. With the most robust cloud-based technologies, end users can access information in a variety of formats and across different devices — texts, messaging, mobile, desktop — whether working from home, the office, the train or the neighborhood coffee shop. They can work anytime, anywhere, and keep commerce moving, including style and P.O. approvals, allocation changes, plan revisions and other transactions.
#7 Requirement: Digital Asset Management
Just because teams are decentralized and working remotely, that doesn't mean your data has to be. In fact, it's that much more important for it to be centralized. With integrated, cloud-based PLM, retail leaders can stop worrying about whether internal teams, trading partners and customers are accessing the most current information. Instead, you can rest assured everyone is working from the same version of the truth on a common, continually updated platform. This applies to all digital assets, including product-related text, audio, video, specifications and production files — and their related workflows.
#8 Requirement: Executive Dashboards/Business Intelligence (BI)
You can't manage what you don't know. Dashboards and BI offer at-a-glance insights (charts, graphics, summary reports) into key performance indicators (KPI). Armed with this information, decision-makers can focus on managing the business, not searching for and waiting for data. With integrated PLM, these dashboards can reveal KPI such as the percentage of styles that have been completed for an upcoming collection, how many samples are approved and many other actionable insights.
#9 Requirement: Critical Path/Calendar/Workflow Management
When your PLM solution tracks the flow of information and milestone activities along your entire critical path and seasonal calendars, you benefit from clearer visibility to the status of designs, styles, samples and deliveries. Leaders can count on exception management to highlight issues that might need attention. Then, the company doesn't lose cycle time sending individual emails, texts or calls to confirm status. The future of work will demand greater efficiency from every associate, from the C suite to the production floor. Teams are being asked to do more with less, and they need technologies to help direct their attention to issues that need their attention most.
#10 Requirement: Support for Emerging Technologies
With restrictions on the movement of people, more fashion brands and retailers are turning to 3D visualization and 3D virtual sampling technologies. It's important for the files and communications from these 3D tools to be integrated with and supported by the PLM platform. Then teams are better able to keep data centralized, connected and cohesive, and they can avoid silos, side conversations and one-to-one transactions that later can cause confusion and delays.
Learn More
Looking for more information on how to digitize your operations? Visit our BlueCherry Suite page to learn more about how technology can help you meet the requirements for the future of work.