Top 5 Call Center Challenges for 2022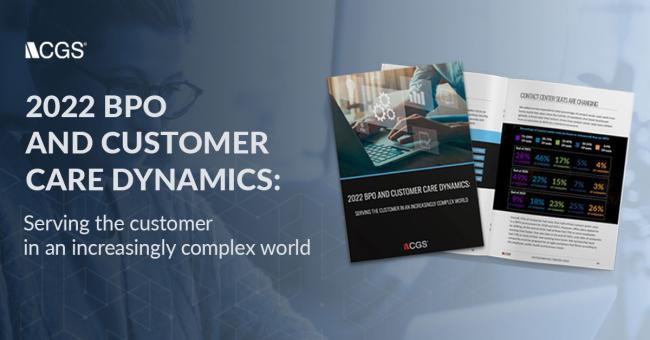 As businesses and countries work toward a next normal from the pandemic, leaders focus on the 2022 business horizon. However, the challenges from 2021 will continue into the New Year, as companies remain concerned about labor, remote work, security and supply chain issues that prevent them from meeting customer demand.
For the seventh year, we surveyed nearly 200 business leaders and decision makers representing IT, operations, finance and customer service departments across 25 industries. From those results, we produced our 2022 BPO and Customer Care Dynamics report, which outlines trends and strategies companies look to use for the coming year.
Our first blog from the report delved into the Top 3 Goals for contact centers and customer care. This second blog discusses the top challenges businesses are facing. Read on.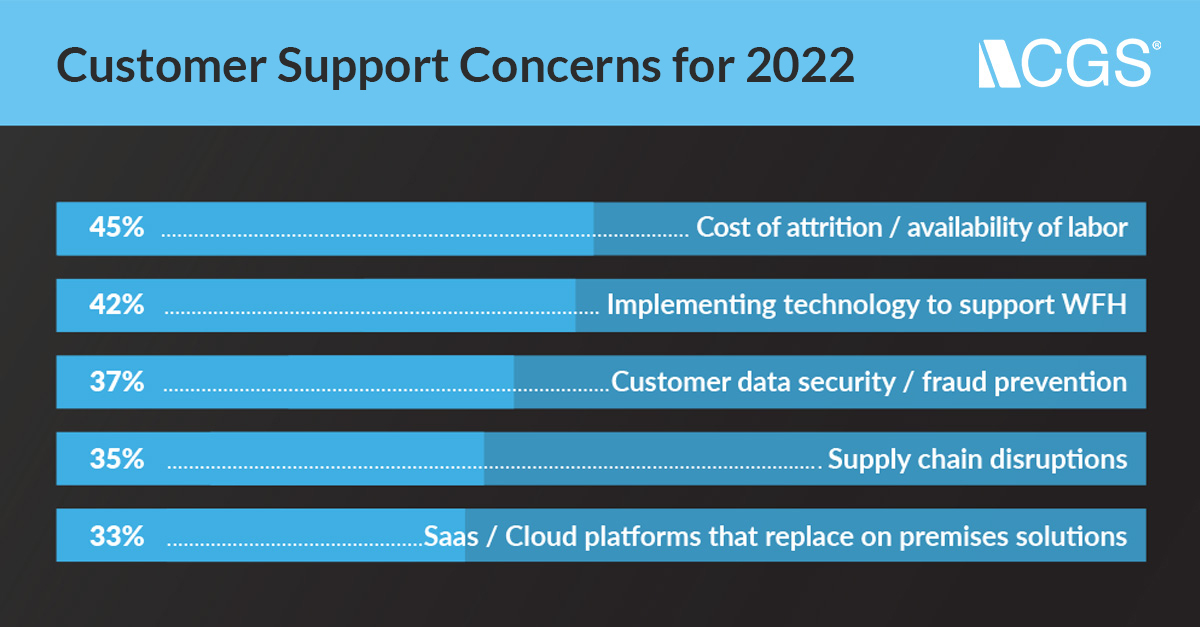 #1 – Availability and Cost of Labor
In the Institute of Economic Affairs 2021 Business Confidence survey, a majority of CEOs, 61 percent, are optimistic heading into 2022. Only 13 percent believe that conditions would worsen. This optimism exists in spite of costs and labor concerns. And in the same survey, while the increasing cost of operations was a concern, pandemic-related expenditures were down. And 48 percent of businesses were not expecting much change in their business performance for the first part of 2022.
In terms of labor, 69 percent of CEOs plan to expand their workforce, but 74 percent said they have problems attracting qualified people. This should not come as a surprise considering the ongoing changes in the workforce, alternately called the Great Resignation or Great Upgrade depending on who you quote.
While some companies are concerned about a potential global recession, only 11 percent are worried about inflation or rising prices. All sectors of the economy, including consumer goods, fast food, manufacturing and commercial sectors, are feeling the inflationary pinch, raising prices to compensate for higher labor, materials, energy and transportation costs. In general, most companies anticipate a positive year but will continue to monitor costs.
 
#2 – Technology to Support Work-from-Home
We asked survey respondents what percentage of contact center seats work from home nearly two years since the COVID-19 pandemic shut down businesses globally. This three-year timeline shows how contact center seats have shifted from on-premises to WFH to a hybrid environment.
Overall, 75 percent of companies had more than half of their contact center seats in a work-from-home (WFH) environment for 2020 and 2021. However, at the end of 2020, half of firms had 75 percent or more employees working from home. By the end of 2021, only 28 percent of companies had 75 percent or more of their seat working from home. We surmise that most companies are preparing for an agile workplace that flexes according to the employee, public health and business needs.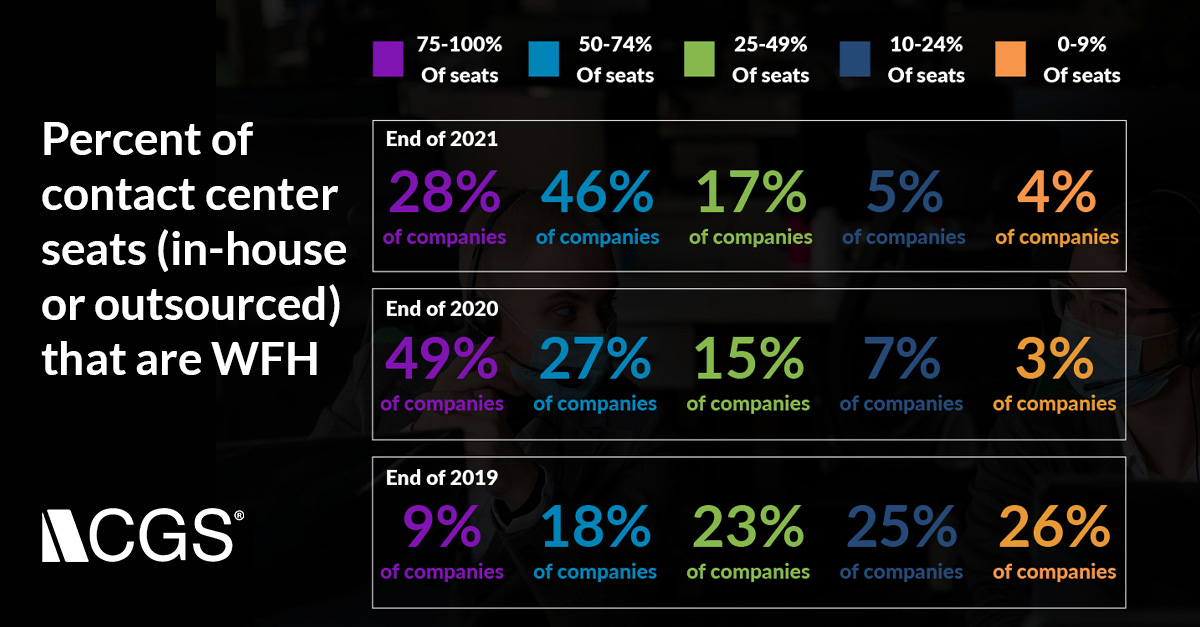 WFH flexibility will require companies to have agents across a mix of locations, as well as the management and technology infrastructure to support them. A Gartner study found that 60 percent of employees prefer a hybrid work model. However, the term "hybrid" is evolving to include not just a fixed number of days in the office but one that changes in response to work and personal needs. Flexibility is essential to support a workforce's lifestyle needs while balancing collaboration, innovation and workload, making it a win-win for both employees and employers.
 
#3 – Data Security
Security is an ongoing challenge as companies deal with increased malicious attacks. By Q3 of 2021, the total number of data breaches exceeded 2020 annual totals by 17 percent. Cyber-attack data compromises, such as phishing and ransomware, were up 27 percent over 2020. Additionally, half of ransomware attacks steal data and ask for a ransom, making it a business continuity and data breach issue for security teams. And hackers are targeting call centers because of their distributed networks with many employees working onsite and remotely.
The damage to brands that suffer successful attacks extend far beyond legislative and regulatory. Reputational damage can be catastrophic. It will behoove organizations, and all their outsourcing partners, to balance both privacy and security in working across this new hybrid model in providing CX excellence.
 
#4 – Supply Chain Disruptions
Last year health-related manufacturing slowdowns/shutdowns, labor shortages and the Suez Canal blockage created a perfect storm of conditions to slow the global supply chain. The availability and shipping delays exacerbated already overwhelmed customer service teams and made it more complicated and difficult to achieve optimal customer satisfaction.
These disruptions are carrying over into 2022, though to lesser degrees. Companies are cautiously optimistic about a return to efficiency in manufacturing and logistics. In our partner survey for BlueCherry® applications, 54 percent of fashion and retail leaders said they are confident their supply chain will support their 2022 business growth initiatives. However, this positive confidence is down about 13 percentage points from where it was in 2021, when 67 percent said they were confident in their supply chains.
 
#5 – On-Premises to SaaS Platforms
Companies that had not begun, or completed, a digital transformation were more severely sidelined and challenged during the pandemic. Moving from on-premises to software-as-a-service (SaaS) technology platforms is a multiphase process involving many stakeholders and moving parts. From the actual technology updates to data migration to end user adoption strategies, transforming technology and internal processes can be a herculean task. Likewise, companies need to choose the right providers and partners and, per challenge #3, consider the data security and compliance needs around their industry.
In short, having the cloud infrastructure in place to support this new way of offering customer support—this redefining of what a contact center means—is causing some headaches as some companies and industries scramble to catch up.
 
Goals, Investments and Trends
While businesses and brands are facing new challenges as the world moves toward a next normal, several goals, investments and trends are emerging from the past couple of years' pain points. In many ways, this could be a period of acceleration in ways to reach customers where and when they want to, using their preferred channels, and create new interactions and more lasting relationships.
For more on how business leaders are strategizing and investing in customer care and support, download your copy of our 2022 BPO and Customer Care Dynamics report. You'll get insights and advice on how to better serve customers in an increasingly complex world.