Published
January 28, 2019
Top 5 Learning & Development Conferences to Attend in 2019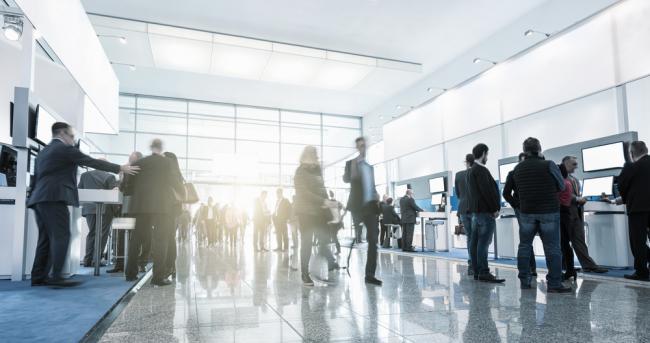 This week, we're featuring some of our top must-attend Learning & Development (L&D) conferences. Whether you're a Chief Learning Officer or a Human Resources Manager, this list will provide a wide variety of events that cover learning trends, soft skills, case studies, certifications and key influencers you should know. With many companies experiencing a growing workforce and a digital transformation, these key conferences will help set you on the right path for learning success in 2019.
When: February 6-8, 2019
Where: West Palm Beach, FL
Theme: The Future of Learning
Why: This event allows attendees to learn how to integrate technology into their talent development strategies and to allow attendees to bring best practices for learning back to the office. The conference looks at the learning industry's top challenges, trends, influencers and inspirational case studies. For example, one of their sessions focuses on the Productivity of Augmented Reality in learning, featuring Doug Stephen, SVP & Country Manager, CGS Canada. The organizers even provide a handy worksheet to track your ROI after each speaking event or workshop. This conference recently announced their TechKnowledge 2019 Hub – a multipurpose space for attendees to relax, network, learn and experiment with new technology.
Registration Cost: Advanced rate is $1,595
Training 2019 Conference & Expo
When: February 25-27, 2019
Where: Lake Buena Vista, FL
Theme: Training Matters. Powering the Human Side of Business.
Why: This conference features some of the most impressive keynote speakers including Shiza Shahid, co-founder of the Malala Fund, host of PBS' The Brain, David Eagleman and New York Times Pulitzer Prize-winning columnist, Dave Berry. Not to mention, the conference also includes certification courses, the learning leaders' summit, a "technology test kitchen," three days of breakout sessions and an "Innovations in Training" post-conference learning experience throughout Orlando.
Registration Cost: Regular conference and expo registration is $1,595
Chief Learning Officer Symposium
When: April 1-3, 2019
Where: Las Vegas, NV
Theme: Faster, Better, Smarter: Creating a Future Ready Workforce
Why: This conference will be celebrating 15 years this year. This conference is hosted by Chief Learning Officer Media, which provides award-winning content focused on the importance, benefits and advancements of a properly trained workforce. This event focuses on providing useful content for learning, training and development professionals. Past speakers include Entrepreneur mogul Gary Vaynerchuk, Psychology researcher Michelle Gielan and Music Manager of Atom Factory, Troy Carter. This year's lineup of keynote speakers includes representatives from General Motors, Renault-Nissan, MGM Resorts, Electronic Arts, JPMorgan Chase & Co, EY and many others. In case you miss this event, you can also catch them in Chicago for the  Chief Learning Officer Fall 2019 Symposium.
Registration Cost: Regular rate is $1,895
Training Industry Conference & Expo (TICE)
When: July 17-19, 2019
Where: Raleigh, NC
Theme: Your path to delivering training that makes a difference
Why: TICE focuses on building effective leaders of corporate learning and development through a highly interactive experience. The best value that this event offers is a Pre-Conference Master Class on Monday, June 17th which will be available in-person before the kickoff of the conference and will focus on strategic planning and internal consulting.
Registration Cost: Training Services Provider Registration is $1,895
HCI Learning & Leadership Development Conference
When: September 10-12, 2019
Where: Boston, MA & Through Webcast
Theme: Foster a Growth Mindset to Fast-Track Innovation
Why: This conference focuses on leadership, learning and innovation from a soft skills perspective.  Panels will discuss the "growth mindset" and help with increasing profitability and growth, fueling engagement and improving employee retention.
The first keynote speaker at this year's conference is David Rock, Ph D., CEO & Founder of the NeuroLeadership Institute who will be exploring "The Neuroscience Behind Growth Mindset in Leadership and Organizational Development." If you can't attend in-person, this conference offers a virtual pass for $695 at the early bird rate.
Registration Cost: 3-Day Pass at the regular rate is $1,795

Additional Resources: