Top Technologies to Train Contact Center Agents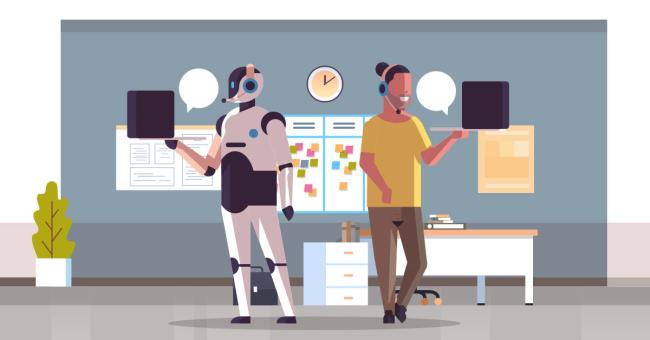 The most productive and efficient contact centers—those that protect your brand and act as an extension of your staff—start with the best training. Empowering agents to be their best possible selves and do their best possible work is a guaranteed way to meet or exceed KPIs, work quickly and cost-effectively and provide the world-class customer experience that companies need to deliver.
And today's customers do expect more. Consider these findings from Salesforce's State of Service report:
83 percent of customers expect to interact with someone immediately when they contact a company
82 percent expect to solve complex problems by talking to one person
Delivering quality support at top speed isn't easy, however. In the same report, customer service professionals were not overly enthusiastic about their organization's performance:
29 percent stated their organizations excel at response times
26 percent excel at handle times
22 percent excel at first-contact resolutions
Better training—and especially the latest technology—can help streamline and supercharge your support to offer excellent service at faster speeds. In a series of blogs based on "The Thread" podcast featuring CGS's Joshua Mims, director of training in our Atlanta center, we will examine some ways to offer better training to empower contact center agents for success. Let's look at some technologies.
CONTACT CENTER TECHNOLOGY
Support channels and technology available to contact centers transform all the time. From chatbots to artificial intelligence (AI) to augmented reality (AR), an initial investment in the latest immersive or productivity technology pays off in time with better KPIs, increased customer satisfaction and higher brand loyalty by eliminating miscommunication, reducing the length of interactions, and improving wait times and first incident resolution. It's essential to keep up with the latest innovations to ensure you are training and equipping your agents with the best support tech.
AR ASSISTS AGENTS AND CUSTOMERS
Augmented Reality, or Mixed Reality (MR), technology offers an immersive experience that can be used in two ways: 1) to train call center agents/technicians and 2) to assist customers in support sessions. It's a technology that brings a two-for-one return on investment. AR increases efficiency while reducing drain on resources. It's possible to see an increase of resolution by 20 percent or more because of the realism and depth of training that is possible through this technology. Let's look at a couple of examples.
TECHNICIAN TRAINING
Toshiba Global Commerce Solutions (TCGS) offers comprehensive point of sale (POS) solutions to a wide range of global retailers, including grocery, convenience stores, department stores, mass merchandising and hospitality. To support remote workers, they worked with us to build a remote learning program that uses AR to provide technicians hands-on experience with equipment from the home or office. Rather than fly to a location to be trained, technicians could use 3D models of the devices, plop them right into their living room space and learn how to operate and troubleshoot the POS machines in real time.
This technology and setup helped TCGS improve service delivery, scale up real-time support for equipment as needed and improve outcomes by linking service performance data to training engagement. They also greatly reduced travel expenses related to training.
CUSTOMER CONNECTION
On the customer side, let's look at a scenario. A customer is having issues operating their computer. Their support led them from chatbot to live agent, and they are attempting to describe the steps they took so far. The agent then attempts to describe steps to take to address this issue.
Enter AR technology. The agent texts a secure link to the customer. With a few clicks to give permission to use the smartphone's camera, the customer then joins a live chat where the agent sees what the customer sees through their camera. That's it. No special equipment or external device is needed.
Agents then add visual cues, such as arrows and drawn circles, to identify locations to check and steps to take. And support literally takes on a new dimension when the item you're troubleshooting can be viewed from all sides and troubleshot step by step with this hands-on, audiovisual immersion.
AR/MR is a fun technology that empowers both customers and technicians. It also boasts higher retention rates, up to 90 percent versus 60 percent compared with traditional training methods.
SPEECH ANALYTICS
Speech analytics for quality assurance is the process of analyzing calls to gather customer information to improve communication and future interactions. It is used in contact centers to identify information buried in customer interactions. Like AR, this technology is useful both for training and coaching agents.
Speech analytics works by breaking down a conversation into text and having a machine pull the relevant bits from it. The program listens to the conversation and can identify keywords, device mentions, sentiments, key phrases and topics.
In the past, these analyses would be manual, where staff physically listen to randomly recorded calls and use that feedback to make improvements. But in the digital age, AI can be programmed to do the heavy lifting. Reports gathered from analyzing this data are quickly available for consumption and put to action to improve services and support.
Said Joshua Mims, you can tell the program, "Show me interactions where the caller was upset." The program then looks for sentiments based on customers being upset. Alternately, you can review for customers who were happy with their support and capitalize on actions and behaviors that led to positive experiences.
It's easy to see the power of this tool. Speech analytics helps contact centers to understand where they spend most of their call time and what types of support take the longest. Centers can then train agents to better suit the types of calls they are receiving. The benefits include reduced call volumes and shorter handling times.
AI-POWERED HUMAN AGENTS
In today's contact centers, AI and human agents work side-by-side to deliver the best customer experience at the fastest speeds.
AI-enabled conversational assistants, such as chatbots, aren't merely giving customers basic information, deflecting calls and addressing common issues. Behind the scenes, they're also feeding intelligent data and analysis to human agents, so they can, in turn, deliver better, faster outcomes "without customers ever being aware," said Mims.
Equipped with another type of AI application related to natural-language understanding, called sentiment analysis, virtual assistants can parse customers' spoken or written comments to better understand what they're trying to accomplish. They can then recommend a handful of solutions—not to the customer, but to the agent, who can use her human skills (such as the ability to gauge and respond to customers' emotions) to decide on the best option. With tools that can assist agents in real time, upfront training time is reduced, and they can start taking calls sooner.
Similar types of AI applications can help sales teams make smarter decisions to help boost customer loyalty and satisfaction. A growing number of companies are using machine learning tools to turn dozens of data types—such as how many times a person has called for help or uttered a phrase like "I'm canceling my account"—into overall customer risk scores. When the scores rise to certain benchmarks, the software alerts sales teams and sends recommendations for personalized offers like rebates, discounts or other perks. The business payoff: Lower churn rates and higher customer satisfaction scores.
PREDICTIVE CALL ROUTING
In the 1990s, call centers introduced what Mims called "skills-based routing"—software that paired a basic customer profile with an agent with the right skills, such as product knowledge or type of assistance needed. Today, AI is improving on the same idea with predictive behavioral routing. Predictive behavioral routing relies on AI and analytics to match callers with specific customer personality models; those, in turn, are used to route calls to agents who can best handle those personality types.
Routing also works alongside speech analytics. Using interactive voice recognition (IVR), it can be a powerful way to warn you when upset customers are calling and waiting. The IVR system can pick up on a customer's tone, good or bad, or perhaps a phrase like "this is the third time I've called about this." The router then sends that call to a specialist who better manages tricky interactions.
AI CONTACT CENTER INVESTMENT
For all its power and the hype around it, relatively few companies have embraced AI technology in contact center operations. However, the market for contact center AI technology is expected to increase from $800 million in 2019 to $2.8 billion by 2024. This increase in adoption is in part because the pandemic forced many call centers to shift suddenly to a remote model, and many won't be returning to the pre-pandemic business as usual.
ON THE HORIZON
Asked about advancements coming soon, Mims pointed to expansion of the new tech discussed in this article. Technologies like augmented reality, machine learning and AI are already proving their ROI, and companies are still in the early stages in using them to their fullest extent. The challenge now comes in adapting and adopting them to direct our path of training and productivity, both for agents and customers.
While solutions like Teamwork AR® with Agent Assist require no extra equipment, Mims did mention the power behind pairing this technology with a headset like Hololens, Microsoft Glass or Oculus. Using a headset, agents can work on two, three or even four virtual monitors. They can view extra screens simply by moving their head, no extra hardware needed.
Mims also discussed pairing virtual reality (VR) glasses with support, so both agents and customers can trade 3D objects, spinning them around, opening and closing, interacting fully in a virtual environment to provide next-level service and support.
IN THE END
Training for contact centers and customers is never a one-size-fits-all proposition. And training doesn't stop after day 1 or week 1. But technology can give you the engagement and ease to create exceptional experiences in shorter times at lower costs. Technology can do the heavy lifting around data, while the human agents bring the heavy emotional and interactive support.
Training techniques and tools can change frequently. It pays for you, or your contact center outsourcing partner, to stay at the forefront of agent training to ensure you meet KPIs and act as an extension of your organization, fully representing your brand. In that manner, customers enjoy a seamless experience, and customer satisfaction rates rise accordingly.
For more on this topic, listen to the complete podcast with Joshua Mims. And you can reach out to our contact center professionals to see how advanced business process outsourcing might help your company focus on its primary goals while we handle the support.