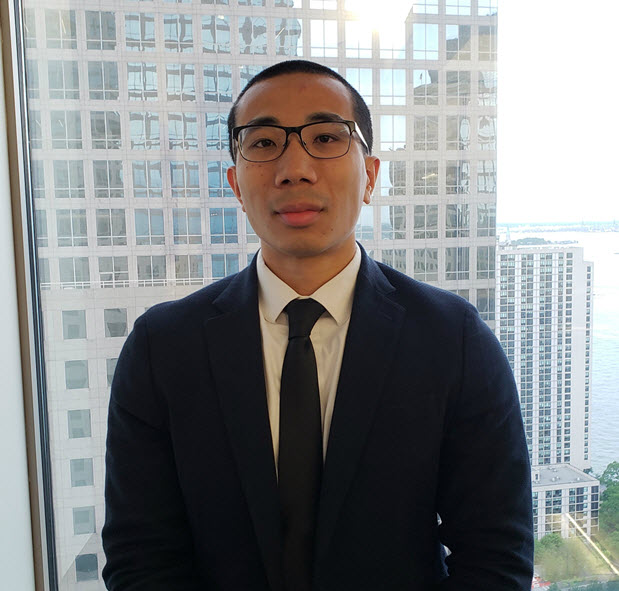 Tommy See currently leads product marketing and go-to-market strategies for the BlueCherry® portfolio, enabling organizations in manufacturing, wholesale and retail to digitalize their supply chain and manufacturing operations.
Understanding the System Requirements of Going Wholesale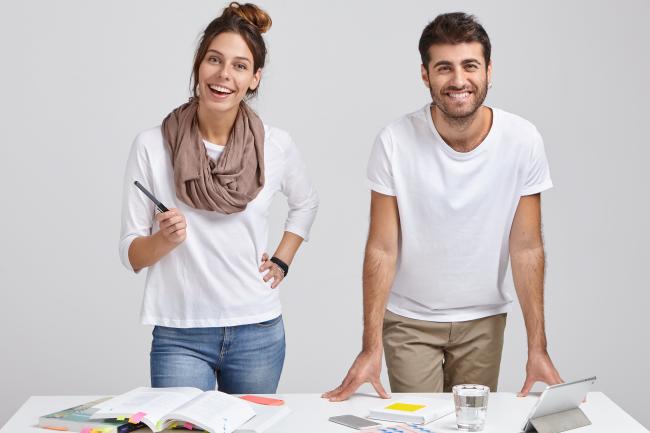 The retail industry's expansion from brick-and-mortar to digital is nearly complete. According to a study by Salesforce and Publicis Sapient, 87% of all product searches now begin online. In the grip of this transformation, retailers have had to adapt to keep pace with rising consumer expectations. But while digging deep into digital is a near-universal priority, retailers also need to broaden their horizons and explore other avenues that can help them grow. They need to expand their reach to customers beyond the limits of their own branded stores in order to increase the volume and value of consumer touchpoints.
One option is to grow the wholesale channel. In fact, according to CGS' 2019 Supply Chain and ERP Trends Report, 81% of surveyed respondents are already in the wholesale business while more than 41% consider wholesale to be their second largest opportunity for growth in 2019 after eCommerce.
Having an end-to-end integrated supply chain from a wholesale position helps retailers reach a much larger number of stores and also support their eCommerce sales. This is particularly beneficial for private labels and specialty chains, who are able to access to higher quality and higher volume of consumers without having to take on the high risk and cost typically involved in setting up new stores.
The Right Systems for the Right Processes
For apparel companies in particular, the expansion into wholesale offers several advantages: integrated product design and development, streamlined sourcing, quality assurance, vendor and inventory management, and end-to-end fashion product lifecycle management. All these benefits translate into two critical outcomes: faster speed to market and an improved omnichannel experience for customers. But this is only possible when the wholesale process is supported by the correct business systems.
Here are the three key steps every retailer should carefully consider when seeking out business systems that can help them succeed in the wholesale space.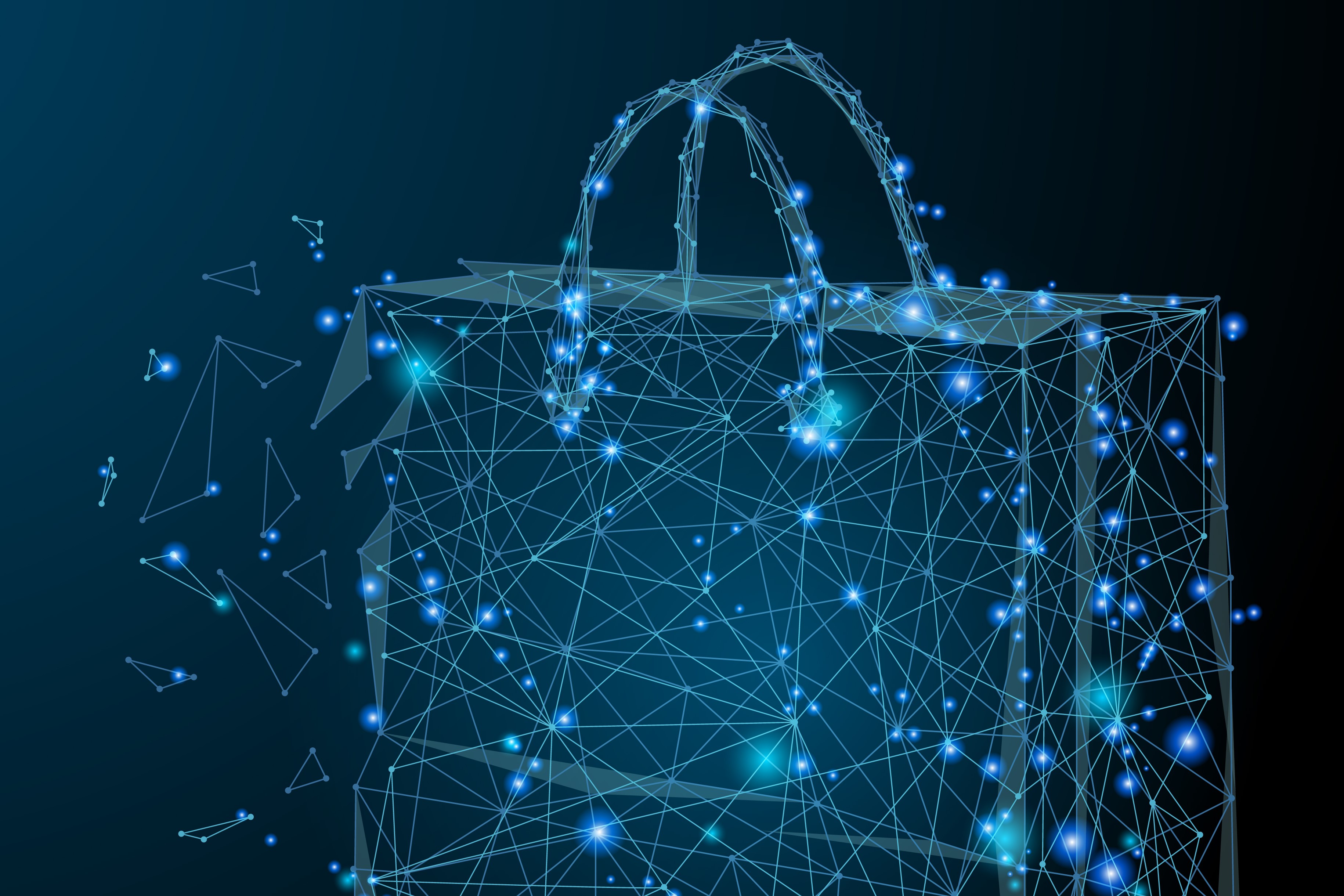 1. Define Your Process Requirements
If you decide to expand from a retail to a wholesale model, integrated planning is key. The operational challenges of serving an omnichannel customer base require retailers to understand the new process requirements involved in wholesale. Starting with an integrated plan allows you to ensure end-to-end process management. These processes requirements include wholesale-retail communications, wholesale planning and procurement, wholesale inventory management, allocation and fulfillment, and billing. Before anything else, retailers need to ensure that these process requirements are clearly defined and in-sync with their existing systems if they want operations to continue seamlessly.
Potential systems requirements vary widely depending on that the specific products and goals of the retailer. A reliable ERP solution is the most fundament of these requirements and is essential in helping companies integrate their entire operational planning. Most apparel retailers may already have an existing Project Lifecycle Management (PLM) tool that helps them manage their product lines from design to distribution, however, with new wholesale ambitions, the PLM tool needs to be integrated into the ERP solution.  But if retailers want to maximize their growth opportunities, there are a number of other systems, beyond ERP and PLM that they will need to consider depending on their overall strategy.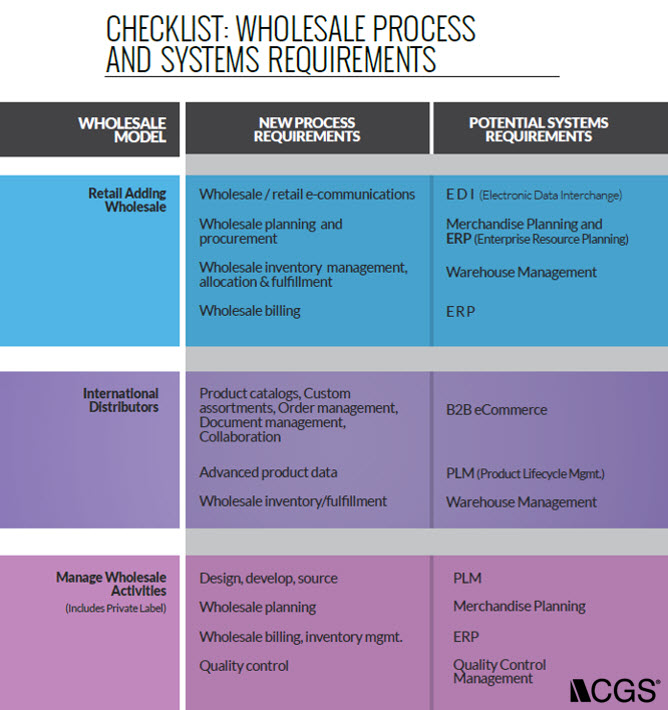 Checklist: Wholesale Process and Systems Requirements (CGS' 2019 Retailer's Guide to Wholesale Success)
2. Understand the Value of Systems
Before adopting a new system, retailers need to critically evaluate its capabilities in relation to their objectives. For example, retailers who wish to improve sell-through and inventory turns in order to improve profitability need a solution that can help them manage wholesale-centered planning, pricing, billing, inventory management and order fulfillment. Here, an integrated planning solution is necessary that can bring together the benefits of Merchandise Planning with other tools such as a Warehouse Management System (WMS), PLM and ERP. This can help them handle high volumes in complex distribution networks with greater reaction times, improved visibility and flexibility of resources in the supply chain.
In other cases, retailers turned wholesalers who partner with numerous stakeholders in their value chain may even require an Electronic Data Interchange (EDI) system. An EDI system can help speed up trading between suppliers, partners and customers by streamlining the exchange of business documents, while saving on costs and ensuring compliance. For private labels seeking to wholesale their products across various stores and platforms, a QAM (Quality Assurance Management) system is critical. A QAM ensures that the company's product quality standards are maintained across all their channels and streamlines quality tracking and resolution across the supply chain. Companies need to carefully align their own process requirements to the value each of these business tools offers and make the right choice.   
3. Align Systems to Specific Requirements
Each of the above mentioned systems help retailers streamline their day-to-day operations, reduce operational complexity, achieve speed-to-market and ultimately, meet customer expectations. However, each business's requirements are unique and closely tied into their scale and goals. Consider a company like Urban Outfitters that operates over 620 stores along with multiple franchisee stores for brands like Free People and the Anthropologie Group. In total, the brand wholesales their products across 2,200 international outlets that include department stores, specialty stores, digital platforms and their own retail segment. The key to this business model has been the company's ability to successfully forge new partnerships with independent franchisees in the international market. But the systems requirement necessary for such a B2B strategy are not typical of their existing retail system requirements.
Retailers on a similar journey need a solution that goes well beyond a typical EDI in managing partner communications. They need a system that helps them manage their brand, execute sell orders and support various partner activities on an international scale under a partnership model.  For this purpose, a fashion-industry-focused B2B eCommerce solution in the preferred tool. Such a solution enables wholesalers to create custom product catalogs and assortments for their international retailers. The B2B solution is a cloud-based app which presents partners with up-to-date visuals, product details, sales automation tools, order facilitation, available to sell (ATS) data and other information. Such a tool offers businesses in a distributor-franchisee model several important capabilities that help build stronger and more profitable partnerships.
As a retailer, the wholesale business model you choose will define your new process requirements and the systems you need to adopt in order to deliver a seamless and superlative end-to-end shopping experience for your customers. The CGS' 2019 Retailer's Guide to Wholesale Success can help you navigate your potential systems requirements, increase consumer touchpoints and start your wholesale journey primed for success.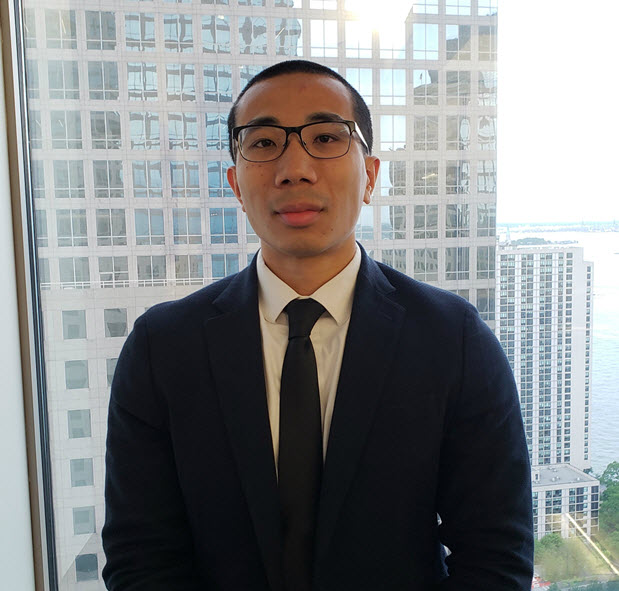 Tommy See currently leads product marketing and go-to-market strategies for the BlueCherry® portfolio, enabling organizations in manufacturing, wholesale and retail to digitalize their supply chain and manufacturing operations.