The Value of Interaction: How to Humanize Your Gamification or Digital Learning Strategy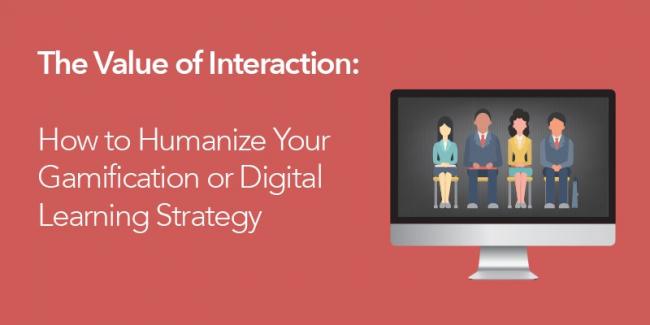 In today's world, Learning and Development teams have an incredible spectrum of choices through which to deliver training and performance strategies. While our 2016 Annual Enterprise Learning Trends Report, explores the biggest challenges and most common methodologies, we'd now like to dive into the pros and cons of these various options.
This reaction piece will buck the digital trends by suggesting more integrated methods for developing employee skills, explore where eLearning alone misses the mark and illustrate how building culture and learning strategies that include strong human interaction can positively impact employee and stakeholder engagement.
The Shift to eLearning and Gamification
While it was interesting to see that eLearning and instructor-led learning were equal as the top strategies to drive results in 2016, it's also concerning to see that the next two most popular options in the report are video and mobile learning – only one of these options require human interaction.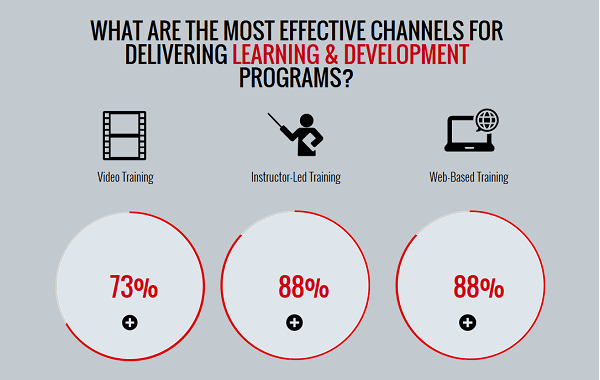 eLearning and gamified experiences can include benefits such as higher engagement across a large number of employees, leading to a perceived higher ROI when compared to having employees sit in a classroom.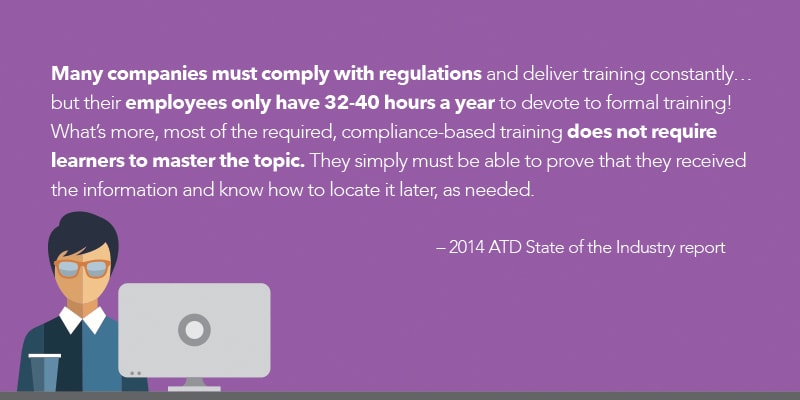 Essentially, eLearning allows employers to prove that their employees received new material and completed some form of training, which is convenient for statistical purposes. This may be beneficial for ticking off the boxes and ensuring completion, but standard eLearning strategies leave much to be desired in terms of employee engagement. Employees may technically be completing their required training, but are they listening, interacting and walking away with new ideas that won't fade away? Probably not. Research shows that many employees become disconnected with online courses, citing tedious tasks and dull material as the reason.
eLearning and gamification can be extraordinarily successful as a training method, but only with the right approach. Taking a blended approach, pairing virtual learning with instructor-led training is one way to enhance its effectiveness.
Let's start by looking at the stats. An independent study by Chapman Alliance, a provider of strategic learning research, illustrates how much time and resource goes into creating each type of learning program:
Done right, highly interactive eLearning takes more than 10 times the effort to produce but it can also replicate the benefits of informal, social and on-the-job learning in a way that formal learning – classes, workshops – can't. According to the Center for Creative Leadership, formal learning only accounts for 10% to 20% of what we learn at work.
As our workplaces become more global and digitally connected, gamification and simulations can emulate the experience of getting tips in the break room, discovering how to do our jobs better by socially observing others, asking the person in the next digital cubicle, calling the help desk, trial-and-error, and simply getting easy access to and working with people in the know.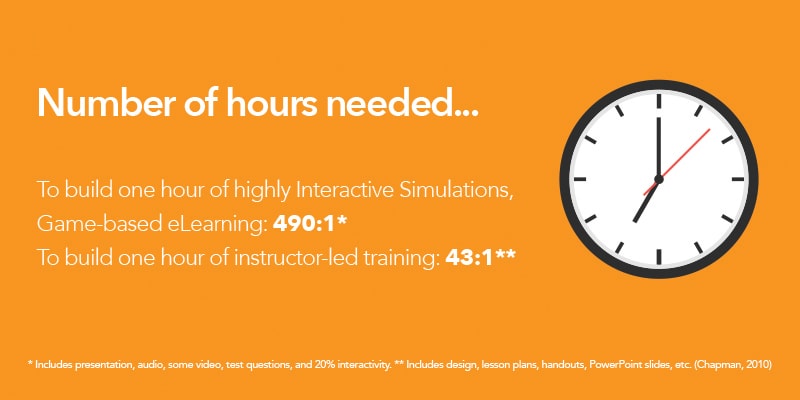 Human Interaction Leads to Increased Participation
Let's say there is a mandatory compliance course for all employees.  For convenience, the course is offered online.  To ensure the material is viewed and concepts are retained, multiple-choice questions are spread throughout the training.   Those questions guarantee attention, right?  Wrong.  Unless it's a subject that the employee cares about, or it's a brand-new concept that they're excited to learn, it's a good bet that they are quickly clicking 'next' to reach the end of the session, using their common sense and basic knowledge to answer the questions.  Multiple-choice questions make it easy: Just pick what makes the most sense from the options given, and if you get it wrong, select a new answer. This type of training doesn't allow for the employee to retain any new information.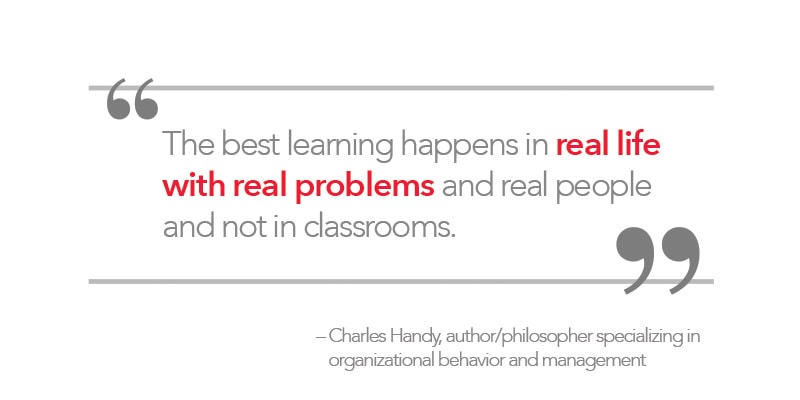 Take the same training and add an instructor, coach or peer.  Now there is the opportunity to interact, engage in conversation, compare notes on HOW to get to the answer and WHY. Employees hold a higher chance of absorbing the information much more effectively (even with their tablet in hand) when there is human interaction. The way to get the best of both worlds – engagement and convenience – is to have technology support human interaction and vice versa.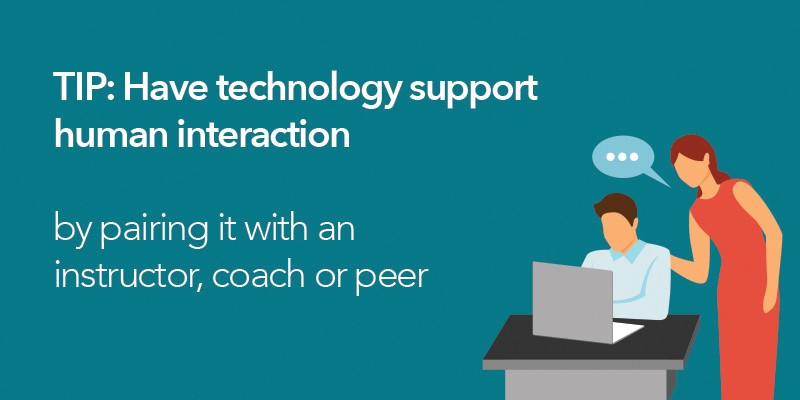 Investing in Community is Investing in Culture
Another interesting figure from the report reveals that companies reported a 12% decrease in building internal communities.  Whether you want to unite all employees under one culture or integrate a new one, you have to start by launching internally. 
This decrease in investment could leave companies behind while consumer trends start to make their way into the workplace. This trend is illustrated in The New Social Learning, by Tony Bingham and Marcia Conner, in which they discuss the role of "community mashups." They argue that outside of our work lives, as consumers we expect almost everything to be customized for our needs. This trend is moving into the work environment in the form of mashups:
Role mashups with everyone acting as learners and teachers
Workgroup mashups that allow for each employee to  team up, reach out to and work with people outside of traditional hierarchies
Content mashups, which are driven by the internet, allowing all employees to find relevant information from anywhere
Management mashups that use open discussion forums for quicker access to feedback, deploying strategies and establishing vision
If the company is being represented in one way and a new hire arrives to find it another way, it can easily lead to the decision to leave during his or her first few months.  Tapping the wealth of knowledge within your current employees, especially through eCoaching, social learning networks, crowdsourced knowledge and communities, gives your company a chance to develop, engage and motivate new and long-time employees and the company culture at the same time.   
 
Use Your Network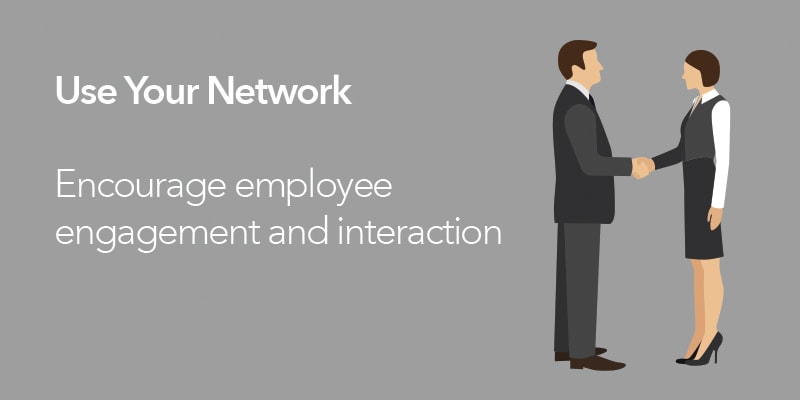 Finally, and likely the most concerning trend that we found in the survey, is the prevalence of silos and lack of interaction within the strategy teams responsible for enterprise-wide learning and development.
Study after study will point to the need for employee engagement and interaction to guarantee success and performance but very little exists to benchmark the performance of the teams putting corporate learning initiatives into place.
As part of our report we sought to identify key decision makers for Learning and Development practices and found that there is a wide gap in communication between the learning department and functional business leaders. To combat this issue, here are 5 stats from the report to keep top of mind:​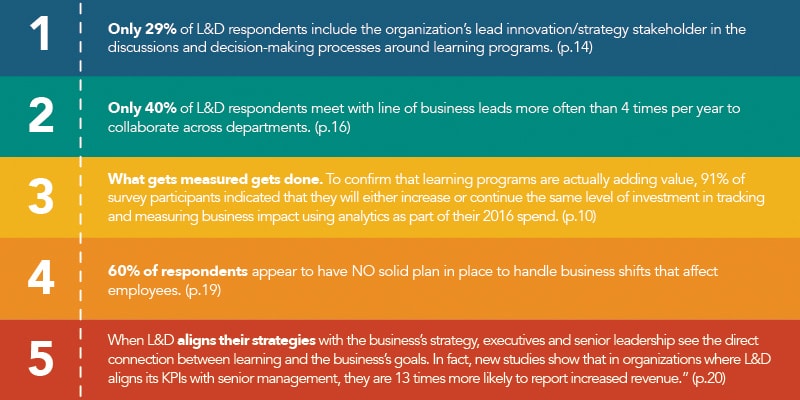 What do all of these bullets have in common?  The need for strategy.  Organizational strategy stakeholders should be involved in employee performance initiatives from the start, to help you determine how best to make L&D project proposals work across all areas of the business.  Their jobs are to keep apprised of trends, analytics and business objectives across the entire organization of which you may not be aware.  Some companies may not have a specific business strategist role, in which case you may have to work with a larger group of people.
To get the full picture, whether for employee development via eLearning, building culture through coaching or to gain buy-in and enthusiastic support for L&D initiatives across the organization, the key is to build in constant, personal interaction.  Don't overlook the value of the human touch.