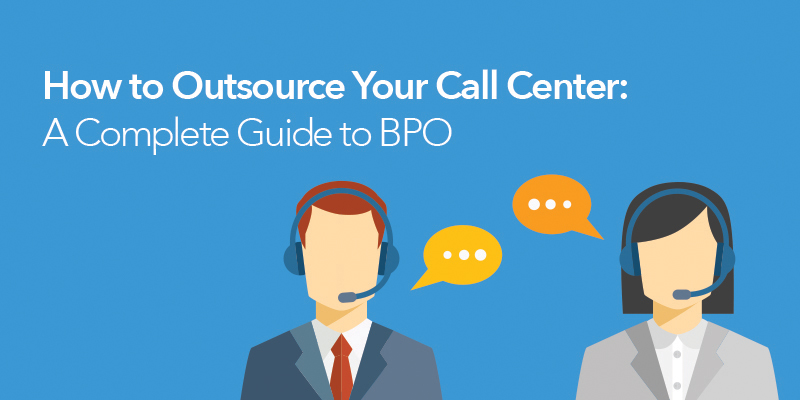 Maintaining a business in today's world is no easy task. Between omni-channel marketing and customer support, cybersecurity concerns and the rapid evolution of enterprise IT, it is far more complex than 20 years ago. In this environment, it's no surprise that business process outsourcing has become a popular solution for a variety of needs like tech support, call center services, and accounting. Some large corporations outsource entire departments, projects, and tasks to firms that provide expertise and dedication to high-quality.
However, apprehension towards outsourcing services is very common. Some business leaders and executives have security concerns regarding sensitive data and information, while others worry that business processes outsourced will be lower quality. These fears are misguided at best, especially in a world where BPO can regularly service even the greatest niches.

Almost every organization will benefit from BPO at one point or another, and this is certainly not a mark of failure or a sign that they cannot compete with other enterprises. It is usually quite the opposite. Businesses that recognize the need for BPO sooner, rather than later, reap the benefits of outsourcing earlier. The major benefits include supporting the company's growth, maintaining globally consistent operations, ability to serve new customers in different languages and time zones, and even assistance with staffing talent for key positions. With so many benefits, it is no surprise that those who work with a BPO solutions provider earlier in their development are often the companies that lead their industry
Simply put, by outsourcing services that aren't key competencies, businesses set themselves up for success and mitigate the chance of falling behind the competition.
And with that, we begin our guide to BPO.
When should a company outsource?
There will never be a definitive, industry-spanning answer to the question, "When should my organization outsource?" It would be great to lay down a blanket rule that every business is different, and not in the clichéd sense that they all have unique selling points. Rather, each company has its own needs and demands as defined by their leadership. They will have different organizational structures and will handle outlined processes differently.
That said, there is a common breaking point when every enterprise should take an interest in BPO. Elliot Richardson, lawyer, and president of the Small Business Advocacy Council in Chicago told Crain's Chicago Business that once specific processes start to take more time to manage than core business tasks, companies begin to overspend compared to what they're earning. Each organization will reach that point at a different time, and this is particularly relevant to smaller companies that might be willing to keep certain processes closer to their chests if they are at specific areas in their corporate roadmaps.
Determine outsourcing needs
Once business leaders and executives realize it's time to outsource, they probably have an idea which functions a BPO provider should manage. However, those first instincts aren't always correct, as there are pros and cons to outsourcing different tasks.
In an article for The Huffington Post, Fred Schebesta, founder of finder.com, explained that his organization had to decide whether to build up departments internally or turn to BPO, and he learned a lot of lessons in the process. Regarding IT outsourcing, Schebesta was particularly challenged with the decision.  With external IT services finder.com would be able to scale more easily as the company's tech needs crested and waned. On the other hand, with an in-house team,they  would be able to handle industry-specific needs better. Schebesta also faced great challenges finding experienced tech professionals locally, and he decided, in the end, outsourcing made sense.
There are a lot of variables when determining BPO needs, and by outsourcing a department simply because it seems important, leaders could overlook other opportunities or areas that would result in greater benefits from being outsourced. We recommend that organizations define their current situation: What services are they delivering today? How much does it cost? How much attention does it take away from core competencies? What is the quality of the work being done? Is it consistent across geographies?
These answers help businesses create an accurate picture for their potential BPO solutions provider. It sets the partnership up for success by defining clear goals and a vision of what they're trying to achieve together. Is this combo for SEO purposes? I'm being picky but… Solution/service seems redenudant together. Also it sounds funny to me that a "service" would manage something VS. the provider managing something. Yes, it is for SEO but I will change it.
Find an outsourcing service provider
The type of functions a company wants to outsource is a significant factor in choosing the right service, but this isn't the only one to consider. 

The first question to answer is related to location: Where will the BPO service be delivered from? This is critical for many industries where customer service is a very high priority. A BPO provider's location impacts the available languages, the accent neutrality of the agents, the skill sets and labor costs. Additionally, with the Safe Harbor nullification in 2015, businesses need to consider what the data privacy laws of the BPO service's jurisdiction are, as well as what certifications it has received.
Next, organizations should define how they want to interact with their BPO provider. Should they be hands-on and communicate frequently, or would executives rather set it and forget it? Each outsourcing firm approaches this differently, and getting stuck with a company that doesn't match with management styles could spell disaster down the road.
Lastly, when it comes to choosing a BPO service, businesses must find a firm that is compatible with their corporate culture. Is your company traditional, entrepreneurial, team-spirited, progressive, sales or customer-centric? This is especially important for organizations that want a partner they can work with for years and decades to come. The best way to select BPO providers is to come up with a thorough list of questions ranging from culture to technology and capabilities to training methods. Always ensure the chosen provider can deliver high quality, not just low price.
We already determined that you must fully understand your outsourcing needs before you research BPO services, and of course, those requirements should align with your overall corporate strategy. If you can no longer support processes that aren't mission-critical, without a massive investment of time and revenue, then it's time to find an external partner to do the job. This is true whether it's call center services or tech support.
Now let's talk about defining an outsourcing strategy, creating contracts and managing the transition of processes to a partner organization.

Define the strategy
Some experts might try to separate outsourcing into two camps: non-critical and strategic. In reality, all outsourcing is strategic. For every business, these plans will vary, but in general, it is important to understand that BPO partners will impact your core business.
If you outsource a call center, your customer experiences are now in the hands of an external party, and similarly, if you turn to external financial and accounting services, your outsourcing partner is directly impacting your organization's revenue. For these reasons, you must have an outsourcing strategy, complete with benchmarks and goals for continuous improvement.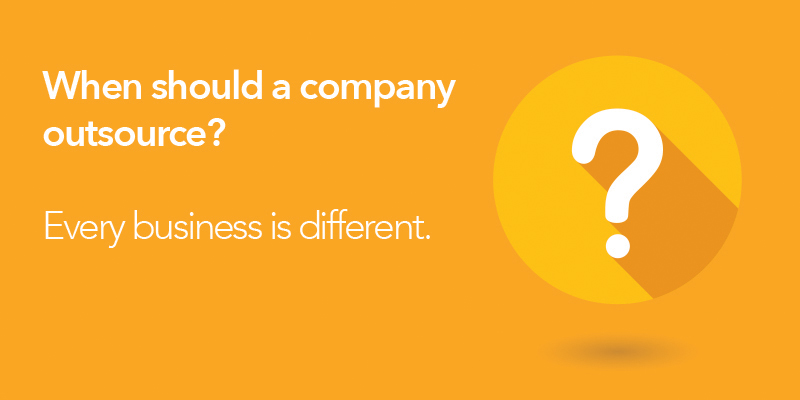 While it is certainly possible to develop a strategy in the boardroom or directly with the BPO provider, Business 2 Community contributor Jake Spanberger recommended developing an internal position called a "strategy manager." This individual is responsible for understanding your business, its short-term needs, and goals, and communicates them to your outsourcing service. The title strategy manager reflects their responsibility to ensure that outsourcing strategies shift with corporate requirements, which is essential for long-term success.
Create a contract and define SLAs
Contracts, service level agreements and statements of work ensure that your business gets what it needs from your BPO partnerships. These documents define the quality of service you expect to receive, as well as specific standards and benchmarks against which to measure.
Linda Tucci, executive editor for TechTarget, wrote that businesses should explain their SOW and SLA requirements to BPO providers as early as possible, as this will prevent problems or confusion. Tucci also cited expert opinions that state revenue commitments should never have minimums, terms of engagement should be flexible and most importantly avoid ambiguous language.
Outlining the key performance indicators for service in SLAs or contracts is where you define your strategy. In these documents, you need to clarify how you plan to measure and manage the high-quality customer experiences that foster loyalty that you would like the call center services to provide. For technology outsourced, SLAs are your opportunity to define your needs regarding information access, downtime and wait times on support tickets. This will help the BPO provider determine the number of agents and skill sets required to meet and exceed the KPIs. These guidelines will help you, and your business process solution service develop the right structure for a specific program.

Transition
Once the logistics of SLAs are taken care of, and contracts are weeks away, your business should prepare for the transitional phase in which you migrate duties and responsibilities to the BPO service.
Experts agree that transitions go smoother when your people are deeply involved. This means your teams will need to communicate clearly with your BPO provider and give them access to required information, IT systems and corporate policies that you expect them to leverage and follow. IT teams should consider necessary integrations, while a strategy manager can coordinate the transition of duties in a piecemeal fashion.
Additionally, if a BPO provider offers advice, you should give great weight to those suggestions. This is particularly important if your partner is considered an expert in its field. After all, BPO providers help organizations transition to these services all the time, and they often know best practices for the process.
As a note, smaller organizations that turn to customer care or tech support outsourcing without an existing internal team might have an easier time transitioning, but this does not mean you should communicate less.
Once the ball gets rolling, and the BPO provider is actively working with your customers or employees, you can rest easy knowing that you've provided those partners with enough information for the best BPO providers to meet high expectations.
Treat them as business partners
Perhaps the most critical piece of advice for working with BPO partners is to treat them as business partners, not contractors. If you performed your due diligence defining corporate needs and found a partner with the right expertise and rich experience in your industry, your BPO provider would help you build a business case, set SLAs, develop strategies, transition to their services and determine ongoing improvements.
Additionally, an outsourcing solutions provider has a set of procedures to make processes more efficient, especially if they can customize them to your needs. Therefore, you should keep an open mind when it comes to suggestions. After all, in a true partnership, both parties' success depends on one another, and a long-term partner will always have their client's best interest in mind.
It might seem like outsourcing takes some effort to get started, but you will learn that the benefits outweigh the planning efforts. With a little dedication, your business will be on the road to success, thanks to some support from external teams.